Prepare yourself for a harrowing account of the busiest week ever lived. Now- if you have had one  even busier- please tell us! We will give you something– possibly a child! …
Let us begin where we left off last blog- Saturday came and Aidan, my sister and I headed to Newark airport to pick up our newest family member, Donghan He, a 17 year old exchange student from China.  So far he seems to be adapting well to life with us, which really wouldn't be an easy task even if you are from America! The poor kid was able to rest the first day here, then we drug him from party to party, celebrating birthdays & Labor Day. He did enjoy playing volleyball, which was something he'd never done. He was happy with the hamburgers, since he was familiar with them, but the tilapia parm the night before did not go over well, since he hates cheese–and I never before realized just how many recipes we eat involve cheese…we like cheese! 🙂
Tuesday Donghan was introduced to Picnic in the Truck- a favorite pasttime of our family, which involves eating peanut butter and jelly sandwiches in the truck as we drive from one errand to the next. Tuesday's errands included getting Aidan from kindergarten, getting Donghan's uniforms for school, (which of course are sold at only one store in the entire state) trying to get everyone to nap, desperately seek out a back up rain location for our engagement shoot on Wednesday, meeting with many nice people at all of the Doylestown museums, then rushing back home to get Aidan to Boing gymnastics class and home again to eat dinner before attending the Open House at LC for Dongahan that we didn't know about until 3 hours before it started. And that was just Tuesday!
Wednesday Donghan was introduced to yet another favorite family past time- eating cold pizza for lunch in the truck! This was after dropping Aidan off at school, spending an hour on the phone trying to track down a book Donghan was supposed to have read over the summer, while driving Aleia to her first dance class which was just SOO adorable- she absolutely LOVED it and she really did amazingly well- not at all like her Mommy!  😉
From dance we rushed in to grab Donghan, who by now was only slightly confused by our rapid comings and goings, but deeeply confused by the cold pizza thrust into his hands as he was pushed out the door! "But, this is not warm??"  "Yes,yes,  it's an Amercian custom- cold pizza- you'll love it- get in the truck!" We then picked up Aidan, ran to the only bookstore where this highly vital book is located and now on hold for us, then back home in time to meet my friend Diana, who would watch the kids for us while Aaron–who sadly spent his morning at the funeral of our friend' s mother- and I  raced off to the engagement session that afternoon. We began at the Mercer Museum, where we entertained Gloria at the front desk to no end with stories of our past few days! I told her she must read this blog to be filled in on the rest of the week- so I hope you are reading this, Gloria!! 🙂  And thanks for the museum passes!
Once we set up at the Mercer, we had a half an hour to actually shoot before it closed, so we whipped our couple, Rebecca and Michael, through there prettty quick! Fortunately the looming dark clouds hanging over us seemed to drift away (yes, both metaphorically and in reality) and we were able to get the outdoor shots we originally wanted. And other than one little falling out of the tree incident, all went well, I think! 😉 Here are some of my favorite shots:
Then Lovey and I took a deep cleansing breath and relaxed for some sushi at Ooka– ahhhh…..Then back home–where we were beginning to  realize that Donghan, being an only child and a teenager, had absolutely no concept of quiet time while children are sleeping. Again, he is quickly learning!
Thursday– almost through the week–!! Lovey took Donghan to his first day of school with the kids while I attended my first  Central Bucks Chamber of Commerce Women in Business meeting. I have invisioned myself in many scenerios for my life- writer, teacher, mom, sole heiress to an unknown wealthy uncle- it–but being a Woman in Business was never in there. And it's still so hard to see myself this way- I just hang out with Lovey and take pictures and have fun meeting all these new people! And at this yummy breakfast meeting  I met lots of –women! In businesses! It took awhile  for all 150-some of us to stand an introduce ourselves, but I met some wonderful people whose businesses I plan to support, and hopefully some who will need us sometime too! 
 Thursday evening we had another Open House at the Pearl S Buck  with Open Aire Affairs- we love these events! Aaron and I hang out, chat with other vendors, and eat lots of yummy samples from the caterers! Oh- and,  of course, we also meeet brides and their families! It's always a good time. We realize that we really do thrive on the energy from meeting people and talking about our work. It feels so good to be doing something we both love so much!
Then–Friday dawned dark and rainy, and didn't get much better as at 6:30 am Donghan burst into my bedroom dripping wet announcing that the bus had not come (I think having Bear leap at him barking and growling may keep him from doing that again) And this of course also woke all the children, so we all stumbled down to eat while I got ready to drive Donghan to his second day of school, then Aidan to his, then prepare all of our materials for the craft we would be doing for Arts Fest in Doylestown at Booktender's Secret Garden children's bookstore. Ellen, the owner of the iconic bookstore for 27 years now- was the one who insisted I join Women in Business- and she is just a wonderful person to know!  She can find the perfect book for your child in minutes, and tell you personally all about the author and illustrator of any of them, who have probably been in her store for a special appearence at some time or another! You just don't get personalized attention like this anymore, and I am a whole hearted believer in the fact that you can never have too many children's books.
Unfortunately Saturday's Arts Fest was cancelled due to rain, but we still did crafts and took pictures of the kids whose parents braved the rain! And we also need to thank the two wonderful girls working with Ellen, Sam & Jen, for their help and for poor Jen standing out int the rain to enthusiastically direct people into the store for us! Here are some shots from that day:
And then we end with Saturday night, one week after Donghan's arrival to the US. We began with parties, we end with a party- this poor kid is going to think every weekend here is a party! Hmmm..is it??? 😉    This was at our friends & neighbor's down the street, for their son's 5th birthday. It was  a Lego theme, and fortunately Donghan really digs legos, so he was happy, and he got to eat more American junkfood- hoagies and pizza and cake- he's also going to think this is the land of no vegetables! But if he can survive the past week with us, he can handle the rest…
Of course, Halloween will be an eye opener for him!!   On Sunday he passed on the opportunity to check out the scarecrow festival at Peddler's Village- and what 17 year old boy doesn't want to see cool scarecrows?? !? 😉 He chose to stay home and play basketball, and probably enjoy the first few hours of quiet he's had in our house of small  children. And possibly the last… as we begin another week!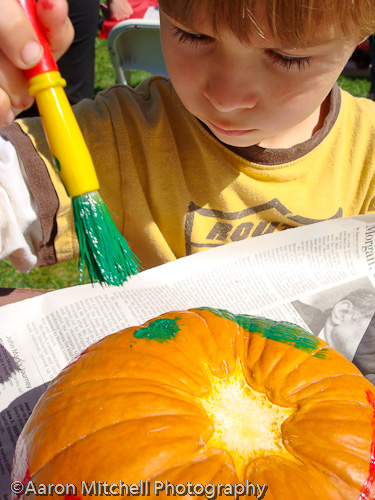 Oh..and that book I had to call and run all over for?? He never did read it….***sigh***
COMMENTS
September 24, 2009., 9:46 AM /

September 24, 2009., 10:24 AM /

I particularly love the pictures from ballet class. She's so adorable! Glad to hear your new exchange student is starting to adjust.

September 25, 2009., 12:01 PM /

Our little ballerina - hehehe - How cute is that Enjoyed the pics. I see Aidan didn't enjoy that ice cream cone very much - hehe Your Blogs are really great! Love ya

September 25, 2009., 5:19 PM /

Wow, what a busy life you guys have. The pictures are wonderful and the kids look so great. I loved seeing you in a picture too Aaron. Have fun with your exchange student.

October 6, 2009., 2:49 PM /

WOW you are a busy bee! Love the pictures especially the one with the rings and of course the little ballerina :) I found you through MBC

October 11, 2009., 10:18 PM /

wow just reading all that made me exhausted!! Sounds like a fun and adventorus week. Love the photos!

October 21, 2009., 11:02 PM /

Hi this is Tee! I have an award waiting for you on my blog! Come accept please:)

October 21, 2009., 11:33 PM /

i love aaron's photo's and i love the commentary you provide ... and those two little people are CUTE CUTE CUTE!!

October 23, 2009., 3:16 PM /

Let's see I can try...job hunting....hosting 3 giveaways on my blog and moderating all entries (please come over to Ascending Butterfly and enter!) .... flu shot which just leaves you feeling worse than when you started.....and all on very little sleep nightly. How about that? LOL

October 29, 2009., 12:26 PM /

Can't beat your busy week. My week was pretty boring. lol I'm following from the MBC. You can find me at http://thesuburbanjungle.blogspot.com

November 29, 2009., 1:23 PM /

Seriously! That was one busy week! We were just at Mercer yesterday and the receptionist was not that nice to us. I don't think it could have been Gloria. This one looked disdainfully at Shoshi and Kaish and said "Are they yours?" I wanted to pop her. I refrained : )
Comments are closed.