It is 7 am in the morning, July 14, 2009, and as I sit here to write about our past week, I can't help but keep fading back to our past years, to this day seven years ago…
I had woken at 6am– although I wanted to sleep in I was too anxious to see what the weather would be. When my eyes opened to a misty rainy morning, I burst into tears. Not today! As I sat on the floor trying not to cry and forlornly petting my dog Wolf,  I called Lovey. Before  I could even speak, he said- it will stop by 3. "It's raining!" I wailed.  It will stop by 3,  he replied calmly. Then my friend Diana appeared with a cup of tea, with a brisk and cheerful "good morning!"  and the busy day began.
And at 3pm that afternoon, before all of our family and friends, and in very warm sunshine, I married my True Love. 
The rain had stopped long before.
Here is a video montage of that day, made for us by Mitch at Tanner Lane Videos  https://www.aaronmitchellphotography.com/ourwedding.htm  He took our original 1 1/2 hour video and edited it into a 2 song video- I love it!  This is the new videographer we just teamed up with– and you should see what he can do with the videos he's shot himself. The main reason we like working with him, though, is that Mitch has the same passion and intensity for his work that Aaron and I do.  He loves what he does, he loves working hard to make something wonderful that his couples will love, and he too strives to produce work of only the highest quality. So we are happy to announce that we now have a videographer that we can reccomend to our brides! 🙂
And as much as I feel like writing more about my blissful wedding day… it really was just like a storybook wedding, it was so wonderful…**sigh**…I must now pull myself back into the present and fill you in on what has been going on this week in the year 2009!
We have finally visited Aleia's first Zoo! (Poor second baby- Aidan had been to various zoos in the country by the time he was 2) But now Aleia has finally been to one- the Elmwood Park Zoo in Norristown. It's a little one, but it is very cute and the kids love it– it's perfect for a short day trip.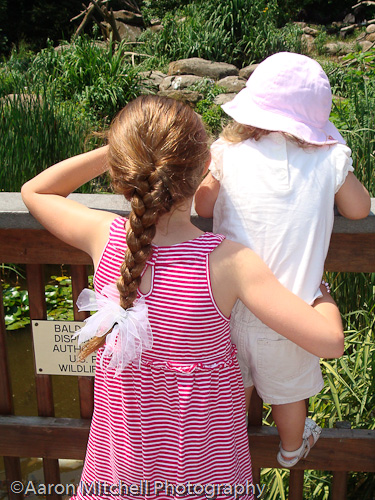 The fourth of July was a very fun day for all of us! Our tradition is to begin celebrating at Fonthill's Old Fashioned Fourth of July. If you have never done this- you must!  Fonthill in Doylestown is a beautiful place to visit at any time–you may recall our trip to their Folk Fest. But the 4th of July is even better– it has a bike parade!  Aidan enters each year, with an increasingly elaborately decorated bike. This year his bike was even pulling its own parade float- – a red white and blue bedecked Aleia in her decorated wagon! Sadly, alas, we did not win…again….but we will next year! Some of the decorations are amazing- one boy's family even walked behind him playing  a drum and flute –how do you compete with that?!
After the parade is the watermelon eating contest, stilt walking, hoop and stick games, sack racing– we love all of it!   It's all at a much slower pace than today's normal activities, and it's fun.  We always have a wonderful time.
In our family we celebrate birthdays, of course–but, really, is one day enough? I do not think so!  This is an annual celebration of your very exsistence, for goodness sake!  It certainly deserves more than just a day. That's why we have Birth Weeks.  The entire week of our birthday is celebrated. The Birthday Bird brings a present each morning  (I promise to go into more details of the Birthday Bird and his coming about another time–because I am sure you are writhing in curiousity–but for now suffice to say he brings presents while you are sleeping– one present each day as opposed to a pile of presents on one day) and we do special things- have a special breakfast, go on trips, go out to lunch, and basically just make each other feel very loved, appreciated and special.  (I am certain this came about from growing up with my mom, who always made my birthdays a huge celebration, and right up until I moved out on my own she would have the kitchen all decorated with balloons and streamers the morning of my birthday. :))
And this past week was Aleia's 2nd Birthweek!  My baby girl is now 2…Our special trip this year was to Fairmont Park, to the Smith Memorial Playhouse. This place was very cool- and best of all- FREE!! (Can you tell who is the thrifty one in the family?;)  The Smiths built a mansion in 1899 specifically so that the children of Philadelphia would have somewhere safe and free to play. I love the whole history behind the place, and it will now be another place we donate to, because it should be kept free for the children the way they intended–but even free things need lots of help! The mansion is on 6 acres of playground- and this is a very cool playground! I am not sure who designed it, but it had play equipment the likes of which we had never seen! The kids loved it. And there is also a 105 year old wooden slide,  the kind you ride down on burlap sacks. It doesn't look very long, but it is the longest in the country and it is Fun! 🙂  The inside of the mansion is filled with play rooms for the kids 5 and under, and it was built just as a playhouse, no one ever actually lived there.
The culmination of Birth Week is, of course, the Birthday Party!  I thought Aleia's 2nd party would be smaller, since we invited only family and  friends with children close to the age of two– but as usual no party here is ever really small! I think she had a good time- she was a bit overwhelmed, being the shyer of our kids she didn't quite relish all the attention the way her brother (and I!) do. She did enjoy beating on her butterfly pinata (but apparently when it fell to the ground unopened I was NOT supposed to scream "Beat it! Beat it while it's down!").  All in all it was a lovely day.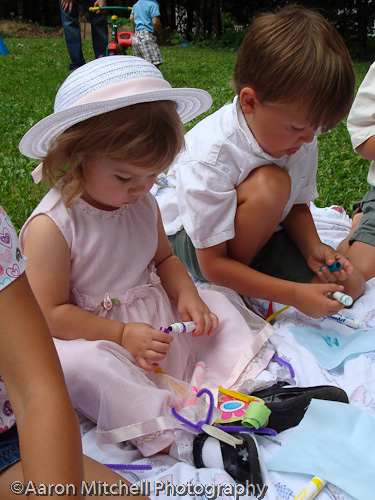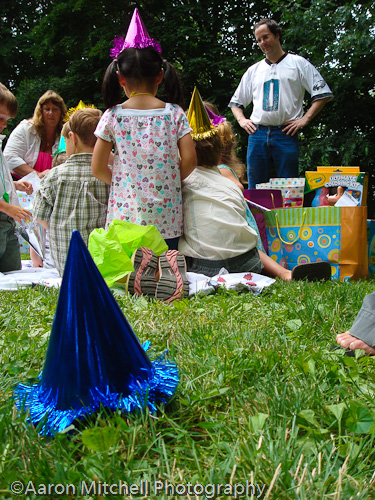 We have decided on our next contest/event, and it does indeed involve babies, but it is a bit involved and I am gathering more info about it so details will come next week.  And there will be pictures from this weekend's wedding. We're looking forward to working with Alicia and Jared, she wants us to play around and get fun & arty shots, and that always makes the day more interesting!
COMMENTS
July 21, 2009., 10:06 PM /

October 9, 2009., 10:39 PM /

Look like ya'll had a ball! Returning the follow:)
Comments are closed.