**Warning- the following blog entry depicts photos of both real and artificial blood! Do not be alarmed- no actual brides or campers were harmed in the making of this blog**
You may be wondering why I mention wedding shoots often in here, and yet you never see any shots of them on the blog! Well, let me 'splain: before we took our studio full -time, we were part time for a few years, both together as a couple for this studio and also Aaron on his own as a freelance photographer for other studios. And a lot of this past summer had already been booked with freelance work that doesn't go in here, since it was not shot by both of us for our studio. So there you have it! Aaron is constantly shooting weddings, sometimes more than one a week, and I am constantly shooting everything else that ever happens around here–and now you get to see some of both!
 This past weekend we shot the wedding of the sweetest couple we've ever worked with! Alicia is the sister of  Brian,  a groom whose wedding we did last year, and Jared is now her husband of 6 days. 🙂 We're luck in that all of the couples we've ever worked with have been exceptionally nice people,  generally fun and  easy-going. We are often asked about "bridezillas", but in our case we have yet to deal with one! I think our personalities and photography style just happen to attract the cool people who both appreciate artistic photography and are looking to have a good time–thank goodness! I almost wish I had a good "worst bride ever" just for a good story, though…
I liked so many of the shots from this wedding that I hope I don't bore you all with them! Alicia and her bridesmaids were so fun to shoot (frolicking brides and bridesmaids playing ring around the rosey just don't happen everyday!) and of course if there is a tree to stick someone in, we will– and Jared looked so good in it! There was one shot Aaron really wanted, with everyone standing ankle deep in the creek– it would have looked so cool— but it is hard to convince very dressed up people to go wading… the fact that he can usually get them all to climb trees is impressive enough I think! 😉 And there was one mishap at the end of the night, as we got just a few more portraits of the bride and groom alone: Alicia's toe was stabbed suddenly by an unknown assailant–we suspect something sharp was lurking in the debris filled grass…and of course we had to document the incident!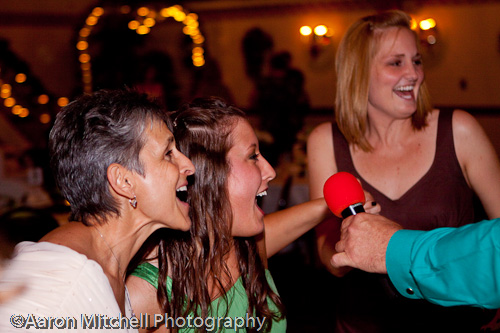 We have also been doing some brochure work for the Julian Krinsky's Camps.  That's right- Lovey gets to go to camp one day a week and play with campers while I slave here at home, arduously entertaining two young children by taking them to the beach and such…it's a rough life, I tell you! 😉
Actually the camp shoots are more work than they look- you try telling kids to have fun, laughing conversations while pretending to ignore the photographer standing in front of them! The camp does an amazing number of really cool sessions- this week Aaron was shooting the nursing students while they learned how to put in an IV- on a fake arm that would actually bleed! (the blood appeared to be of a kool-aid substance–Aidan said tomato juice would have been cooler).   Aaron even got to try to do one! Sadly he could not take a picture of himself while trying…
And while Lovey poked needles into fake bloody arms, the kids and I spent a few days in Cape May with my friend Diana. We had one perfect day of sun on the beach and and evening of fun on the Wildwood boardwalk. The kids LOVED Wildwood, and I hadn't been there since I was a teenager- boy is it changed! But the old favorites are still there–Aidan and Aleia were introduced to Mack's pizza, Morey's pier, free fudge samples and of course the boardwalk itself. Having grown up going only to Atlantic City & Wildwood beaches I was ashamed when Aiadan asked me- "what's a boardwalk?" !!! But now they both know- and they can't wait to go back!
COMMENTS
July 30, 2009., 7:26 PM /

July 30, 2009., 7:53 PM /

Great pics. I love the ones of the kids on the beach. Love ya

July 30, 2009., 9:07 PM /

AMAZING PICTURES!

July 30, 2009., 11:45 PM /

You guys are "the sweetest couple ever". It is obvious in your beautiful work!

July 31, 2009., 9:05 AM /

Beautiful pictures! i always look forward to reading your posts!

August 6, 2009., 4:03 PM /

i love the pictures. i wish you guys did my wedding. the kid pictures are to cute.
Comments are closed.