I must apologize–my blog is so far behind I don't even know where to begin! If I start where we left off it will be 5 pages long–and that's the condensed version! 😉  I am not known for my brevity– but I will try my best to only briefly describe the main highlights of the past 3 weeks…
Let's see- we did a Grandparents Day shoot at my friend Crystale's work, Brandywine Senior Living at Dresher Estates… This was so much fun- I don't know that Aaron and I have ever been so flattered and fawned over in our lives- and here we were supposed to be flattering them! The woman ALL loved Aaron (as they always do!) and the men were downright flirty- it was a blast! And I think their pictures came out nicely, too ! 😉 We were originally going to print just the best 5X7 of each of them as a gift to honor them for grandparent's day- but they looked so great in their shots that we're giving them all of them! The only sad part of the event was how few of their families were able to come and be a part of it- we offered a free family portrait for each senior as well as one on their own, and only one family had the time to come.
This made me look at how busy we all are in our lives, and how often we find time to get the work done- at the sacrifice of the the time we have with the people in our lives- the little people as well as the older ones!
So perhaps that is my excuse for this blog being so far behind- we're working hard at trying to strike a good balance between family life and work! 😉  We'll be working on this for a long time,I think!
In further celebration of Grandparent's Day, we offered all the grandparents closest to us portraits- my parents, Aaron's parents, my sister and brother in-law, and my good friend Diana.  I'm not sure if I've mentioned before how hard it us for us to take portraits of our own kids- Aidan only wants to be behind the camera, and Aleia has this weird idea of what a photo worthy smile is…why is it so easy to get other people's kids to look natural?!
Here are some of our favorites from those shoots- the first are Aaron' s parent's, shot in studio because of the rain, and the next are mine, on an unusually balmy October afternoon:
And the outtakes! This is what our children do when we try to shoot them! 🙂
And my family:
Our next sessions were back to back family portraits. The first family, the Yerkes,  had four of the most beautiful girls we've ever shot- all in one family!  I think they all had a fun time with us- especially when their mom happily agreed to climb a tree for one of the shots! (honestly, I just don't what is with us and trees…)  We did the session at  one of our favorite places  near us, the Pearl S Buck estate. It wasn't as autumnally colorful as I was hoping for- but it's such a beautiful place anytime of year- and the fact that the whole family was so photogenic doesn't hurt either! 🙂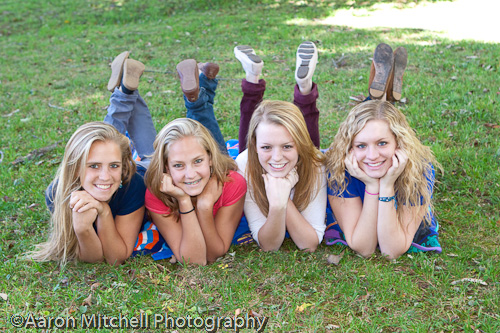 And right after that was Ruthann's family! Ruthann worked with Aaron at his old IT job for years, and we had a great time hanging out at her and her husband Jerry's home- an adorable cape cod that my mom would totally love, landscaped entirely by them– I need her to come to our house!  The session went well, even 2 year old Sophia held up for the entire time including a wardrobe change.  But the best part for us was the food afterwards.  We were invited to stay and enjoy dinner with the whole family, and if you haven't noticed yet- we love food! 🙂 Ruthann even gave us doggie bags of snacks to take with us to the movies later (yes, that's our way to celebrate our 13 year dating anniversary- 2 photo sessions and a movie! )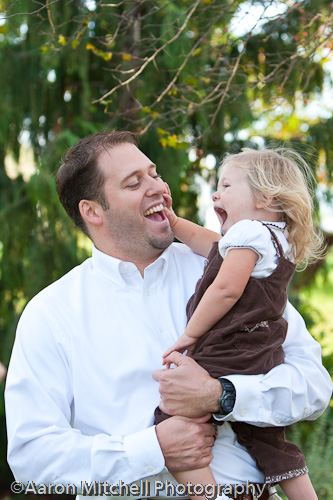 I am sure things have been happening other than photo shoots, but I can't remember any…. Wait, here's one-  we are in the middle of constructing Aidan's Mammoth Tree House- an 8X8 wooden structure set far too high up a tree in our woods…I don' t even know how he's going to get in it! But it has been  fun family project- Aaron builds it, Aleia paints it, I drive the tractor 3 feet back and forth with a rope attached to the supports as we try to get it up the tree, and Aidan runs around attacking the "invader" Norway Maple saplings that are trying to take over our diverse woods, leaping upon them yelling "Die invader, die!"  ( And the neighbors thought we were nuts before!)  
And amongst all of the chaos sits Donghan, who now probably thinks all American families are  insane, but he's trapped in the house because our crazy work schedule doesn't  allow any time for us to take him anywhere in the evenings or on weekends! Here's a picture of him, from a few weeks ago when we actually did get to take him out- to yet another family party! At least this one had a carousel….
Coming up next- our eagerly anticipated trip to NYC to see the Titanic exhibit- Aidan and I are huge Titanic buffs and the rest of them are being drug along. We have a reception for Healthlink Medical Center tonight,  headshots for our very fun, very cool acting class Lights Camera Acting! on Wednesday, a convention in NYC  Thursday, a wedding Sunday and hopefully a day or two off to enjoy some fun pumpkin patching- and time to get ready for our Halloween party!
Wait- one last thing–this just came in– our blog got an award!! Woo hoo!!
Last post- the Beat this Busy Day Post- recieved an Over the Top Award for being- well, over the top! 😉
I'd like to thank Tanya (Tee) at  http://thegrabbag-tanya.blogspot.com/ for presenting me with this award! Now, I have to find 5 other blogs that are new and that I am happy I've found… so next post will announce those as well! 🙂
COMMENTS
October 23, 2009., 9:09 PM /

October 23, 2009., 10:50 PM /

Wow - Those are awesome!! I love the first pics of the Grandparents. And all of the outdoor pictures look like they were so much fun - great capture!

October 23, 2009., 10:06 PM /

great Pictures....

October 26, 2009., 9:24 AM /

Here I was just thinking about how I hadn't gotten to read a blog in a while, and up poops one in my email. Thanks for the update and smiles :).

October 26, 2009., 6:20 PM /

Oh I love the pictures of Grandmere, Lamb and Sheba!!

October 27, 2009., 9:23 PM /

i love multi-generational photos, it's a great way to keep track of genealogy too you guys do an awesome job! keep up the good work

October 28, 2009., 5:33 AM /

Just visiting from Friends following friends on MBC. I would love to see you follow my blog too - Organize Your Life Now Thanks, Claire McFee Author Organize Your Life Organizers

November 6, 2009., 12:44 PM /

I have an award for you at http://kats-confessions.blogspot.com/ Have a great day!

November 25, 2009., 5:28 PM /

Hi! You are an amazing photographer. I just signed up to follow your blog. (Found you on MBC.) Have a super Thanksgiving! Naomi from organicmotherhoodwithcoolwhip.com

November 29, 2009., 1:21 PM /

We were at the carousel too : ) LOVE the family pictures. I have to always remind myself to make sure I take pictures of my own family : ). Aaron's coworker's family turned out so nice. Love them!

February 2, 2010., 7:22 PM /

Awesome photos! Grandma was cracking me up! Thanks for sharing!
Comments are closed.