Well it's been awhile- after a lovely Mother's Day we had a rough two weeks over here in Loveyland!  (For those who do not yet know, Aaron's nickname is Lovey, together we are The Loveys:  ergo our home is Loveyland. Oh yes, we really are that sappy! 😉  A bit less sappy, perhaps, during the weeks that are occupied by children repeatedly emptying the contents of their stomachs from any orifice they can, and parents desperately trying to care for them while not catching anything because we can't be sick and shoot a wedding!! SO I apologize for the lag in blog entires- but I will try now to catch up!
Let's start at the beginning- Mother's Day weekend was indeed lovely- we spent Saturday at the Folk Fest at the Mercer Museum. The kids loved the museum and I am always fascinated by the exhibits- I watched flax being beaten and thinned, then turned on a spinet, then ready to weave- this is amazing to me- who on earth ever saw this grain growing and thought hmmm…if I beat the heck out of that and twist it into thread I could make a nice linen shirt? That's just cool. Sunday, Mother's Day morning, I was allowed to sleep in–till 7:30!!! 😉 Aidan led me downstairs to the table, where he had the lilacs he cut for me and a great handmade card, and new Favorite Coffee Mug! This was an especially  welcome sight, since just the day before I had dropped the former Favorite Coffee Mug- from Mother's Day 2004, with a picture of Aidan & I on it. New Mug now has Aidan and Aleia on it- I love it. Then Aaron made a yummy breakfast of french toast and bacon. Aidan and I went to my sister's to celebrate with my mom & nieces and have brunch while Aleia hung out with Daddy. THEN we came home and had dinner for Aaron's mom and family- it was a very mother-filled day! 🙂 
Here are some shots from the Mercer MuseumFolk Fest: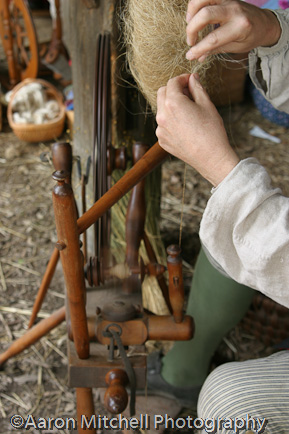 On Monday we met with the winner(s) of our Inner Beauty Contest – and we loved them! Teresa and Michael are the parents of four- Skyler, Emma, Aidan, and Miah. And I knew we were right in choosing them as our winners, when we walked in and saw the walls covered in framed 8X 10's snapshots of all the kids, and more pictures lining the shelves. Skyler sat with us while Emma occupied the little ones downstairs, and we just chatted about how a session generally goes, what they were hoping for, and ideas of poses and outfits. We really like to have a pre-session meeting like this, for so many reasons! It gives us a chance to see where we'll be shooting, get ideas for places and lighting, talk with everyone and get to know each other, and show some of the equipment to the kids. There is a lot of stuff involved, and  just the flash diffuser on our cameras has been known to set some kids backing into a corner- let alone when we start hauling in lights, soft boxes and backgrounds! Plus meeting beforehand gets everyone more comfortable and able to relax during the session.  I was so comfortable talking with Teresa that Aaron had to drag me out of there! Both of them are so nice, I can completely understand why Ruthann voted for them. All mother's have a lot on their plate, but Teresa has more than some, and she doesn't seem to bat an eye about it! Skyler is 13, and was born with cerebral palsy.  He sat flipping thru his books while we talked, occasionally looking over at Aaron and I and quietly asking Michael for a snack.  He gave  a great big smile when I said good-bye, but I made the mistake of saying Now there's the kind of smile we're gonna need! And he quickly took it away! 😉  Subtlety is not my forte….
Emma is 8, and she is just beautiful- blonde hair, blue eyes- I imagine any picture of her is going to look great! Aidan, 6, loved seeing all of the equipment, especially when Mr Aaron dramtically flicked open the big reflector disk. We'll need to shoot him at a higher speed, or he'll just be a blur! But if we get him still enough to capture his beautiful eyes we'll be all set. Miah, the littlest, was the shyest. Almost 4, she will be the one we still have to win over the day of the session.  But I can already see a picture of her and Emma holding hands, walking away from the camera, her dark hair contrasting with Emma's.  We left their home  already very excited to work with this family! We're so fortunate to do the work we do, and to get to meet people like the Godshall's, and to love every minute of it.
I will skip over details of the rest of the week where everyone was sick, and go right into Sunday's shoot. I hope my readers like dogs- because here are a whole lot of them! Best Friends Pet Boarding in Willow Grove asked us to cover their  Furry Friends Festival. The day started off grey & cold, but was quickly brightened by a pack of  TINY PUGS!!!!  Yelling TINY PUGS is almost as much fun as seeing them! I love these little  dogs,  they crack me up- I can't help but smile every time I look at one- and this one in particular was my favorite- he was just so human! I think we saw every breed of dog there is that day. Most of them were quite the camera hogs, too! My lens was almost smudged by many a nose. It was a great day- possibly even more fun than a wedding! I am thinking we will take Bear there for a training class.
In tomorrow's blog I'll tell you all about what Aaron Mitchell Photography plans to do to thank the families of our troops,  but for now I leave you with some happy pictures on this Memorial weekend- and a thank you to all those who help bring peace to our lives.
COMMENTS
May 25, 2009., 7:11 PM /

May 26, 2009., 1:31 AM /

What a beautiful place! Very happily following along from MBC, back soon for more inspiration:) Kristin

May 29, 2009., 11:07 PM /

The photo of the blue-eyed kitten is making me seriously want to run to the nearest shelter and rescue every feline and puppydog:) Following from MB100, please follow back? <3 sarasophia
Comments are closed.