I know I should be happy that the kids are back in school, it's not as if we weren't all beginning to drive each other crazy once August came, but I am NOT happy!! I am sad. 🙁 My baby boy started First Grade this year, and merrily leapt onto a bus to spend the day in a room I've never seen with a teacher I've never met. I cannot handle stuff like that!! I spent the day morose with the realization that for the next 12 years he will be gone all day, out of my reach. Aaron kept checking to make sure I was not rocking back and forth in a corner somewhere. (I wasn't, but I could have!) Next week Aleia will begin her first year of preschool, and while I know I will be a little teary, I also know it's just for a couple of hours two days a week, and that for the most part our days will still be intertwined. Aidan, however, has untwined from me. Forever. …I may burst into tears again…
SO before I do I will share some shots of his First Day of School. (We have video, too, for those interested! 😉 Just let me know!)
(this is Bo Bear, who has been with Aidan since he was 4 months old)
Aidan with his BFF Emily, they get to share the bus stop this year
And now it's time for some silliness! Here is a behind the scenes look at excatly what the Castro family does with a few minutes of spare time and an empty shooting space:
Our actual use for the set up was to get a head shot for Adriana, who is beginning to pursue a career in theater (or at least a side career to 5th grade) and already has a part with Town & Country players this fall! How cool is that??! We got a couple different shots for her and her mom to choose from: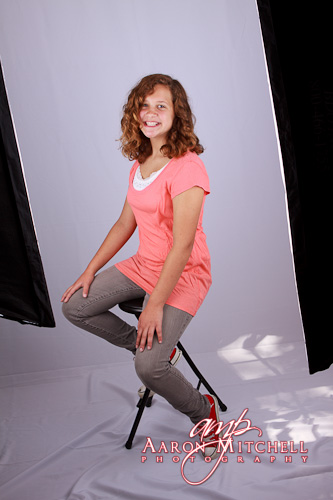 And now it is time for a wedding!!  I met Jenna's stepmom Sue at a Central Bucks Chamber of Commerce luncheon, we'd seen her dad Mike at other chamber events, and then we got to meet the whole big family when we met with Jenna and Josh to discuss wedding photography. And what a family!! We invited all of the parents and their friends to come to our Halloween party this year, because when people are going to be that much fun we want them around! 🙂 The weather was perfect, the wedding colors were fun, and I think everyone had a great time- even the DJ was dancing!
And last but not least, we finally have some photos of our Inner Beauty Contest winner!! Ellen Lindeman was nominanted by Debbie Goetz, and I am so glad that she was because it was wonderful to meet this woman and her gorgeous kids. Ellen founded the Ted Lindeman Outreach foundation after her husband Ted died of an agggressive cancer after only 10 weeks, when he was only 33 years old. His daughter and son were 5 and 3 at the time. Somehow Ellen turned her grief into a way to reach out to others, and the foundation helps families who are suddenly thrust into the tragedy of a similar situation, where one young parent dies. I could not even begin to imagine the depth of grieving that she suffered, and the fact that she made something so helpful for others out of that shows exactly what we mean when we ask for people with inner beauty. Ellen is a strong woman, a caring mom, and an amazing example of what beauty can spring from tragedy. Here are just a few shots of the session with her kids, we're saving the rest until she sees them all. 🙂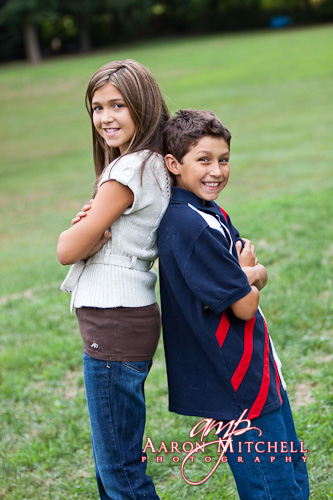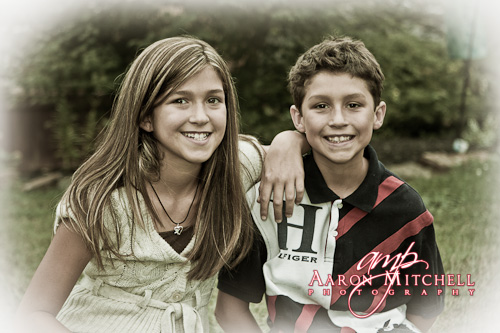 I just couldn't decide between color or faded for this one…tell me which one you like better!
Don't let too many moments go by without hugging.
Welcome to September! It may not feel autumnal yet–but it will soon, I bet! Soak up the sunshine now!
Love,
Cheryl & Aaron and the two small people who have changed the way they look at life forever 🙂
COMMENTS
September 2, 2010., 9:53 AM /

September 8, 2010., 1:01 PM /

Thanks Courtney! ;)

September 4, 2010., 12:02 AM /

As always, Your pictures are magic and continue to make me smile. I am one of those unknown teachers that started school last week. It's scary for us too when we have close to 30 unknown and unseen children that we are responsiable for for the next 180 days of their sweet little lives. No worries, I'm sure your little beauties will have an amazing year. With your strong home support and sense of humor remember......... " It's a Wonderful Life" ps I still can't believe my daughter got married this summer.... I just brought her home as an infant... in my mind. :) Karen

September 8, 2010., 1:33 PM /

Thank you for your wonderful comments Karen! I got Aidan this adorable book about the first day of school, and all through it you think it is from a child's point of view, and how scared they are and fear no one will like them, and at the very end you realize it was a teacher!! It is a great story!! :) I can only imagine that all your students love you! And to think, Gretchen went from that tiny baby into such a beautiful person- you and your husband deserve to be very proud!! :)

September 8, 2010., 11:36 AM /

Many thanks for your Blogs..i enjoy them…they are refreshing to read and the photos are great…I met you at Gretchen Lawler's wedding at my parish of St. Andrew, in Newtown, PA…keep up the great work and may God bless you and your children…Father Mike Picard Cheryl…surely you can use my message…I hope the children do well in school…I would be glad to recommend you and Aaron to anyone asking me for recommendations for photography…you do beautiful work!...what impressed me most is that you enjoyed doing your photography and you were not intrusive to anyone that day…having been to many weddings and other affairs, the photographer can be a nuisance, if you know what I mean?...thanks for responding to my reply…Father Mike Picard
Comments are closed.