(Actually, the goose has merrily slimmed down a bit thanks to 4 days a week of yoga and zumba!! 🙂 Woo hoo!)
Welcome to the Christmas Season! Even if it is not a holiday you celebrate personally, you are pretty much surrounded by it right now, so you may as well feel welcome! 😉
We are just wrapping up all of the holiday photos, though sadly we STILL have not taken our own ***sigh***. Here was our last Santa shoot of the year, and I think he may win for cutest! This is baby Jack, 5 weeks old. We now believe that all newborns named Jack will require a two day newborn session, because just like our last Jack, this little guy was deeply disturbed that we dared to try photograph him. This happens– you can bring the photo shoot to the baby, but you can't make him smile– and when a baby isn't happy no one is happy. SO we just come back another day, and try again! By the second time Jack accepted the fact that we were going to keep coming back until he posed, so he obliged. My favorite is him as world's cutest tiny elf in the hat!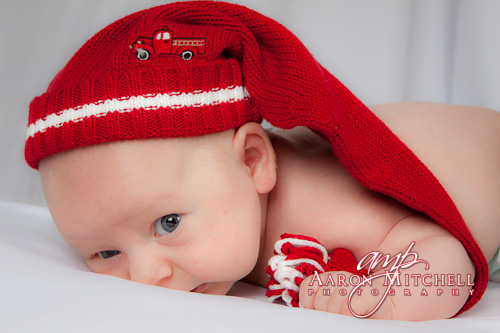 Then we had an outdoor shoot, which I was so happy fell on a beautiful day that was not freezing cold!! This was our third commercial shoot for Angel Heart Boutique in Newtown. We may need to stop them I think, because each time I end up wanting one of the articles of clothing on the hangar lady models…;) This time I want the black coat. The hangar ladies were easy to work with and as composed as always, so it did not take too long, and we even had a chance to get a shot of Sherri, the owner of Angel Heart, with her Great Dane Bono. What a cool dog!! If you look closely you can see him in the background of some of the shots, too.
Oh wait, Jack was Not our last Holiday session! The Haines family was- although none of them posed naked in santa hats… You may recall the Haines' from either the Halloween Party or last summer; they are friends of ours who actually live nearby but we mainly see when we share a house in the Outer Banks each summer. This family portrait session went really well, despite Justin trying his hardest not to give us even a hint of a smile. We bribed, we tickled, I danced back and forth behind Lovey and the camera–nothing worked. As we were packing up the gear, however, Mommy Florella asked him to say cheese and there, while cheesing, was a perfectly big smile. …Right–"say cheese", who would have thought… 😉
And Flo's parents!
I can't say for sure, but I think they may be Flyer's fans…
And that winds up our sessions for this year! We are blissfully taking off the week between Christmas and New Year's- well, except for the family session we have on New Year's Eve day. This week is full of print orders, last minute Christmas cards, presentations, and Chamber events, but maybe next week we can finish getting ready for Santa! I leave you with a few shots of our kids, because it's been awhile, and they're cute!
Aleia with Drew, one of her neighborhood boyfriends. He's a little older, but he drives.
Magical Thanksgiving snow??
Aleia's other boyfriend, Anthony, waiting for Santa to arrive in Dublin. He's younger than her but has a lot of cool toys…Plus his dad can always carry them around instead:
A visit from Donghan! Our exchange student from last year came by to celebrate with us! The black blur in the front of the shot is Bear Bear, who wanted to be included but isn't too camera savvy. He also tends to knock the photographer over when she's down at his level.
From our own crazy family to yours, may you enjoy the blessings given to you in the past year, and be ready to give and receive even more in the next one! Merry Christmas and Happy New Year!!
Lots of Love,
Cheryl, Aaron, Aidan, Aleia, Bear, Kitty, Speedy and Fred
COMMENTS
December 16, 2010., 10:34 AM /

December 16, 2010., 7:26 PM /

It's about time Bear was in a photo shoot.
Comments are closed.