We're Back!!! Okay, we were never really away anywhere but it feels like it's been awhile. Maybe it's just that fall is back. I am enjoying the crisp air and the halloween decorating, pumpkin picking and costume planning. 🙂 Hopefully you are falling into the spirit of things too!! 😉 hehehe.
We have some amazing engagement session photos to show you today! We are so excited about working with Lara and Brad because they have some awesome ideas and they really want to have fun with their shots. I am actually hesitant to put some of them up for fear it will give away their cool ideas…
We don't just shoot for an hour or two when we have engagement sessions, we ask the couple to pick locations meaningful to them–where they met/got engaged/just like to go–and we travel around with them capturing some cute romantic moments, some silliness, and just having fun hanging out together –us and them! 🙂 We went all over with Brad and Lara, hiking in Philly and jumping in watering holes, then to Hopewell Furnace in Elverton PA, and some random fields around there. We did kind of sorta get asked to leave, in rather unkind tones, by a ranger bearing an uncanny resemblance to Burt Reynolds (forever tainting my previous fondness for Burt Reynolds, by the way…)  I can see how having our couple roll in the hay may have disturbed guardians of the historic site (I honestly thought it was just bedding for the sheep!) but I dont see why he needed to be unkind when we were obviously working our way down the driveway, only slightly past closing time….but I digress…
Here are the photographic representations of the fun time that was had by  all: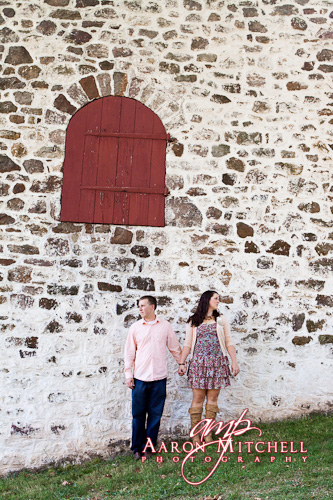 Sometimes I lurk….
(And incase any of our photographer friends notice that I am still reaching across instead of using that nifty buttom right there on the grip- I know- I know– some habits are hard to break even when they are uncomfortable!!)
Now, you will need to prepare yourself for this next wedding…maybe turn on some good music…
I am thrilled to say that just about any wedding we have had the honor of shooting has always been a good time, but this wedding, Theresa and Jordy's, has got to win the Dancingest of the Year award! This was one incredible party!! I had so much fun shooting it Aaron kept laughing at my ear to ear grin– I LOVE good music, I love dancing, and I love watching people who know how to dance– and this crowd Knows how to dance!!! My goodness, I swear all 4 of Theresa's brothers and sister MUST sit home and practice this stuff! And the whole crowd was crazy- it was just so much fun!!  Craig, of Cutting Edge DJ's, was just fantastic (have used the word fantastic too many times yet??) at stirring up this frenzy too. You can see in just these few reception pictures, the crowd loved it when he gave them the mic (and if they couldn't have the mic they'd improvise!) The wedding was at Alverthorpe Manor, at the Abington Art Center, and this place had so many fun things to incorporate into the fun wedding portraits! Theresa and Jordy were married under the giant gold frame, and then there was a little house that we just had to use, because it was there! The bridal party was really fantastic too- so fun and willing to go along with anything! Did I mention we had a great time at this wedding?? 🙂 For once the pictures may just not be able to fully impart the fun-ness of this day: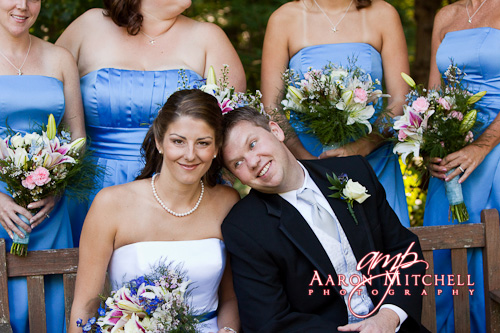 I am not positive, but I think this guy shows up at all of our weddings…
I bet you are exhausted just from looking at them!! …so… much… fun….
Then we slowed down a bit, took a breath, and the following weekend we headed up to Easton, PA, for Joanne and Bret's wedding. I really like Bret. He was a bit of a PITA when it came to taking his picture 😉 but in actuality he is the nicest guy ever, and I love how you can see how much he adores Joanne, every time he looks at her. Whatever was important to her that day was therefore important to him, even if he did scowl at me a lot as I tried to sneak up and get his picture.  Their wedding was at the Riverview Country Club, which is gorgeous, inside and out. Stone fireplace, very cool natural wood bridge leading to the beautiful gazebo for the ceremony, and the staff were so helpful too! They even chased us down in golf carts to get them their drinks! We had also done an engagement session with Joanne and Bret, so by now we were all really comfortable hanging out to enjoy this beautiful day. It was a perfect fall day– though a bit bright since golf courses tend to cut down all the trees–and Joanne looked beautiful, she was calm and happy and having a great time. And the little flower girls were soo good, all day–they danced up a storm all night and then crashed. And as an added bonus, our friends Nerice (from Busy Bee Toys, my favorite place to hang out) and her husband Will were there too!
This is the look Bret gave me all night 😉
Lovey behind the scenes!
I just thought this guy looked so cool
As always, please dance with your photographer–we always want to!! Just grab us!
And here's Nerice and Will!
Coming up next will be the wedding of Courtney and Tom!! If you read my blog you know Courtney, because she is my most loyal blog reader and comment maker! Sometimes I include things just because I think she'll like them! 🙂 Her wedding is this weekend, as well as Lauren's, who you met when we did her and Ian's engagement session last spring. Keep your fingers crossed for great weather for both of them!
And of course there will be Halloween Happenings and more fun stuff–come back and see!
Love, Cheryl and Aaron, and the two children who really do still live with them, even if they haven't made it into the blog for awhile…
COMMENTS
October 14, 2010., 9:20 AM /

October 14, 2010., 9:38 PM /

Courtney-- thank you my favorite reader!! :) We can't wait!!

October 14, 2010., 9:38 AM /

Great stuff, as always!

October 14, 2010., 9:37 PM /

Thanks, Stacey!

October 14, 2010., 11:55 AM /

Yeah!!! We love the pictures. We're buying picture frames this week to showcase them on the newly painted living room walls!

October 14, 2010., 9:37 PM /

Lara- I am glad you like them! You were so much fun! :)

October 14, 2010., 10:25 PM /

Oh, and you must bring your dancing shoes!!! There are a lot of them coming to our wedding :).

October 15, 2010., 8:53 AM /

Excellent, fun, fun, fun! Cheryl, I love reading your blog and looking at the pictures. Something that always strikes me when I see the pictures of you and Aaron is how happy you guys look. I can tell you guys really enjoy what you do and its a privilege to view it. Congratulations as always on a job well and lovingly done!
Comments are closed.