Ohhhh the two hour snow delay!! Why? WHY?? Really, I remember WALKING to school in 6 or more inches, in a pretty darn short kilt, and everyone seemed to manage just fine. Now morning kindergarten is cut down to one hour and forty minutes on a delay day. That' s hardly worth the effort it takes to pack everybody up and get there!!
I digress, however, because I think mostly I am upset  about  the fact that now I have less than two hours of quiet alone time to write and work alone, before Donghan comes home and Aaron returns from the grocery store with the kids…
So first I will share ideas on what to DO with a two hour delay! Here are some suggestions, based on our morning: feed the birds, let small people throw snowballs at you, "feed" the fish some snow, swing on a tire, take shots at your husband, and create rastafarian monkeys out of play-doh!
We've had a couple of really great sessions since last I wrote! Our prize thus far this year for Most Fun Family is definitely going to Jessica's family!! Jessica is the mastermind behind the site bucksmontmom.com, The Essential Guide for Suburban Moms, which you should definitely take some time to check out. But besides that, she is the mom of two darn cute little boys and the wife of the most enthusiastic dad model we have shot yet!!! Aaron and I always have fun doing what we do, but these guys were just such a blast to work with, so laid back and relaxed about everything that it was just a wonderful time! I can only hope they enjoyed the session as much as we did…
After that we had quite a busy week- Aaron shot some stuff for the Central Bucks Chamber ofCommerce Women in Business's Gourmet Getaway (now that's a mouthful!).  This is our first year taking part in the Gourmet Getaway, and I am so glad we could do something to help out. The event is, to quote from the WIB web site, "
A decadent evening of food, wine and song. The Gourmet Getaway is your ticket to sample an array of scrumptious gourmet food and enjoy beer and wine from top local breweries and wineries.
This evening of food and fun benefits the Women in Business Scholarship Fund. The scholarship fund gives a deserving local woman education money to gain the knowledge she needs to get a job
."  SO I think that's a pretty good cause to support!
  And I was so happy to see some of my favorite vendor guys were involved!!  I am sad I was not there to do the shooting — I love Bert, from Crystal Rose Catering, his food is awesome but I love just hanging out with him and his assistant Elaine! We both do the Open Houses Pearl S Buck with Larry Ott from Open Aire Affairs (okay, seriously, just way too many names to try and drop in here this week!!) And, of course you have heard me mention Doug's Cakes– now I have some scrumptiousness to show you! I included just a few of my favorite shots, because there were so many – and I must say I am deeply disappointed that ONLY the Talking Teacup actually sent Aaron home with any of the delectables he took pictures of! (Thank you Talking Teacup!) I understand I can't eat the sugar in the cakes, okay, but the wine! I'll take wine!! 😉 So here you will see wine from Chaddsford Wine Shop, cake from Town Crier Bakery, cupcakes by Doug's Cakes, olive oil casks at TASTE of Sandcastle Winery, cookies from The Talking Teacup, and more wine from Crossing Vineyards:
And in between those shoots we took turns having meetings! I met with Kim Bensing of Heirloom Occasions, whose work I had heard of from various people and was happy to finally see for myself. Our wonderful TD Bank buddy Val (technically Valerie Cain, Assistant Vice President) was kind enough to set up a coffee date for us so we could meet. Among other things, Kim does amazing custom wedding invitation sets, which I have to see if we can get some samples of  to show our brides, because they were just very cool. And we also spent more time hanging with our friends at the Open Houses, met with even more brides for 2011…are you beginning to wonder exactly what part of our work actually feels like work?? 😉 Almost none of it, thank goodness!
Then we had another baby session- it was Shoot a Baby on a Piano Day! Drew is just about 4 months, and has the best giggle!! Something about Aaron just cracked him UP, and he laughed through most of the day! His mom was looking for more environment type shots than just ones in front a background, and their home provided some perfect props! Besides the piano, the very cool copper tub was awesome.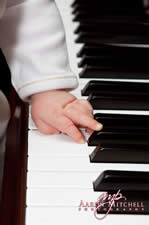 And of course if there are doggires we have to get them too!!
And then finally, the long awaited holiday arrived- GROUND HOG DAY!! Incase you haven't noticed yet, it takes very cause for a celebration around here! 🙂 Aidan had been wanting a dinner out with just Mommy & Daddy (Aleia talks so much now  that no one can get a word in edgewise at home anymore…she must take after her Daddy) and Aleia was excited to have dinner alone at the neighbor's house, so it was a win-win deal. The restaurant choice was all on Aidan, and he chose …….Wendy's.
Really? Yep. We are not generally fast food people and he has never been to a Wendy's, so that's where he wanted to go. At least it would be a less expensive meal than sushi. .. So here are some shots (oh yes, I had to get some!) of Aidan's Night Out to Wendy's:
I hope I did not overwhelm my faithful followers with SO MUCH stuff!! I don't think we have any exciting plans coming up for President's day, so next blog should be less packed. Of course …Chinese New Year begins on Valentine's Day…and that means double celebrating!!!
May all your days be filled with ground hogs, Love, or presidents!!
COMMENTS
February 5, 2010., 3:26 PM /

February 5, 2010., 3:27 PM /

PS - Great pictures also. :)

February 8, 2010., 9:52 PM /

Following from MBC FFF. :) http://www.thepumpkinpiepatch.blogspot.com
Comments are closed.