I must warn you, I started off in a pretty pissy mood today. A mood that got worse right after I returned to my blog program to find everything I had written earlier gone…glower frown mumble…
SO I now must attempt to ungrump myself. I had written earlier how little reason I had to be grumpy, as I typed to you from my comfy living room, watching the birds at the feeder; with the dog at my feet and a cup of warm Chai tea next to me. Now the birds are gone, the tea is cold, and the dog wants to go out….and yet I go on. 😉 Because, as I had written so eloquently earlier before it got lost in space, there is no actual reason for me to feel unhappy. But sometimes we just are!
So, now what I do is to recall a favorite old quote (because I am a bit of a geek) and one I always think of is from Lincoln- "most people are about as happy as they make their minds up to be". I love that one, because it is so simple, and it places the responsibility of our own happiness right where it belongs- on ourselves!! It isn't the world's job to make us happy, we have to be the happy in the world! Right?? This isn't a dress rehearsal people– this is your life! Are you happy? Make your mind up to be! Go do the things that you love, make the time for them, don't let all of your energy  go towards the things you "need" to do. When you make your schedule, be sure to put some fun in it, every day, just for you. Even if it's just to sit quietly alone and listen to the wind in the trees. You need to feed your soul, to be happy yourself, then those around you may just get happy too.
Whew, okay, I am done! I feel better now! SO much easier to give an internal pep talk when it feels like it's to someone else…;)
Now for some reasons to be happy! Here are some great examples: our kids, our fantastic friends, and some of the amazing people around us. I share them with you now in picture form, as this is still a photography blog, despite my ramblings on Life this morning. We'll start with the Halloween Party, by popular demand:
The Grand Prize winner- The CLAW!
Is Bananas B-A-N-A-N-A-S??
Bananas…..split! Aviva and Jessie you guys ROCK! 🙂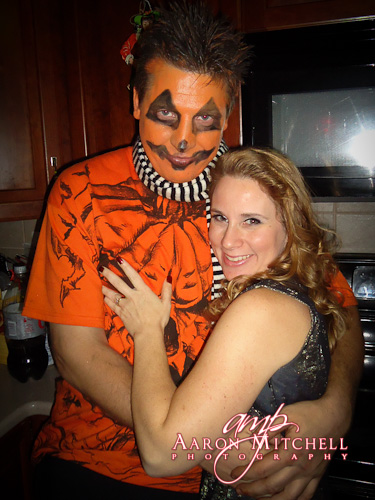 Aaron and I each with old dear friends! (well, they aren't THAT old! )
Best Couple WInner, WInter and Jack Frost
Doylestown's hottest chiropractor/cop!
We don't know where this old guy came from…. 😉
One legged Flamingo & her groom(er)!
Scariest prize winner- Alice in Wonderland, Tim Burton style
Random silliness
Did Laurie switch from chocolate to insurance??!
And last, the sole shot of James Bond and Pussy Galore together…***sigh**
This is what happens when you hand the camera off to a non-pro! 😉
Some more Halloween Fun:
Happy little killer rat in her preschool performance
killer rats and the big cheese (exterminator Aaron missing from)
Cute little trick or treaters
Cute big trick or treaters!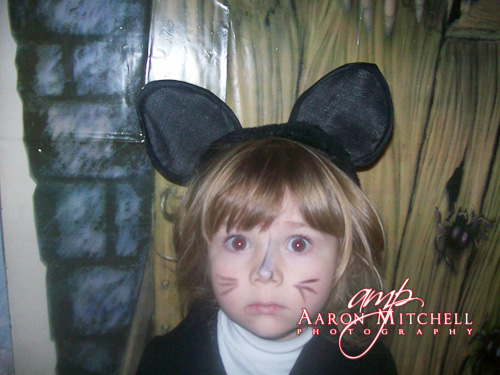 I had to add this one, taken by Aidan. I am curious about the stark look of fear in her eyes…
Next we have some actual photo sessions! We don't just throw parties and dress up, you know!
These photos are of our great neighbors, Leon and Marie, who celebrated 50 years of marriage this past June! That, right there, is a life full of riches. Marie is well-known in the Pearl S Buck community, as well as the Chamber of Commerce; her advice on issues is always sought! And Leon is just amazing- he plays tennis all the time, walks to the dairy down the road from us to get milk while we lazily hop in our cars and refuse the brave the cold, and rakes huge piles of leaves for the kids to jump in each year. And I think they had fun with us… 🙂
Next up would be some head shots of the kids in Lights! Camera! Acting! classes, but alas I do not yet have model releases so I am afraid to put them up…. 🙁
So there I will stop. But not for long. To add to all of our Halloween Fall fun, Aaron and I are going to shoot a witch. A WITCH!! (yelled in monty python like voice). Diane Wing is the Forest Witch, www.ForestWitch.com, who "helps Witches who hide their magick to come out of the broom closet, focus their power, and make money while answering their true calling."  She's a writer, tarot card reader, and very sharp business woman. And she is going to be a blast to do a session with! I can't wait to show you the shots, if they come out half as cool as what we are brainstorming, they will be fantastic!
We also have our fun fun Holiday Dog Shoot! (I will have to entitle that blog we shoot dogs and witches…) We will be at Best Friends Pet Care in WIllow Grove this Saturday from 11-3, to get holiday pet pictures–Santa will also make an appearance!
And here I will really stop. I promise more pics and less talk in the next post! 🙂 But seriously, make sure you really are living your life, and loving it– maybe not every minute of every day, but more of it than not.
Love,
Cheryl & Aaron, and their very own dancing monkeys
COMMENTS
November 11, 2010., 11:15 AM /

November 11, 2010., 3:43 PM /

Love the Halloween pictures, Cheryl you look HOT!!

November 11, 2010., 7:24 PM /

Aidan did a great job!

November 11, 2010., 9:33 PM /

Love your words of wisdom. Great Halloween pics! :)

November 13, 2010., 7:03 PM /

Love the Halloween pictures. :)
Comments are closed.