Thanksgiving has passed, but I am hoping to carry the thankful feeling on a little longer, maybe stretch it out through Christmas… Isn't funny how our holidays start with feelings of gratitude for all we have, but then somehow turn into intense desire for all the things we don't have–usually things we wouldn't have even thought to want if someone hadn't told us we needed them!
So as our children begin writing up lists of pointless plastic things that they suddenly must have, and stores bombard us with sales on electronic gadgets that will absolutely not really make our lives easier, I have decided to focus my time on other things. I am going to keep the thankful feeling, and attempt to spread it around my house, maybe even into the outside world. I am going to relax and remember what is important; the warm comforting feeling of family and traditions, and the sights and smells that trigger/create all the happy childhood memories of past holidays, and make this as relaxing and happy a time as I can. And I think my big gift to Aidan and Aleia this year may just be trying to truly live in the moment with them–not trying to quickly answer that email that just came in, or taking one more minute to finish up these pictures, or even just thinking about work when they're talking to me. I think if I can do that, just practice being mindful and present for them, they will feel so much more important than I have made them feel lately. And they are, so SO much more important than all of the seemingly vital things we feel need to be done Right Now– and I am grateful that I have a husband who realizes this too, and that he and I can take turns alternately reminding the other one. It's a busy season, and it's so easy to get caught up in the rush of everything sometimes, but when you can, pause, take one long slow breath, and look at the things you have right before you. And be grateful. 🙂
In addition to my amazing kids and almost unrealistically perfect husband 😉 I am also grateful for all of the people we have come to know in the course of our work! So many have started out as business associates, but have became great friends and an important part of our lives. Just the past two weeks have been filled with new people, new dogs and cats, new babies, and new lives to be touched by. Here is a not -so-quick recap of the past few sessions:
Going all the way back to the beginning of November, here are just a few of the headshots we took for Lights! Camera! Acting! Aidan and Aleia both took the classes this year, and they LOVED it. The big show went so well, with all these tiny kids on a real stage with what had to be over 100 people in the audience- Aleia froze up a bit at first but some hugs and a pep talk from her Big Brother and she did great, and Aidan, I am not surprised to say, was a total ham. He ad-libbed some of his own little jokes in there and had the audience laughing, and he just ate it up. (I did not include his head shot though because, well, his hair was a little messy…. 🙂
Then we shot some dogs, and one very squishy cat! This was the second year we had a Holiday Pet Photo Session at Best Friends Pet Care in Willow Grove, PA. It is always a very fun, very busy day! This year I think we had 31 dogs and one cat, in four hours….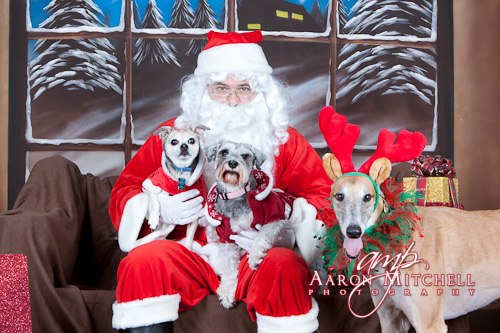 And it's not all about Santa, there were also Hanukkah dogs!
And a squishy cat:
Now, by looking at these shots, you may get the mistaken impression that getting shots of these guys is easy…oh no no!! Loving dogs helps a lot, that's for certain, but an immense amount of patience combined with sheer stubbornness is really how Aaron gets the toughest shots! 😉 This poor guys was so nervous it took us about half an hour just to get him to sit and look at the camera, but Lovey did it! 🙂
After shooting dogs and cats, we felt a need to shoot some babies, so we started with Elena and her family. Elena was not nearly as excited as her dog Winston about the photo shoot, but I think both of them had fun!
And we had a great time talking with Elena's parents too, despite the fact that Aaron's ear, which had begun swelling and looking weird  on Friday, was now vaguely the color and shape of an eggplant, and we were headed to the ER once the session was over….The ER was fun, poor Lovey broke into hives from either the CAT scan contrast or the IV of antibiotics, and his ear stayed swollen despite an intensive round of double antibiotics which I am sure killed off everything in his immune system for the rest of the winter. 🙁 The swelling finally receded this week, only to be replaced by what is apparently a common side effect– the amoxicillian rash, where your whole body breaks out into intensely itchy red dots  that multiply and merge until your body becomes red with white spots instead of white with red spots… I am sure this too, will soon pass…but not quickly enough for the Itchy Man.
In the meantime, we keep shooting! 🙂 We had such fun with the dogs and Santa, that we felt we were ready to advance onto actual children with Santa. Sharkey's Cuts for Kids in New Britain asked us to do Christmas pictures at their salon, by appointment only, which was a fantastic idea. This went much so better than I expected, having seen and experienced first hand at the mall what small, unsuspecting children do when thrust upon Santa. Only one child actually hurt Santa, so that 's good…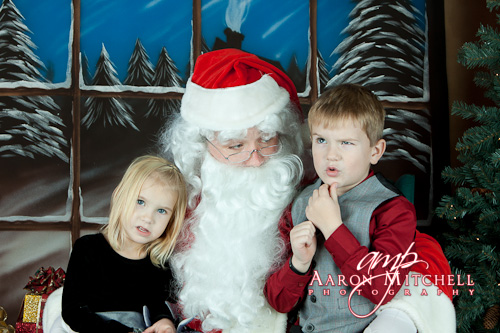 What I love most are the expressions on some of their faces as they tell Santa what they want!!
Of course, then the rest of us needed to sit on Santa's lap:
And last but most certainly not least, we have the lovely and talented Miss Lilah! We have had the honor of photographing Lilah since before she was born, and every time we do she gets more and more beautiful! I had actually scheduled a long session for her, knowing that she was going to be crawling right off the background at this stage, but she was such a pro that we had several wardrobe changes, props and backgrounds and still we were done in less than 2 hours!! That is just amazing to me. But I should have known, because she is just like her Mommy, our wonderful friend Aviva! And her blue eyed Daddy is Mr. Sam, our friend and soon to be Aidan's orthodontist… and then Aleia's… 😉
And there I will end! It's been pretty busy around here, as you can see, but that's just one more thing to be thankful for (regardless of whatever I may grumble as I rush from one thing to the next some days…:)
Aaron & I both hope everyone had a Wonderful Thanksgiving, is in the midst of a very Happy Hanukkah, or will soon begin a peaceful and memorable Christmastime!
Tune in next week when you will hear Dr. Bob say…oops, no wait, wrong sign off….nevermind!
Love, Cheryl & Aaron, and the tiny elves
COMMENTS
December 2, 2010., 1:25 PM /
Comments are closed.