So I wonder– is there anywhere other than Bucks County that we send our
children off into a field of boulders, happily giving them hammers to wield? It
just has to seem strange to people who don't know this custom, who may think it
is just another pretty place, when they visit Ringing Rocks and see a family
emerge from their vehicle with all sorts of weapons…
Aidan- looking very "Children of the Corn, with Hammer"
Aleia lounging on a Ringing Rock
 Aaron and I realized that summer was quickly dwindling away to just a few
more short weeks, and we had hardly done any cool summer things!  So on Sunday,
after a long day shooting an outdoor wedding in the 95+ degree heat and sweating
off a good percentage of  our body weight, he decided we should bike around Lake
Galena, at Peace Valley Park. The park is actually close enough to our
house to ride bikes to it, but the roads are just narrow and busy enough to make
us not want to take the children on them. Usually we ride up and down one side
of the lake and head home, so when Aaron wanted to do the whole lake I  thought
he was crazy–I think it is about 7 miles. But we made it, and it was oddly
easy- it must be very flat, because I am about as sporty and athletic as a sea
slug, and I made it and loved it! And Aidan made it the whole way too, with only
minimal moaning about how long it was. Aleia, strapped onto Daddy's bike, had it
the easiest- next time we're thinking of making her trike it. 
The next day we headed off to hike Ringing Rocks, it was a picture perfect 80
degree day that just had to be taken advantage of. I packed a change of clothes
for the kids because we desperately needed some portraits of them, and we
thought the setting would be perfect. Wait until you see the results- I am sooo
happy with them! We're going to make this first bunch a large canvas grouping on
our living room wall, and the next two I am framing to put in Aleia's room- I
always love those kind of mystical looking fairy pictures I see for kid's rooms,
so that was the effect I was going for. Our children are helpfully photogenic,
and bribing them with giant cookies if they'll sit still on the slippery rock 
just one more time doesn't hurt. 😉
So here they are, finally we have on our own walls what we do for everyone
else:
SO about that 95 degree day wedding! Brittany and Matt are one of the
sweetest couples we've had this year, and Matt was into every detail about the
wedding . The ceremony and reception were at the Merion Tribute House, which is
a gorgeous venue with stone buildings and lots of green. We are really into both
stone and green!  Brittany was completely calm, she was not letting the
oppressive heat get to her; the men arrived exactly on time which is truly
amazing, and everything seemed to be going well. Until we found out about the
buses… Apparently the hotel where the guests were staying had two buses
arrive, one for Brittany and Matt's wedding and one for someone else's.  We
found out 5 minutes before the ceremony was to begin that most of the guests for
this wedding got on the wrong bus, which was headed 20 minutes in the other
direction! And amazingly Brittany did not lose it at all. She just suggested to
the coordinator that we have half of the cocktail hour now and half after the
ceremony, and that should be enough time to hold off starting until the rest of
the guests arrived. I thought that was a great idea, and one I would never have
been able to think of if someone threw 90 late guests at me the day of my
wedding. And then everything was good again, and the guests came and the
ceremony was beautiful, and the reception started and the dancing. And then poor
Brittany had some sort of allergic reaction to something! My goodness, could
this poor girl not catch a break today?!? But she carried on, went back to the
dancing, and managed to remain utterly photogenic the entire time! 🙂 Here are
some of our favorite shots of the day: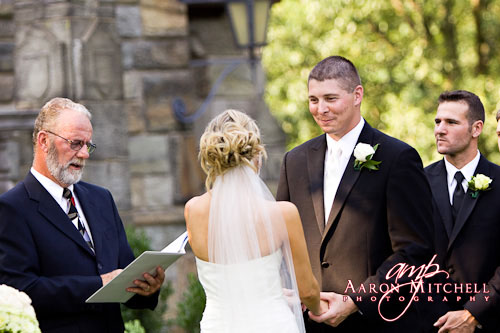 And then we shot a chiropractor! Now that is a line we don't get to use
everyday–and we shoot a lot of things around here! Dr. Heidi Bencsik met Aaron
and I both through Network Now, one of my women's networking groups- I am not
sure why Aaron was at one of the meetings but he's like that, he blends
in well with women! 😉 And our friend Nerice (of the oft- touted Busy Bee Toys)
re-introduced me to her when Heidi moved her offices to State Street in
Doylestown, into the Doylestown  Natural Medicine Center— conveniently just a
block down from the toy store. Heidi wanted headshots and some shots for her new
brochures, and we all got along so well right away, we had a great time
doing them! Aidan and Aleia  posed as models, to show Heidi's specialty of
adjusting children (and pregnant women, but Aaron and I couldn't accommodate,
we'll do a lot for our sessions but getting pregnant again is just not one of
them!) But we still got Lovey in some shots. And I can say that the adjustment
she gave me while posing was fantastic–even Aaron liked it and he is quite
picky when it comes to his chiropractic adjustments! I think we got some cute
shots for her to use, and we all had such fun together that I think we got a
great  new friend out of this job too! I love when that is one of the side
benefits. 🙂
This week is filled with bride meetings as we begin to book up next year's
calendar- yay!!  And we're working on prettying up the studio side of the house,
with new canvases and prints and hopefully some window treatments. (Why aren't
they just called curtains anymore? Or are they? Maybe the limp dusty strips of fabric
hanging here now are called curtains, and what we need are
window treatments…hmmmm)
This weekend is two weddings!! One in Cape May and
one at our beloved own Pearl Buck, so next blog will just be chock full of
wedding shots for you! 🙂
Enjoy the final weeks of summer, soon the sunshine will ebb and the slight
scent of autumn will begin to fill the air….and then– it's time for NEW
CLOTHES!! Wheeeee!!! 😉
Love,
Cheryl & Aaron and their cherubic offspring

COMMENTS
August 5, 2010., 9:54 AM /

August 5, 2010., 10:25 AM /

wow...the pictures of your kids were gorgeous! Cherish those memories...they grow up too fast. The others were beautiful too!

August 5, 2010., 12:26 PM /

Love the fairy-esque photos!!!

August 5, 2010., 2:10 PM /

Ohhh!!! You're going to be in Cape May for a wedding!!! I love it there! My grandparents live there. I can't wait to see those pictures :). Your children are beautiful, btw.

August 5, 2010., 8:33 PM /

I love the pictures of Aleia and Aidan! They look so adorable! (My daughter has the same dress!) Can't wait to see more!

August 7, 2010., 2:38 PM /

Great job on the Matt and Britt's wedding. Your kids at ringing rock photos are great. Bob

August 8, 2010., 7:24 PM /

KIDS.....TOO CUTE. Ok, as for Aaron....did Cheryl forget to buy you a razor????????? :)

September 8, 2010., 11:17 AM /

Oh my god, you SHOT one? I know doctors hate chiropractors, but I had no idea photographers felt the same way! J
Comments are closed.