I had a lot of other ideas- "Two brides and two best friends" or "Beach babies run wild" or just "Summertime Summertime Sum-sum-Summertime!"
But I have chosen "Ben".
This is because as I went through Cait & Pete's shots to pick some for this blog, everytime I would see one of Ben Crowley, Aaron and I would yell "BEN! "  Partly just because we are weird, but also because we love Ben- he is our financial advisor (Morgan Stanley– or actually now its Morgan Stanley Smith Barney- which I refer to as Morgan Stanley Smith Kline Beechum….which is only amusing to those of us who live in the epicenter of all the pharmacutical companies and their co-mingling names- or perhaps only amusing to me…but again- I'm digressing…) and he had reccomended us for Cait's wedding.  And he and his wife Courtney are the only other couple we've meet so far who are as ridiclously as lovey and silly as we are!
SO— this one's for you Ben! 😉
And now onto the people who this blog is actually about: Laura and Jimi, Emily & Katie, and Cait and Pete!! And random other people we may have photographed in between.
First is Laura's wedding- this was a wonderful day because not only did the couple's families come together to celebrate the wedding, but because of the  happiness that abounded over the reunion of some long seperated family members. We like happy endings- and happier beginnings!
Lately when we're shooting, I keep seeing famous people in the faces of our brides–for Keith and Michell from last month I kept seeing Fergie from the Black Eyed Peas, and in Laura I saw Sandra Bullock. (Both of whom I think are gorgeous and I would kill to look like in front of the camera!) So you'll have to check them out and see if you see what I do…  
 It was another hot day, and the ring bearer really didn't want any part of  bearing- but all in all everything went great! Everyone was there to celebrate Laura and Jimi- and they deserved it!  Laura's groom, Jimi, is the sweetest guy- he's always smiling and laughs a lot when he's nervous and he is just the nicest teddy bear of a guy!! We loved them both, and you can tell they are well-loved by thier friends and family too.
These ladies heard the party going on from the wedding across the hall and came to crash! Have to take pictures of the crashers too! 😉
Then we have our young runners up for our Inner Beauty Contest. Emily had nominated her friend Katie, and we were so touched by her letter that we had to include them in the winners. The girl's seemed to have a great time during their photo shoot– you can really see their personalities come though the images, and I know they are really going  to miss each other when Katie moves. I'm so glad Aaron and I were able to get these pictures to capture their friendship, for them each to thave as the years go by!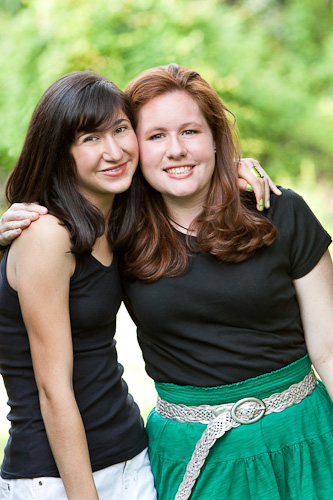 I really liked this one- sitting on the swing set they used to play on,  just as they begin to leave childhood behind…
And then Cait & Pete!!  Talk about an adorable bride- Cait was so fun and happy- and Pete kept insisting that we eat and enjoy ourselves,  which always goes over well with us- – remember- Always Feed your photographers! Hungry photographers bite people. Trust me. Fortunately we did not need to bite anyone at this wedding. Everyone was sooo wonderful!  Really- how do they get to have all these really nice people in one spot? I think they are hogging them all- both families were sweet and this bridal party was fanatastic- trudging  though 100 degree heat with nary a complaint, to this absolutey beautiful little glen where Pete proposed to Cait. This spot was idyllic and made for some amazing shots- I loved it.
Onto food and dancing! I must compliment the caterers- Robert Ryan Catering at Columbia Station -they fed us faster than anyone has before- and the filet mignon was done perfectly! (Pete must have told them we bite…) Everyone was on the dance floor, and once again Aaron and I each got choked up during the father/daughter and mother/son dances- we are such mushes. Before kids we never did, now every single wedding we both get teary eyed and lip quivering!  Some people cry at the ceremony- we cry at the dancing….
Ooh! It's  a "behind the scenes" shot!  And here's the resulting image:
Happy brides have wine before the ceremony! This is HIGHLY reccomended!
This is the shot that will get me into heaven….
It's BEN!
And here's Ben saying good-bye!
And Cait's was our last wedding before we hit the BEACH!! Every year we share a house with our friends- those Kellings and Haines people- and you would think one house with 6 kids and 3 couples would be more tortuous than vacation like, but it's actually great! And this year was the most relaxing yet. We actually finished whole books and laid on the beach, and some of us partook of a little too much delicious beverage and then insisted everyone stay up and keep playing rock band with her….
Aleia and her new beau Cole plot their escape….
And here is the closest we could get to all 6 children in one location.
And for those of you wondering where one of our family members has gone- I must report that after an exhusting,  grueling, insanely looong 6 hour car ride, Donghan has returned to China. (um, after the car ride he got on a plane, and THEN went to China…just to clarify and not confuse the easily geographically confused…) He will be back in the states in September, but with a different family. He left behind a closet full of clothes and shoes, and a clarinet and books….so I guess we'll see him again when he comes to pick them up– unless anyone is in need of any of these things??? 😉
And now we are home- home to Summer. I love summer.  On the first day of summer we caught frogs, went fishining, went on a hike, played wii, made stick and yarn crafts in honor of the Summer Soltice, stayed up late for movie night and then sat outside staring at the moon and trying  to count lightening bugs. It was a great day. 
Now stop reading the computer and get outside, people!! Soak up some sun, let the breeze blow across your face, lay in the grass while little bugs crawl over you- IT'S SUMMER!!  🙂
Have a good one!!
Love, Cheryl, Aaron, and their quiet peaceful house
PS- these are my peas! I planted their seeds, grew them, harvested them, cooked them and then we ate them!! It was Amazing!
COMMENTS
June 24, 2010., 10:11 AM /

June 24, 2010., 1:05 PM /

Do you feel loved today Ben?? I am glad you like the pics- we had a blast with you all!!!

June 24, 2010., 10:19 AM /

I'm loving the new shot of the rings in the groom's hand!

June 24, 2010., 12:32 PM /

What do you mean Aleia has a new beau??????? Anthony will be crushed!!!!!!!!!!

June 24, 2010., 1:04 PM /

I was thinking that when I wrote it, Dawn- but tell him not to worry- those long distance summer romances never last long....;)
Comments are closed.