Oh my goodness, it looks like that groundhog was RIGHT!! It's sunny, and warmer, and almost spring like! YAY! I won't get too comfy though, I am pretty sure some more winter is lurking somewhere, waiting to chill us once more before Spring can finally burst in….
This week is filled with babies! New babies, year old babies, theater babies and monkey coloring babies! Hope you like babies! 😉
We will start with the new baby. Our friend Karen gave birth on Monday February 7, to little Christopher. She asked us to come to the hospital and get the first newborn pictures of him–it was amazing to hold a baby less than 24 hours old again! (I don't want another, mind you, but it does make me eager for grandchildren! 😉 Daddy Chris and big sister Vicki were on hand for their first new family portraits too. I remember with our own kids, the pictures from the hospital were so much about recalling all of the emotion that day. Our friend Amy was there to get a picture of the moment when I first held Aidan, and that is one of my most cherished pictures, ever. And now for his professional debut: baby Chris!
Speaking of our friend Amy, later that same week she invited all of us to see The Little Prince at the Bristol Riverside Theater, as part of one of Dann's  forty 40th birthday celebrations. SInce Dann is an extraordinary person, his birth cannot be celebrated with just one event. It calls for a different event celebrating each year of his life thus far! 😉 He is lucky that his wife realizes this and can pull off such a feat!
Here we are, hamming it up in the theater!
The show was amazing- the story was told through puppetry, which just captivated Aidan and Aleia. The Little Prince happens to be one of my very favorite books of all time– I think the story is one that should be read by every adult, and to every child. It's really a bit deep for kids, but you're never too young to be philosophical, and to begin to realize what is actually important in life, and in the world. Go read it! And if you need a good place to find it, I can recommend one….Booktender's Secret Garden!
Which just happens to segue nicely into our next event! 😉 Ellen celebrated the store's 28th anniversary this past Saturday. and had so many fun events going on. The morning began with illustrator Lee Harper helping kids make monkey get well cards for author Stephen Kroll, who has been ill for a while. Then I helped the kids make cute valentine picture frames and Aaron took their pictures. In the afternoon lots of authors were on hand in the store to sign books- we got a great SkippyJon Jones book and CD signed by Judy Schachner!!
Lots of linked monkey cards for Mr Kroll!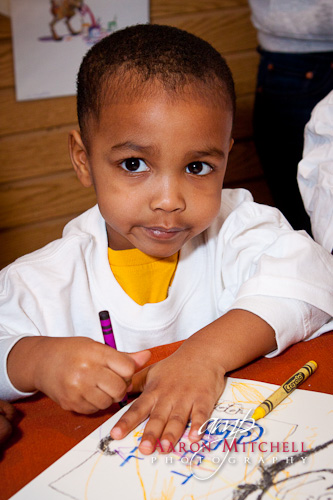 We love Brad!
Next was Lilah's First Birthday!! Don't adjust your computer screens, you are not seeing spots! It's just that Miss Aviva happens to be fantastic at throwing an amazingly well- coordinated, themed, decorated party!! I used to think my friend Amy Sue and I threw some really well-decorated theme parties– but nothing can compare to this! Red and white, of course, coincided well with Valentine's Day, and well, cookies! What's better than a cookie??
(Note our assistant shooting in the background)
Family pic before the guests arrive!
Then the whole family just lounged casually around the table to admire the cupcakes… 😉
They were some NICE cupcakes!
Birthday Girl and CAKE!
Lilah's party led perfectly into –Valentine's Day! Aaron baked chocolate chip cookies while the kids and I made valentine's, and Aleia and I spent the afternoon delivering them to some of our favorite merchants in Doylestown. It was a lot of fun, Aleia was a big hit dressed all in red carrying her basket of valentine's, like a little holiday red riding hood! Then we were off to Big Brother Aidan's school valentine party, where I handed the camera over to Aleia to get some shots while the other moms and I scooped ice dream.  Here are some of her shots- I seriously think we may have some really good free labor from these two kids soon! 😉
This is apparently what I look like to children…
Happy Belated Valentine's Day, I hope everyone is feeling loved this week!
Love,
Cheryl, Aaron, Aidan & Aleia
COMMENTS
February 17, 2011., 10:05 AM /

February 17, 2011., 10:20 AM /

Love:)

February 17, 2011., 1:20 PM /

adorable birthday party! with an adorable dress for the birthday girl! but so sad to see her in a cast!!!! happy belated Valentine's Day to you too!!!

February 17, 2011., 4:53 PM /

I just love the pictures, especially of Lilah. You are so gifted to catch a special moment in time and make it last forever,,,

February 21, 2011., 3:31 PM /

Cheryl, I like the comment and picture of what you look like to kids (a rainbow jimmied cupcake). Priceless! As always, I really enjoy reading your blog entries and seeing the beautiful pictures that you and Aaron take and share. Thank you for sharing your wonderful work with us, you guys are so talented!

February 22, 2011., 8:18 AM /

Thank you, everyone!! :)

February 25, 2011., 3:06 PM /

Wow" I can't believe that Aviva's baby is a year old. She is so cute - her eyes are amazing. The picture of her holding up the cooking to her grandfather is priceless! Is this Karen (U). What a great picture! Who put lipstick on that baby?? Brad - He gets more handsome everytime I see him! Enjoyed the pictures of Lilah's 1st birthday. I did notice the handsome assistant in the backround. He really seems to enjoy taking pictures. And Dann - Dann is 40?? Where does the time go?? Did Aleia really take that picture of "what you look like to children"?? I LOVE IT!!!! Great blog - I really enjoyed the pictures:)Love ya
Comments are closed.