As I write today, there are 12 days till Christmas, or so my true love said to me this morning at breakfast! By the time you get to read this, there will be only 10, though. It's sure coming fast!! We don't even have our Christmas cards started yet, how does this happen? Thanksgiving it's just too early to start getting ready, then it's the first weekend of December and we say okay, it's December first, now we shall begin. Next thing I know it's halfway though the month and we are still only half decorated!! And yet, it's completely the opposite for our kids– I want kid time back! I want it to seem like forever until Christmas morning, I want the school days to drag, and I want summer to seem endless. Maybe that's what I will ask Santa for this year– a child's perspective of time. He still hasn't brought me that horse I've been asking for for 30 years, so maybe I have a shot with asking for something completely new and different!:)
Speaking of Christmas cards, here are the long-awaited Castro family photos that I promised from last blog. Yes, we finally got some done!! Our friend Joe Sedik came to the Pearl S Buck house estate with us one evening and was kind enough to capture a few images for us. Sadly, none of the ones with Bear in them made the cut for the card, poor Bear Bear! And despite being the son of photographers, Aidan was less than perfectly cooperative for his shoot- in most of the outtakes it looks like I gave birth to a wide mouthed muppet instead of a cute 8 year old! ***sigh*** Aleia, at least, is more than happy to pose.
Ah, just a day in the life of the Castro family, strolling thru the woods…coincidentally wearing well co-ordinated color tones…
I'm too cool to really hug my sister.
Aleia loved the running pictures the most!
Aaron pretending to love Bear. 😉
This is all of us trying to look cool. I love Aeia's "look cool!" pose.
We've really just been Christmasing out all over the place lately, with corporate holiday party shoots and family sessions every weekend! We had the pleasure of photographing the Universal World Events holiday party at Aldie Mansion. Everything was so festive, the decorations, the dancing- the caterers and DJ were great, we always love working with both Memorable Affairs and Cutting Edge, and it was fun to be with them at something on a smaller scale than a wedding. And as you will see from the images- these people know how to have a party!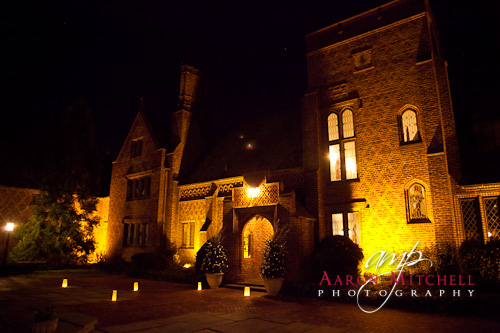 The company had a backdrop made up to pose in front of, which definitely helped encourage people to strike model like poses.
Or just inexplicable poses…
But really people, the backdrop was meant for only up to 4 people!
They didn't want to hear it.
They also had a fun flash mob dance all choreographed!
Bryan the DJ. 🙂
And — Lovey and Amy! I like how it kinda looks like he's wearing the wreath on his head.
More family holiday portraits next!! We were Kendra and Michael's photographers for their wedding in July– the one with the fireworks. Now she and her family invited us into their beautiful home to capture some family portraits, before Grumma Lulu went back to Jamaica. I loved the Grummas! I had fun just saying the word "grumma"! There was Grumma, and Grumma Lulu. They were so fun, especially trying to get Grumma to smile–I think she was trying to go for a more reserved look, but we will have none of that! I think everyone had a good time. 🙂
Kendra and Shayna
Get Grumma!
Grumma Lulu and Auntie
All the girls- I liked this one as just the heads, with the faces of different generations.
Michael, Kendra and Milo
The whole family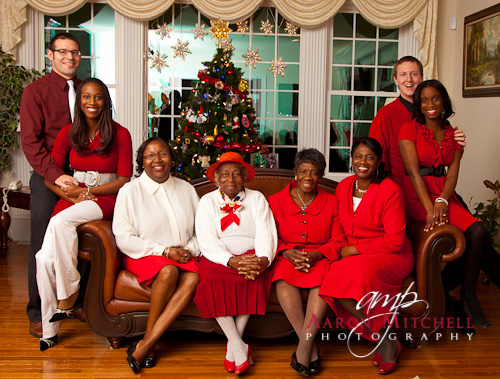 Now the next family session is actually not a holiday session. Don't be alarmed by the lack of hats, or red clothing– please do not adjust your screens.  All is well.
We met Angie's family when we did her daughter's headshots for Aviva's Lights Camera Acting class, and we had a very fun time photographing the whole family!
We had to get dad's surfboard in at least one shot!! 🙂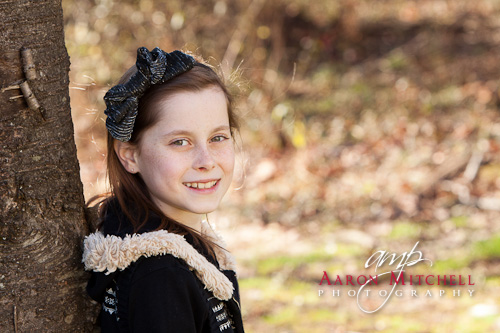 And, last but oh so far from least, the ParleeStumpf holiday party! Aaron and I are so happy to be counted as contributing members of this amazing team. Or maybe they just invite us for our camera…hmmm…
Come, see the people behind the genius of this particular marketing agency!
I made this one red. For Christmas! I think it looks old fashioned and fun. Lovey hates it. I said it's my blog. He said it's my photo! Ah, yes but you see, it's my blog.   😉
The staff of ParleeStumpf, counterclockwise from left: Mike, Cheryl (but not me, this is the other Cheryl. Because really everyone needs two Cheryls) Dan, Luanne, Jackie, Todd & Diane.
I left this one normal color. Only because it didn't look as good red! 🙂                                                         Some more of the minds and talent contributing to the company. There are a few missing, one of whom is actually taking the photo!
I may have mentioned, once or twice, how celebratory we like to be around here. So far this holiday season we have been to the tree lighting ceremonies of all three nearby towns. We have seen Santa arrive by old fashioned fire truck, by cherry picker and by helicopter. We've had horse drawn carriage rides, cocoa and cookies, and seen two train displays and one holiday concert. Amazingly enough, we have not brought our cameras to any of these events! But, we do have one single photo of the kids with Santa in Dublin, with our neighbor Anthony. Anthony is three, and plans to marry Aleia. She's still undecided but is being slowly drawn to the idea by his mom's food and his own dying love for Bear.
And so ends our final blog of 2011. It's true. Aaron Mitchell Photography will be spending the week before and the week after Christmas with family, so the next post will not be until the first week of January, 2012. We hope you have a wonderful holiday time with your family and friends! May your days be merry and bright, your nights filled with warmth and laughter, and the end of this year be even better than you expected!
Happy Hanukka and Merry Christmas!!
Love,
Cheryl & Aaron and their impish little elves
COMMENTS
December 15, 2011., 9:50 AM /

December 15, 2011., 5:45 PM /

LOVE, LOVE, LOVE the Castro family photos!!! Especially Lei Lei's "look cool" pose ;-)

December 15, 2011., 8:01 PM /

Well, your card better have Bear in it or we will include him in ours next year since we are sharing him. By the way, Aleia already decided to marry Anthony, she is just toying with you.

December 16, 2011., 2:59 PM /

Love the pictures of all of you! You have such a beautiful family. You look like you should be in an Abercrombie ad :)

December 16, 2011., 6:03 PM /

Yeah, love the "look cool" pose! It all looks great!
Comments are closed.