Well, the world has not ended. We survived the earthquake, hurricane, floods, AND the first day of school!!  I am happy to say it was not nearly as traumatic for me as it was last year, when Aidan started first grade. (flashback to me rocking back and forth in the corner, tears streaming silently down my face…) But it was still so bittersweet- he was SO excited to go back, but the summer just seemed so short, and he & Aleia got along so well…I just didn't want it to end. 🙁
End it must, however, in order for new things to begin! It's always good to focus on the beginnings. That's why I love fall, and the new school year- for all of the things that I get to begin! I begin being organized, and planning menus, and riding my bike and of course there's cool new outifts to come up with…Most of those well intentioned beginnings also come to a swift end, but hey- it's always fun to start!
So I think I will start showing you some of those beginnings right now! Not the menus or bike rides, but the beginning of a marriage together, and of second grade, and of learning to sit up, and another new married life:
We'll start with Sarah. Sarah is not actually one of our brides. Nope, she is a good friend of ours whose wedding we were supposed to attend as guests on Saturday August 27. August 27 turned out to be not such a nice day… And when she called Friday and told us that her and Jeremy's wedding had been cancelled, we were so upset! Since all of her family had come down for the rehearsal, they quickly decided to just try and have the ceremony that very evening at Lake Nockamixon instead. Fortunately the officiant happily agreed, the dress and tuxes were ready, the florist was ready, and the day was a gorgeous sunny 70-some degrees. She did however, lack a photographer, since hers could not get down here in time. SO Aaron and I were happily enlisted as emergency backup photographers for the emergency day- ahead- of- time, pre-hurricane wedding!
The day turned out to be one of the most meaningful, emotion filled weddings we've ever been to. The sunset was perfect and the officiant spoke wonderfully. But best of all was that while Sarah was trying to get everything together, her maid of honor was calling and texting all of their friends in the area and organizing them to meet at the hotel after, for an impromptu reception in the lobby! It was awesome- there was champagne, a cake to cut, and all the songs they had planned to dance to- all waiting for them as a surprise!
I was pretty upset for her that her original year long wedding plans had fallen through. But it turned out that everything came together beautifully, all of the people who mean the most to Sarah and Jeremy really worked together and made a more meaningful day than could ever be imagined.
Oh look- she's crying! Let's get all the cameras on her!
We always suggest hugging the photographer. It's good luck!
Argyle never goes out of style
Blue dog! (that's just his name- no need to adjust your monitor)
People really loosen up for pictures ones you throw them in a lake:
Even the officiant!! First officiant we've EVER had get in the water too!! We loved her!
And they lived happily ever after…. 🙂
After that exciting weekend, the first week of school began! Aidan (or "AJ" as he calls himself in school) was extremely excited about starting Second Grade. He could not wait to meet his teacher and meet all new kids. Sadly, he came home incredibly disappointed that they were all the SAME kids as he knew in school last year. Mind you, he only had three kids from last year in the same class with him this year, but the mere fact that he has seen the other children before at recess made them not new, and therefore not exciting. Thank goodness one boy just moved here from Utah- his presence may have salvaged the whole year! 😉
Excitable boy with poor sleepy sister just drug out of bed:
Best Buds at the bus stop!
Next we have baby Chris! You last saw him in the hospital, the day after he was born. Now he's 6 months old and sitting up, so his Mommy Karen called us in for some more fun photos (the hospital setting is just so limiting!) Here's a sneak preview of some of his session:
Already a big Phillies Phan
We celebrated the last Brown Bag it with the Arts on Wednesday the 31st. We love these- we take the kids every Wednesday we can in the summer (if you make a morning trip to Burpee park, lunch at Brown Bag it and then a trip to Busy Bee Toys after, you have a whole summer day filled!)
And really, just look how happy the CBCC committee IS: how could you not have fun with these guys???
And a man in lederhosen playing the polkas on the accordion!
Aleia had fun!
Then we had Lauren's wedding! She and Kevin were married at St. Cyril's and the reception was held at Spring Mill Manor. The room was beautiful, and the staff were so good- although I do love any one who brings me food! It was just a beautiful day all around, in spite of the rather dark morning, we had sunshine and breezes for pictures, and Lauren was a gorgeous bride, even before make up she takes a great picture!
Fun getting ready
Seriously, she is just adorable! I love our brides!
Had to get a shot of the guys playing basketball!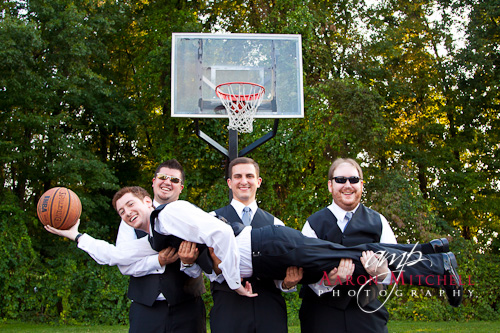 It's all fun and games till the groom gets thrown into the water
Coolest couple feet!
The party was rockin' –thanks to Richie and Cutting Edge!
And we'll stop there for today- stay tuned next blog, we have a wedding with a special guest appearance by the Philly Phanatic, (really!) more bellies, more babies, and what I know will be the amazing wedding photos of the couple whose engagement photos you saw last fall- Lara & Brad, the cliff jumping couple! How are they going to top THAT for the wedding?!? I can't wait to see!
Enjoy the cool weather, and even the rain! Stomp in some puddles! 🙂 You know you want to.
And the song that is stuck in my head tonight as I write this for tomorrow: "oh I love a rainy night, I love a rainy night, I love to hear the thunder, watch the lightning when it lights up the sky…you know it makes me feel good…" Oh, I am totally dating myself with that one, aren't I??? 😉 Here it is, I had to find it and hear it since it was stuck in my head, I now share it with you:
Love,
Cheryl, Aaron and their quickly growing puddle stompers
COMMENTS
September 8, 2011., 4:03 PM /

September 8, 2011., 5:02 PM /

Beautiful pictures!! Sarah looks georgous!!

September 9, 2011., 4:50 PM /

Witty, whacky, wonderful writing with sublime, and sometimes silly, photos...thanks! Loved the song too!

September 9, 2011., 4:54 PM /

Regarding the song, I have to add that I saw Eddie Rabbitt perform at a casino in Nevada (Tahoe/Reno?) a long time ago. I still have the 8-track tape I bought after the concert (okay, so maybe it was a cassette tape but it was a LONG time ago!)
Comments are closed.