Love always comes first! I don't think there are any moments that Aaron and I capture that are not ones filled with love. Brides, moms to be, tiny newborns–all wonderful beginnings to a life that will now be filled with a completely new kind of love, more than they've ever experienced before. Sometimes the realization of it all is just beginning to hit them while we are there photographing, and we get to watch them experience it all for the first time. What a great gig we have, seriously! 😉
I must be feeling a little extra mushy this morning, I don't know why!! Maybe it's from looking at all of these photos, two weddings and a maternity session, where, in all of them, the emotions were so strong, and the love and happiness and just pure joy are radiating from the faces! (oh boy, let's cue some music, I should just stop writing now and show you the pictures, before I turn this into some sort of Hallmark commercial and we're all emotional and happily weeping too much to see the photos clearly…)
The first wedding in the line up is Katie & Asa!! Now, this one is special to us for a multitude of reasons! For one, Asa is the brother of our good friend Aviva, and we have spent enough time with their entire wonderful family to almost feel like we are part of it ourselves. These are just the most caring, giving, inclusive family you can imagine- And they love their picture taken!!  The amazingly beautiful Katie has adapted well to her boisterous new family, where it would be almost impossible Not to be slightly more quiet than they are!
Katie and Asa's wedding was held in Historic Waynesborough, which was a beautiful back drop to their fun filled day. Want to see it?? 😉
Well, wait- this isn't it. This is Asa! Supposedly getting ready…
Nothing says wedding like a Philly Phanatic and Old Spice!
We peek thru the door as Katie gets ready…
Loving groomsmen
Aha! HERE is a shot of Historic Waynesborugh! With bridal party!
Aviva and Asa! Those crazy kids…
Cool groomsmen-
…with matching argyle socks
We are full service here- carrying gowns, fastening cuff links- whatever needs doing!
Pretty pretty Asa
But not as pretty as Katie!
Sleepy couple
And then- the ACTUAL Philly Phanatic came!! Katie is a huge Phillies fan and her dad arranged this as a surprise to her!
Asa and the Phanatic shared a romantic moment, that Aaron was able to capture in loving detail:
And of course I had to get a little Phantatic too! ; )
In another one of many personal touches, Aviva and Sam sang a duet to the couple (and boy can they both SING! WOW!)
Let the revelry begin!
How many groomsmen can you stuff in a photo booth?? All of them!!
It was a great night! Than you guys, for asking us to be a part of it! 🙂
Now, after love and marriage, of course- comes the baby carriage! Or, at least the baby and some sort of carrier- does anyone even use carriages anymore? I had a pram as a baby- that's right- a perambulator. You could try to look it up but I think they have actually removed the word from the dictionary, it's so old. That doesn't mean I'm old, of course, I was just a very retro baby! 😉
While Giuliana and Jim are waiting for their first baby to arrive, we thought we'd take some maternity portraits for them. (Well, they did call and ask us to, we didn't actually just barge into their home and say Hey! We're here to take pictures of your belly!) They were so fun to work with, and Giuliana such a fantastic model, we just wanted to keep getting her picture!
And here's the same image after Lovey played around with it a little one night…
And now for more wedding portraits!  We met Lara and Brad last year, and did their engagement session (the cliff jumping, Burt Reynolds look-a-like kicking us of the park, one) and kept in touch through out wedding planning, not to mention the Halloween Party , so by wedding day we all knew each other well. However, what we did NOT know is that they and their friends are dancing fiends! Oh my gosh, pictures –even ours–can't do justice! Aaron did capture some video but I don't know how to get that into here- their bridal party dance was, hands down, the Coolest EVER! I can't even describe it, it was to Party Rock is in the House Tonight, and it was kind of like in the commercial with the hamsters? But better! And without the hamsters. And the couple's first dance was also choreographed (by Lara) and so elegantly done- the whole night was just one big dance party.
Before the night fall, however, was the less riotous preparation and ceremony! Although the guys getting ready part is usually a little riotous, or at least hilarious. What a great bunch of guy friends Brad has! They were so fun and sweet- I love groomsmen! Grant, the couple's awesome white German shepherd, was ring bearer, and actually walked down the aisle of the church unescorted to deliver the rings. And happily Lara did decide to marry Brad, and not his brother Steve, as the officiant mistakenly suggested…;)
Somehow we manage to get the most gorgeous brides…
And Brad's not half bad either! 😉
I love lists
Grant!
I love that they let Grant in the church!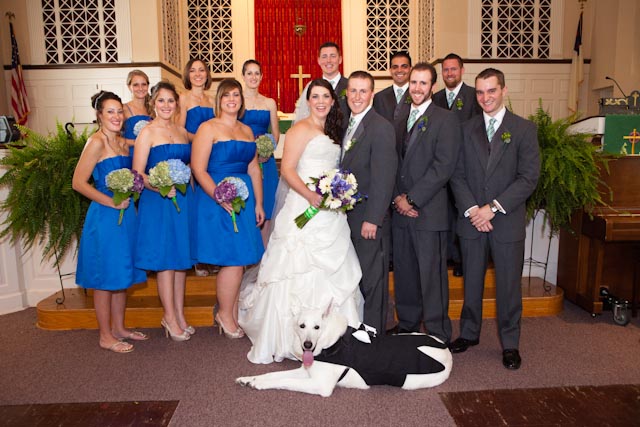 Gorgeous venue- the Glasburn Inn
Yes, we love dogs! We can't help it!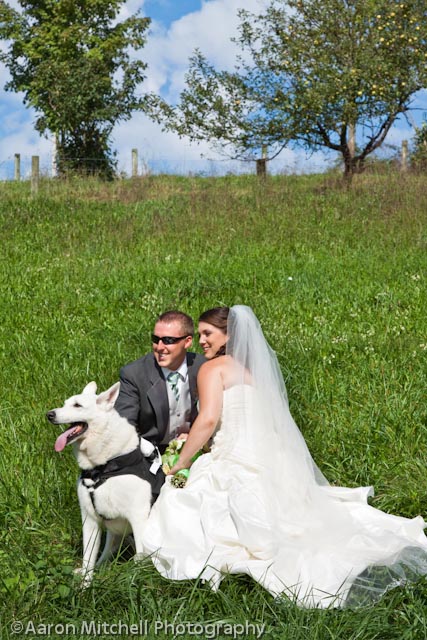 The photography was very important to Lara, and she not only set aside plenty of time between the ceremony and reception to take the images, we also talked a lot ahead of time about what she wanted.
Gracefully gliding across the floor
Cutest cake ever!
The dancing Johnston Brothers!
Steve got a little giddy with dollar dance cash
And that concludes our blog for this week! If you want to hear even more exciting details, you can come see Lovey and I tonight, once again live and in person, at the Open Aire Affairs Open House at the Pearl S Buck.  Free Food! Not just any food, either, but delicious yumminess lovingly prepared by all of our catering friends.
Have a wonderful weekend everyone- if you take off tomorrow you can start your weekend Right Now! Whheeee! Stay tuned next post when you will see babies and dogs, more weddings, possibly pictures from soccer if it ever stops raining enough to bring a camera to one of the games, and some more heads!
Happy Autumn Equinox!
Love, Cheryl, Aaron and the apples that haven't fallen far from their tree
COMMENTS
September 22, 2011., 11:54 AM /

September 22, 2011., 12:52 PM /

It's been a year since we became aware of your photos; and I've enjoyed these blogs so much! It is SO much fun to see all the love . . . and, of course, you did a fantastic job on Alison & Alex's wedding! Thanks, and don't stop sending these email updates!

October 4, 2011., 7:55 PM /

Oh! Thank you so much Leah!! :) Wait till you see the next blog- it's another Burnside Plantation wedding!

September 22, 2011., 4:18 PM /

Beautiful Weddings! Beautiful Mama! ps. I'm pretty sure I could have squeezed into that photo booth!

September 22, 2011., 4:54 PM /

Loved Grant, of course. Ron wouldn't let Tasha be in our wedding!!! Maybe Bear can be in Anthony and LeiLei's wedding. :)
Comments are closed.