Oh, the weather outside is frightful alright- it was almost 7o degrees as I wrote this!! How odd. It was pleasant for getting the outside ready for Christmas the weekend of Thanksgiving. But I'm kind of having a hard time putting my heart into the Christmas carols when I don't even need to wear a coat. I know, I shouldn't complain…but I have certain expectations of the Christmas season. Many expectations. Just ask my poor family — every year visions of Norman Rockwell-like vignettes dance through my head… and I try desperately to make them real. Fortunately I am as easy to make happy as I am to be disappointed– kind of like a toddler–those closest to me have learned to use the art of distraction to their advantage.
Here now to get you into the holiday mood are a whole bunch of Christmas and even a couple of Hanukkah portraits! Hopefully one day very very very soon we will get our act together and take one OWN family holiday portraits! You'd think it would be easy enough to schedule that with ourselves. The problem is, once again, my expectations are high and I want to do something cool, new, spectacular; a never before seen type of family holiday photo. If I could just think of it… before, say, Friday… If you have any good ideas- please let me know!!
Ah, but before the winter holiday photos, lets bid adieu to Autumn's feast with some Thanksgiving pictures! Here is a rare glimpse of everyone on my side of the family:
Aidan and Aleia hanging with their newest cousin, baby Wyatt
The outtakes leading up to the family photo are always entertaining to me, and usually a much more accurate depiction of the real family dynamic than the final photo! I think everyone should have a college for a family portrait- first a couple of outtakes and then the final finished one.
And now bring on the dogs!! These are the Holiday Pet Portraits we did at Best Friends Pet Care in Willow Grove, with the best Santa for dogs ever, Rick.
Hanukkah puppy
Santa baby
Sheba- my mom and dad's dog
And Ginger, Aaron's parents dog
A disgruntled 20 year old kitty from England!
Ski Puppy!
And, as any photographer will recognize, the light sucking black dog!! SO hard to photograph well. Unless, of course, you're really good at lighting! 😉
AHH!! Santa gets mauled by giant pit bulls!!!
Okay, not really. These giants were my favorites of the day- just big teddy bears of solid muscle.
What's really going thru the dog's heads:
"Oh the humiliation…help me"
"What the hell are you doing, you creepy jolly man??!!"
"What's that??!" "What? Where? Hey! What's that??!"
If you're going to mix dogs with holidays, you know there will be heart-tugging stories behind some.
Here is Ruger and his Mommy. Ruger is only 7 years old, but was just diagnosed with inoperable cancer. They said he has only a few more months, and his mom is determined to enjoy every last moment with him. He has good and bad days, and this day was sort of in between. You can just see the love they have for each other in their eyes. I'm so glad we were able to capture and help her hold on to this time.
Now that I have made everyone sad, I will try to make it better- here's a story you can give a happy ending to! This beautifully colored pit bull was brought in by her foster mom, and is looking for a permanent home. She's a sweet sweet girl who got along well with everyone but would probably rather be the only dog in her home so she can get the extra love she's been lacking. If you are interested, let me know and we can put you in touch with her foster mom!
She gives lots of kisses
And just look at that smile!!
Now it's time for tiny babies! Meet Lucas, who was just two weeks for his photo debut. Well, not actually his first, but you couldn't see him very well in his Mommy's maternity photos.
You could almost imagine that he's really happy in this image, and laughing.
He's not.
He's getting used to the idea here.
And now he's just blase about the whole thing, Giant present? yeah, whatever…
Once he was fed and sleepy, we decided to put him in a big basket. Naked. With a hat on. Because that's just what we do with babies around here! And I love it.
I really liked this background with this. Aaron preferred the white. Tell us what you think!!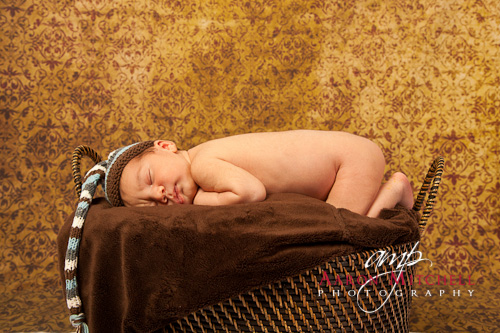 One more Christmas baby! Here is baby Chris, you may remember him from his 6 month old photos a few months back, with his bathrobe and ducky. Now he's all dressed up and with his whole family!
Then we put him in the big present.
He was not amused.
What he really wanted was just pictures of himself!!
Next up– three dogs and a baby! You last saw Kylie in her Halloween portraits, here she is with her whole family. And yep- those are pit bulls too. I think this is just a pit bull filled blog today! And all of them were sweet as can be!
And with just her Mommy & Daddy
And that's just about all the Christmas portraits we can possibly fit in here today! I really think we need to even it out with some more Hanukkah photos, though. Come back next blog when we will have….hmmm…what will we have?? More family portraits, more dogs too, a couple of corporate holiday parties, and hopefully–hopefully–our own family Christmas portrait!!
Enjoy the beginning of all the holidays: the decorations, the lights, the anticipation, the warmth and good cheer. Egg nog and mistletoe. Parties to dress up for. Cozy fires and snuggling with sleepily excited children. Letters from old friends. Peace on earth and goodwill towards man!!
Okay I'll stop now.
Love, Cheryl & Aaron and their so far unantlered, unboxed children…but just wait…
COMMENTS
December 1, 2011., 10:13 AM /

December 1, 2011., 12:07 PM /

Lovely as ever... I like your background on the close up and the white on the zoomed out shot. And I think for your Christmas photos you should all be in a tree since Aaron spends so much time photographing from up there. :)

December 5, 2011., 12:12 PM /

Great blog - as usual!!!! I really enjoyed the pictrues especially the ones with Santa. I was very sad to read about Ruger and his mom. The pictures of them are beautiful! Loved the Thanksgiving pictures - The one of Aidan, Aleia and Wyatt is adorable :) The group picture is awsome! The out takes are funny. You guys do great work!!!! Love you. :)
Comments are closed.