Yikes, Jinkies and all of the other Scooby Doo expressions for what the HECK!?! The world is literally falling down around us over here! A blizzard on Halloween weekend–just perfectly timed to severely affect our big once a year party, thanks Mother Nature– trees ravaged by snow, branches and entire bodies falling left and right (mainly bodies of trees, except for the broken body of poor Lovey and his pulled back from trying to clean up the mess), all of us without power, heat or water for days, trick or treating plans run amok. It was bedlam, I tell you!! None of this helped get this blog out on it's usual Thursday morning, as you can see. We're sorry!
However, out of all madness comes some good- and we got to see so much good the past few days. SO many friends and people around us offered us places to stay, neighborhoods to trick or treat in, showers and most of all- COFFEE!! I am still getting back to and trying to thank everyone who called and facebooked and wrote to offer help. We had a generator delivered to us, hotel rooms offered, neighbor friends watching and feeding our kids and dog- I mean, seriously–it was just amazing to see how many people wanted to help us!! We have never felt so loved! …Nor so cold, dirty, hungry and tired- but also very very loved! 🙂 Thanks everyone!
The party, needless to say, was severely curtailed- but those who did make it were determined to have a great time! We discovered that photographers in general must be die hard partiers, because of the paltry total of 13 who made it through the storm, 8 were photographers and their wives! One couple came all the way from Philly! Four more were yoga people (also apparently dedicated partiers, who would have thought?!) and then there was Todd. He basically had to come, not only because we would forcibly drag him up here if he did not, but because all of our children were at his house, and it was either hike up the road in the snow to party with us, or be stuck in a dark cold house with 4 wild children! 😉
Needless to say, lots of photos were taken at this party! John Stickel, of John Stickel Photography, shot  these–it was so fun for Lovey & I to be in front of a camera for a change!
Morticia and Gomez
Gangster Mike & his Beer Wench Tara
Pee Wee Bryan and Pee Wee's girlfriend Melissa
Sir John and Pocahontas Ying
Witch Kristen & Ref Pete                                             Prince Charming Todd & I
Disa Bee and Michael Jackson Bob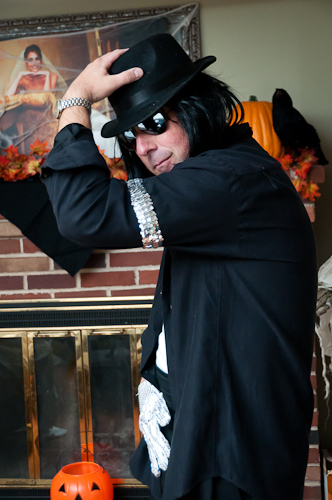 Photographer Men!
Photographer wives!
Yoga People!
My very bendy friends!
I love how well lit John got his face using only the candle light- this is a COOL image!
Todd, looking suave
A gangster just enjoying a good cigar and beer from a pretty German wench.
Halloween itself was more chaotic than normal- but again friends and family came through and we managed to get in all of the usual trick or treating, plus a nice hot shower, some warm food and some relaxation. What we didn't get were pictures!! 🙁  One of our all time favorite holidays and photo opportunities, and we have pretty much nada- we didn't even do our whole family costume. But it all worked out, the kids were happy and satiated with vast amounts of candy.  Power finally returned on November 1, and a great new appreciation for running water has been developed.
But before the snow and madness ensued, we were able to enjoy a little of the fall beauty of Bucks County with Diana's family. She picked the most beautiful location, the property of Thomas Neely House right near Bowman's Hill Wildflower Preserve in Washington Crossing. Every location at almost any angle was gorgeous and scenic! Her beautiful family helped too! 😉 And Rusty and Genevieve were pretty accommodating– every time I'd call is name Rusty would look with his ears perked just long enough for one camera click! And best of all, the forecasted rain held off- yay!!  Here's just a sneak preview, but so many came out so beautifully that once the family has their preview I will just have to share more!!
We had our second to last wedding of the season all the way up in Jim Thorpe area, which should have been in peak leaf season the weekend we were there, but due to the wacky weather all summer and fall, it was oddly subdued. Our bride Stacy herself, however, was as perfectly vibrant as the day we met her! What a sweet girl! We had a great time with her and Marc, and once again, we were fortunate enough to have the rain hold off –despite the large dark cloud that began to loom over the mountain.
The looming sky made for some really neat images
The amazing best man caught this golf ball as it flew by! (okay, really he picked it up off the ground…
And then this panda appeared at the reception…
We don't know where he came from but he was quickly accepted and invited to dance!
And that pretty much wraps up one wild October for us over here! Stay tuned next post when you'll see our final wedding of the season, family holiday portraits, and I'm not even sure what else… but it's gonna be fun!
Welcome to what will hopefully be a calmer, less exciting November and nice, slow, gradual roll into the holiday season!
Love,
Cheryl & Aaron and their recently snow laden vampire and bat
COMMENTS
November 5, 2011., 11:01 PM /
Comments are closed.