Don't be fooled by this week's blog title, it isn't just firework inducing kisses I'll be sharing with you! (well, um, I won't really be sharing those with you either, really. I mean, not from me, personally…) What I mean to say is that there's a lot to see here today! 🙂
We have some fascinatingly fun product shots for you- and I do insist that you be suitably fascinated. By product shots, you may be asking yourself? YES! Because these shoots take as much time and artistic vision as any other, if not more so! And that kind of challenge is what excites Aaron & I! We need to take a lowly looking piece of warehouse machinery and make it somehow look cool. And we do! It's all about the light, man, light and angles, and not cutting off any limbs while getting the shots. That part is pretty key.
SO here we have our latest product shots for ParleeStumpf, of TB Philly in Pheonixville. I like this place not only because all the guys were so incredibly nice and eager to help, or because David there had cool ideas for shots, but also, and mainly, because they fed me popcorn and coffee when we arrived. 🙂
Here is one of the machines whose name I have sadly forgotten. Let's call him…Ned. Ned is simultaneously cutting and winding rolls of really, really sticky stuff. Doesn't he look cool? See how the depth of field allows the winding action to be captured clearly while the cutting becomes background? See the light glinting off the the rolls? Be fascinated!!
This shot is just cool without any explanation at all. I think Lovey got the light perfect for this one!
This is part of David's hand measuring sticky little black squares.
Lots of little sticky squares! TBP does much more than just make sticky squares, but we like these. We like photographing little sticky bits of color. The very word sticky is beginning to look funny now. Here they are in rolls, all ganged up together and looking just a little defensive I would say. We took them out of their warehouse and shot them in studio, so perhaps they were feeling misplaced and confused.
They began detaching themselves from their respective rolls and tried to make a run for it. Alas, they were, as I have mentioned- sticky. SO they merely stuck were they fell and did not get far.
Poor disgruntled sticky squares.
They became so angry they began to darken before our very eyes.
Then they held their breath till they turned blue.
Eventually Aaron and I became bored with the antics of the sticky squares and moved onto something else.  Doug Thomas of Duffy, North- you may recall him from last week's blog, his head shot portrait was well admired by quite a few readers- asked Lovey to get some iconic shots of Hatboro, and with the help of the esteemed and inimitable Michael Stumpf and his vast knowldge of everything, we complied a list of the most well known places. Here are a few, see if you can place them!
And just one more product session before I let you see the fireworks and weddings! 🙂 But this one does at least provide a nice segue into weddings. These are the beautiful, hand crafted invitations made by our friend Lori at Paravano Printing. I wish I had seen invitations like these when Lovey and I were looking, because these are exactly what we would have wanted! Elegant and unique and completely custom. The jewelry in the photos is by another buddy of ours, Tina Yoder (no, not the same one from Family Ties, I already asked her). She can design jewelry to match the invitations and theme of the wedding, and make perfect gifts for the bridal party- oh I really really wish I had met them both 10 years ago!! 🙂  Lori designed and made the adorable polka dotted invitation for Aleia's birthday party – I couldn't find anything I liked so she had me send her a picture of the polka dotted skirt I was using for inspiration, and then they designed the invitation from the skirt! SO COOL!
And now, onto the wedding! Kendra and Michael met us almost three years ago at one of the open houses held by Open AIre Affairs at the Pearl S Buck, and booked us for their day about 2 years ago, so we have been anticipating this day fro a long time! And I don't think any of the 200 people we shared the day with were disappointed! The church was beautiful, albeit a bit hot, but where wasn't hot this July?? The reception site was incredible, with the tent and lanterns, bridges and gazebo- and most of all the fireworks! This was the first reception Aaron and I had done at The Brandywine Manor House, but we are certainly going to recommend it henceforth!
The bouquet held a picture of Kendra's dad.
The paprazzi was especially active that day.
The reception tent was so cool!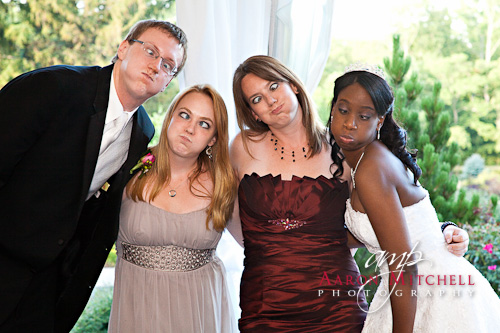 And now for the fireworks!
On Wednesdays in the summer we like to go to the Doylestown courthouse courtyard for Brown Bag it with the Arts. And since Lovey is on the committee for it in the Central Bucks Chamber of Commerce, we were able to help find artists for it this year, and we found Bob! Bob is another one of our friends from the open houses, and he has his own band- Slim Bob and the New Electrics. I love the blues, I've been known to leap onstage when the Blues Brothers performed in Orlando (sadly, not the actual Blues Brothers, but they let me dance with them anyway) and we even had all of our guests dance to Tailfeathers at our wedding. Anyway- suffice to say- we Love Bob's music! He's awesome, and he's a great entertainer on top of being a fantastic musician! Go see them play!
Here's Tina (who makes the jewelry, above) recording Bob playing on a message to Lori (who makes the invitations). Lori did NOT come to Brown Bag it that day. Bad Lori! It doesn't matter if it was 110 degrees out! You come and play with us!!
Aleia thought it had a good beat that she and Daddy could dance to!
Ohhh! Speaking of a good beat to dance to!! If you have ever wanted to dance with the amazing Lovey himself, after having seen so many pictures of him dancing here in the blog- now is your chance! 🙂 We will be at the Whole Foods in Plymouth Meeting on Friday August 19, from 6-8pm, for their Sizzling Salsa Rooftop Party! Lots of local vendors, food, salsa dance lessons with Doylestown's own Justine Kawas of Green Changes, and then a dance party! And oh yes, Aaron & I will be dancing! We'll also have some of our work on display for you to check out. Come!
Now for the last wedding of this post. Photographers, of course, love each of their brides equally, as parents must love their children. However, once in a while a couple comes along that you just feel a special connection to, and Kaitlin and Jay were definitely such a couple for us! Originally the wedding was to be here in Bucks County in June, but things transpired and it ended up being moved to the Adirondacks in July. Could we still come, they asked? For them–of course we could! So we left the kids with my mom and dad for the weekend and headed up to the mountains, for what was to be a 6 hour hour drive…. AH well, it was as much a 6 hour drive as Gilligan's was a 3 hour tour… Eleven and half hours, one flaming trailer, three heat and rage induced car accidents (not involving us) a motorcycle going 20 MPH, and a lot of iced coffee later, we arrived!
But the beauty and splendor of the area made it all worthwhile. Plus the most adorable bride, nicest groom, and two sets of parents who obviously handed down their incredibly kind natures to their kids! And even their friends and bridal party were so friendly and fun, giving us tours of the place (the cabins where the ceremony was held had been in Jay's family since they built it all in the early 1900's) and helping us out throughout the day. It was a great day all around, in a gorgeous setting, with a wonderful couple who were surrounded by loving friends and family.
Our fabulous make up artist, Tina Collins of Make Me Glam, also drove up for the day! Although here you can see just the tip of her nose…
Kaitlin wore her mom's wedding gown. I hope Aleia will do that one day with mine!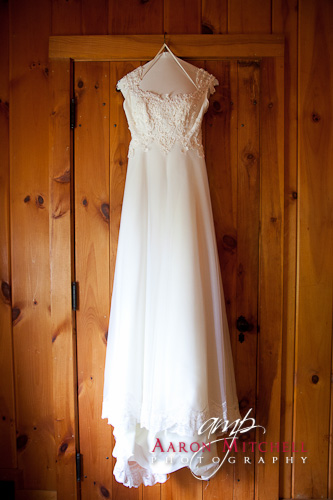 We loved getting different angles of the birdcage veil!
Dad's not crying, he has allergies. 😉
Jay checking out his new bling with mom.
The bridemaids tried to beat the men off the dock.
Lovey, going to extremes to get the perfect shot again!
I feel pretty, oh so pretty…
The Christmas Frog helped light up the night
The day would not be complete without antlers!
The Wild Center was beautiful.
They had adirondack chair cake toppers– 'cause we were in the Adirondacks! HA!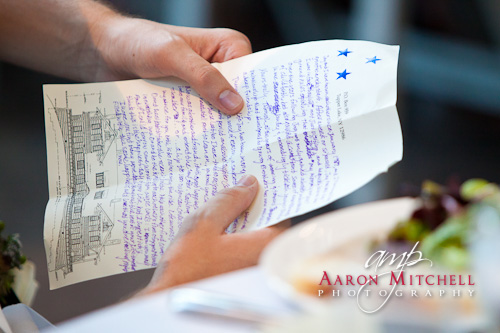 The turtles at The Wild Center were partying up with us!
As were the humans!
It was a wonderful night, and I hope Kaitlin and Jay are having a great honeymoon in Costa Rico. They have monkeys there. And Kaitlin has promised to bring me home one…
Farewell, Until we meet again!
Perhaps at Salsa Night!
Love,
Cheryl, Aaron, and two –of the soon to be three!–monkeys that cavort wildly through our days.
COMMENTS
July 28, 2011., 11:16 AM /

July 28, 2011., 1:29 PM /

Ah! I love Justine -- she's fantastic. We only recently met, but I love that you're going dancing with her :)

July 28, 2011., 2:56 PM /

I always love how you guys pepper in pictures of both of you and the kids in these blog posts. You guys do beautiful work!

July 28, 2011., 6:27 PM /

Aaron, love the knickers!! I don't monkey-sit.

July 28, 2011., 9:20 PM /

Love the firework pictures! Kendra was gorgeous:)
Comments are closed.