Okay, I must apologize for the title of this week's blog. I can't seem to think of a catchy title this week, and I am waiting for someone to tell me a good joke so I can get into witty and compelling blog writing mode. I should have written it yesterday when the sunshine and warmth were driving me giddy with happiness, but alas I did not. Now the clouds have come, and nary a good blog post idea is appearing in my brain…I am beginning to wonder if I may actually function on sunshine. AM I solar powered?? It may be so. It certainly affects my energy levels…So I have optimistically and peremptorily entitled this week's post in hopes that it will actually live up to itself…
There is a website that I find hysterical, that I have been turning to when I need to laugh, called www.damnyouautocorrect.com, and the site is just texts that went horribly awry due to iphone's autocorrect mishaps. I have laughed until breathless, with tears streaming down my face, alarming and confusing my family. But if you check it out, I must warn you they are (often accidentally) usually pretty risque. I had a good giggle checking out the latest ones, so I'll just start typing now and we'll see what happens. Though I guess that's kind of how I always do it. 😉
Let's start with Penn Jersey Paper's shots. They have just built a new building and asked us to take the founder's and owner's portraits, to be hung in a specially designed hallway. Thomas Furia Sr founded the Penn Jersey Paper Company in 1963 and
it has continued to be family owned by the Furia Family for over 47 years, and I have to tell you, I love this man's face! What a wonderful portrait he makes! And five of his children, also owners, aren't too bad themselves! 🙂
Next it's time for pictures of the cutest little baseball players in the world!
Yep, that's right- we're those moms- the ones waving the giant foamy blue claws. We have no shame!
Have I mentioned how awesome Coach Bob is?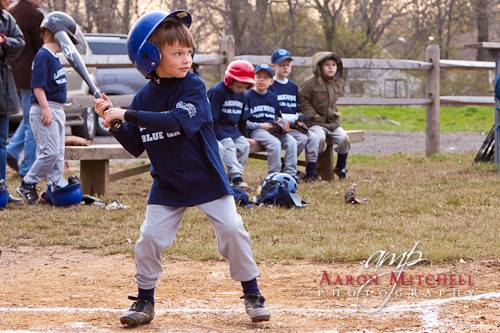 Yes, the one bundled in his coat is ours. We really don't take well to the cold!
Now here's where our week started to get kind of weird. We found this guy wandering around our backyard:
And quite frankly we were kind of freaked out, not only was some guy lurking in our yard, he had one heck of a big camera! But then he smiled:
And we thought oh, he's not so bad! So we invited him inside. He was a little hesitant at the door, but eventually we coaxed him in with a cool drink.
And we took some pictures of him. We were going to keep him because he was so nice, but his wife called and we had to send him home. The kids were so disappointed because they thought we had finally gotten them their very own documentary filmmaker. 🙁
Hehehe, okay, I made all that up. No videographers were caught in our yard. Not this week, anyway…
This is Vince Caperelli of Cottonfield Communications, and he was actually here to be shot and interviewed by us for next months Chamber of Commerce W-4 issue. His story is just so amazing that I can only hope when I write it up that I will be able to accurately portray him- my mind was achingly full of facts and history and stories by the time we were done talking! You can check out his website for more info, but the gist of Vince is that he is a great videographer with a heart of gold and a passion for making the world a better place, currently making corporate videos (which is something Lovey & I need to get done- the world is all youtube now, and having them on your web site totally boosts SEO! Plus I think we'd be pretty funny on film…). He is also working on a few documentaries, one right now on the devastating poverty of Guatemala, and one on a local Doylestown craftsman. I could go on and on but you'll just have to pick up a copy of the next W-4 to read more!
And then this rolled into our studio.
We didn't know what it was so we just followed it, shooting.
Until it fell over.
Once it fell over, these tiny colorful beings scooted out of nowhere, lifted it up on top of themselves and carried it away.
–OR!– These are more product shots for THE BEST interactive marketing and branding ad agency in Doylestown, in all of Bucks County, and quite possibly the World: ParleeStumpf. And no one paid me to say that. Not directly, anyway… 😉
And that's all for this week!
Enjoy the warmth if not some sunshine! And as Gandhi said- BE the sunshine you want to see in the world. No wait, I completely paraphrased that… but I think it works! 🙂
Happily, with hippopotamuses,
Cheryl & Aaron, their adorable little leaguer and his tiny cheerleader sidekick
COMMENTS
April 28, 2011., 10:09 AM /

April 28, 2011., 11:49 AM /

Thanks Court! :) Janna- Nothing better than hot mamas with big foamy claws! Of course you can have the pics of Drew, I have a whole batch of them I need to get to you guys!

April 28, 2011., 11:13 AM /

Love the baseball pictures...especially the one with the hot moms and the foamy claws! I'd love to have the one of Drew concentrating on hitting ;) Great blog, as usual...well, back to the royal media frenzy! Cheerio!
Comments are closed.