There is more to show you this week than you've ever seen before! Talk about crazy busy! 🙂
Summer has officially begun, and at our house the first day was a complete and happy success! But–before I even go into any details about that, I must warn you that time is running out to enter our Inner Beauty Contest! The deadline is July 1st!! Hurry hurry!! Incase you haven't heard about it yet, here it is:
In a beauty contest like no other, Aaron and I are asking you to write in a nomination for someone whom you feel truly displays inner beauty- someone whose mere presence makes everyone's day brighter, whose optimism endures despite whatever obstacles life may throw them, the type of person who you feel is truly trying to make the world a better place. And preferably someone who would love and appreciate a photo session! Nominations will be accepted via email starting June 1, and the winner will be announced in a special 4th of July blog on the Aaron Mitchell Photography website. The winner will receive a free portrait session and up to $500 in portrait products!
So stop thinking you need to enter someone, and do it! Do it now! 🙂
Now, onto our regularly scheduled summer:
Baseball season ended with much celebrating.
Aidan was in the school talent show- he did a Charlie Chaplin skit- it was adorable!
Sadly I have no pictures of the End of Year Luau we threw the first graders- and I am sure the pictures of me trying to teach them to hula dance would be so entertaining to see!
Then came the robot! Hatboro Federal is one of the biggest supporters of the Hatboro-Horsham Educational Foundation, and part of that support has gone to the robotics team. Daurelle Harris, the public realtiosn consultant for ParleeStumpf, needed some pictures of Joe Tryon communicating with the robot…
No Joe! Don't touch that!!
hehehe! It's fun to work with funny people! And every time we do a PR photo session with Joe, I learn more cool things about him- this time that he used to fly tail gunner in the COBRA helicopters!
Then came the busiest Sunday EVER. We had an engagement session in the morning with Kathleen and Jordan in Hopewell, NJ, which is a really cute little town. It was a great time- we had a dog magically appear for one of the pictures, just as we wanted, and then leave conveniently when we were done. We found two pennies heads up at the train station, and then flattened them on the tracks when a train went by, for them to keep as souvenirs. The weather held out just enough for us, usefully overcast but not actually raining, and overall we all had a lot of fun! Well, Lovey and I had fun, I hope Kathleen and Jordan did! ;)… Actually, I am pretty sure they did, because they have the same warped sense of humor than Aaron and I have, and kept making such funny comments that they almost made us laugh too hard to shoot!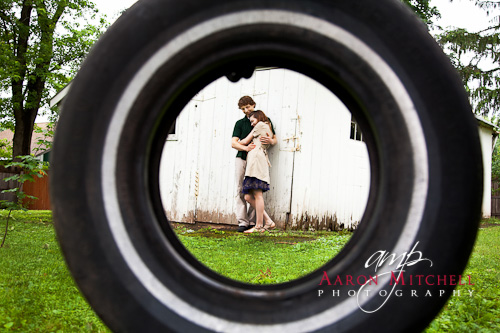 After we drove home from their engagement session, Aaron ran off to the Pearl S Buck Welcome House International Picnic. I was supposed to grab the kids and run to a birthday party, but Aleia was suddenly not feeling well so we stayed home. For two hours. Because by 2pm we were off to Bryn Athyn to see Coppelia, the ballet our friends' daughter was in!
Here are the pictures from the Pearl S Buck:
And here's our friends' daughter with Aleia and I, after her show. She did such a wonderful job! 🙂
A few days later my second great nephew was born! Not that his greatness comes in second to my first great nephew, or even in third place to my great niece, he just happens to be the third child of my neice Cherice, and therefore earns that title. I… think. Anyway, little Wyatt Charles was born on his Daddy's birthday, June 15, and despite an extremely monitored, high risk pregnancy, and an intense induced labor, was home and being photographed at less than 24 hours old! 🙂
With big brother Weston- aka the first great nephew.
That same day Lovey and I spent the morning at Advent Securities in Oreland. We really seem to relate to and enjoy working with the companies that got their start in a garage or basement! Advent started about 30 years ago with the two brothers Rick and John working out of their dad's garage, and they've grown into one of the most well- known security system installers in the area. They're a great bunch of people, even the poor guys who really weren't thrilled to have their picture taken were accommodating, and Diane and Cindy were lots of fun! Talking with Rick about racing was the best part. Not part of the business at all, just something he does for fun. He even has us excited about racing our own cars on the track, and maybe even learning to become one of the few female instructors! I would so love that- driving fast AND telling people what to do?? Perfect! 😉 Here are just a few of the heads behind the business:
Diane
Rick
Such a happy place to work!!
Random trustworthy men who install security systems:
Two days later was crazy wedding weekend. On Friday was Jackie and Arnold's wedding, so Aaron headed to North Wales to get the girls' getting ready pictures, while I went to Philly to get the guys. I'm not positive, but I have to think maybe I got the better deal- I showed up at 11:30 am, and a roomful of men I'd never met yelled "Cheryl!! We've been ready and drinking since 8am!!"  🙂 SO we all had a blast together. They were especially fun trying to get pictures of while hanging out of the limo sunroof, driving down the highway at 70 MPH. I was happy these came out at all, even if the one is half of the steering wheel….
Arnold was so sweet, and just a tad nervous.. . 🙂
Not only while driving at high speed- but going around a bend, nonetheless! 😉
Hence the steering wheel in this shot.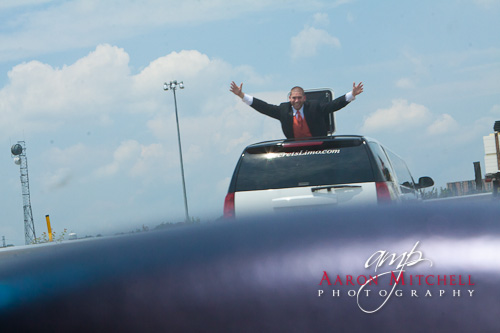 On a straightway was slightly better.
While this was going on, the girls were getting ready at Jackie's house.
Aaron really wanted this shot!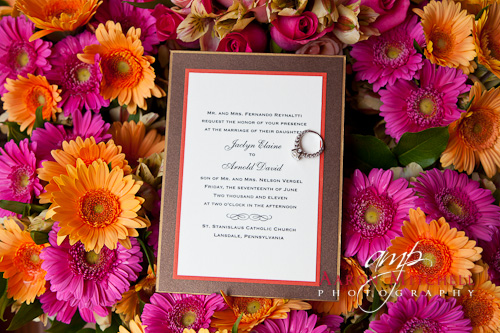 The ceremony was at St. Stan's in Lansdale, where I went to grade school across the street!
Groomsmen should not be allowed near bubbles.
The Manor House at Commonwealth in Horsham was beautiful inside and out, and the food and people were wonderful!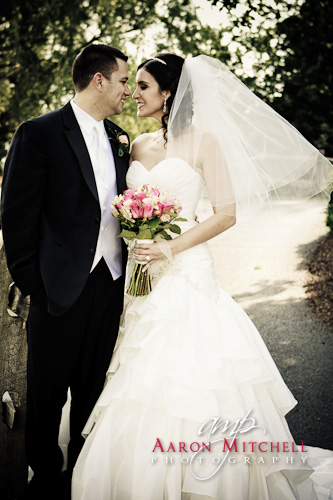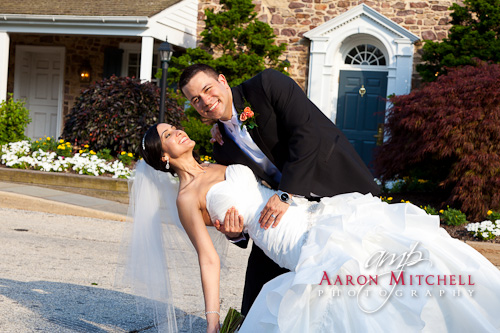 And the reception was such a great party! What dancers! Her dad even pulled me onto the dance floor!
The DJ was fantastic!
Two of the nicest and most fun groomsmen ever! Thanks for making my "work" so fun, guys!
And after that night ended, we headed to MD for Lauren and April's wedding! Maryland is further away than I thought… We had met Lauren last year, when we did the wedding photography for her friend Lindsey's wedding, and Lauren was one of her bridesmaids. We had only met April together with Lauren via Skype before the big day, but both of them were so sweet, and the whole day was so filled with love, friends and family, that I felt like we had known everyone for much longer.
The colors were beautiful together! Wendy from latitude 38 did a fantisic job on the decor and the food.
Her dad sang to both of them during the ceremony.
Then Lovey managed to get a group shot of all 200 people! On a ladder. Aaron was on the ladder, not the people.
Lula and Leni were part of the wedding too!
And then the party Really began- with the homemade photo booth,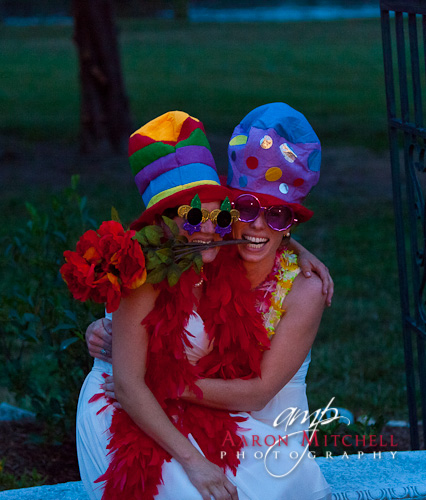 The hula hooping,
And general merriment.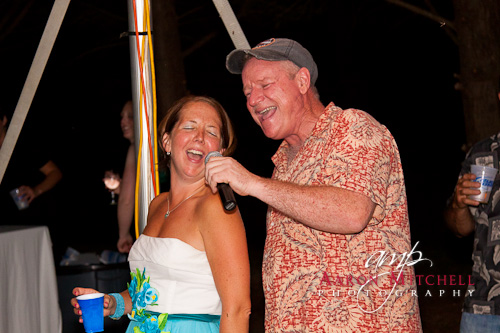 And a picture of Aaron with Lindsey, who introduced us all!
After which we drove home from Maryland, got in at 2am, and were up again at 6am for the Father's day Fishing Derby. I didn't have to get up, but apparently Aleia was confused and thought we were all going. I had planned, hoped and wanted to sleep in… But Aaron and an extremely excited Aidan made it to Peace Valley park in time, with a new tackle box Aidan had gotten for him at a yard sale the day before- and they won First Place! 🙂
And so began our Summer of 2011. May each day of it be filled with sun and surprises for all!
Love, Cheryl, Aaron, and these small people who keep demanding food and shelter from us.
COMMENTS
June 23, 2011., 10:10 AM /

June 24, 2011., 8:23 AM /

Thanks Amanda!! I miss you!

June 23, 2011., 10:24 AM /

hello groomsmen :)

June 24, 2011., 8:31 AM /

Heidi- you should come with us - be our assistant!

June 23, 2011., 12:08 PM /

I spy....

June 23, 2011., 8:37 PM /

Jordan and I LOVE the pictures!!! We can't wait to see the rest of them! You guys are amazing! (And Lilac the Dog really classed up the act, we thought!)

June 24, 2011., 8:32 AM /

YAY!! Thank you Kathleen!! The rest will be sent to you this weekend! :)

June 26, 2011., 9:57 PM /

Wow! Have you guys sat down at all in the past couple of weeks? How do you do it all?!
Comments are closed.