SO, I suppose if you have read our blog before, it is now obvious that happiness ranks pretty high up on our list of important things in life! 🙂 Aaron and I are lucky to be fairly happy people by nature, and I think the fact that we both really love to make other people happy is an important asset to what we do (and pretty much our whole reason for choosing this career!). But recently, maybe because it's a new year and one we all hope will be even better than the last, happiness has come up a lot; in conversations, articles, just about everywhere it seems to be a hot topic. Everyone wants to be happy. And I have decided it is time for me to tell you HOW! 😉
First of all, you need friends. We all get by with a little help from our friends, and Aaron and I are fortunate to be surrounded by some amazingly wonderful friends! I think part of the reason for that is the fact that pretty much once we meet someone, we begin to consider them a friend. We like people. And we're huggy, too. We may be the only ones hugging everyone at the Chamber events, but that's okay- because by the time it's over, in our mind those people are all our friends! And one hugs friends! 🙂  (… Okay, so maybe sometimes we freak out some of our new friends…;)
Now, once you have these friends, you need to use them! Yes!! We use our friends all the time, and that's because they are the best at what they do, and who is going to do a better job for you, a friend or a stranger? So we used our friend Todd of Parlee Stumpf to create our awesome website and logo and brochures and business cards a few years back, and continue to use his knowledge and amazing graphic designers (Hi Jackie!) to help keep us going. We do as much work at our neighbors the Pearl S Buck House as we are able, with our friend Larry from Open Aire Affairs for the weddings, and with Tony from the Pearl S Buck itself for other events. We all take acting classes with Miss Aviva's Lights Camera Acting class, and Aidan will be getting his braces from Aviva's husband Sam at Lee & Meyrowitz. Our kids toys come from Nerice at Busy Bee Toys on State Street, their books come from Ellen at Booktender's Secret Garden, and we're all well-adjusted because of Dr. Heidi at Willow Wellness! We have really become friends with all of these people, more than just business acquaintances, because they are in our town, they are really there to talk with and help, and it gives everything a much more personal feel, as if we were in an old fashioned small town. And I know this adds to my own happiness a lot- I love to go into town and see everyone! I would list even more but soon Lovey will be yelling at me for going off on yet another tangent when I am supposed to be writing about our latest sessions. So, to end this rant, if you really want to be happy, follow my suggestion! Go meet some of our friends! Use them. You'll be happy you did, and the more people who use them, the longer they will be around, keeping us all happy! 🙂
Speaking of happy friends, one of our newest is Shirley Scranta! We met through Network Now and she came to us for a new headshot for the new year. We had a wonderful time talking with her, I think Aaron had to remind us to get on with the shoot and talk less. 😉 Shirley is the owner and director of International School of Shiatsu, and we were so intrigued by her description of it that she invited us all as a family to one of her clinics on the first Saturday of the month. Oh my goodness, it was wonderful, even the kids loved it- we basically got what felt like a massage but technically it is called energy work. We will all be going back again, thank you Shirley!!
Going back a few days before that, we got to spend the early part of New Year's Eve with the Ventresca family– well, actually it was with Nicole's whole extended family, really. They were so much fun to work with, what a great start to our New Year! The snow forced us to have the shoot inside, but I think we still managed to keep the look as casual as they were going for. And those kids were just so cute!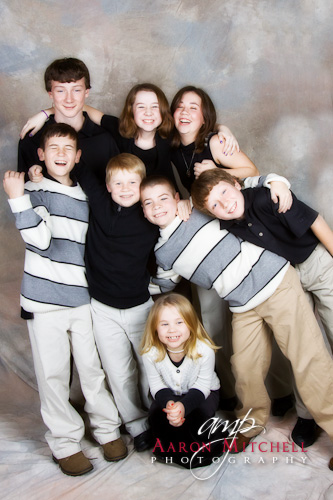 Now back to heatshots! I've had perhaps a bit too much coffee this morning, so you must forgive me, I may be leaping about even more randomly than usual. After we did Shirley's head shots, we realized hey- perhaps we, too, should have one! So we enlisted the help of our incredibly capable 7 year old, and he took some shots of us! (okay, it was all set up on a tripod and he merely had to click the button, but still, I think he did great!) Now, the problem is, I don't actually like ANY picture of myself. Well, except maybe the ones in the last blog post, from New Year's Eve. So it's safe to say I can find fault with each of the following, although Aaron himself is always disgustingly photogenic: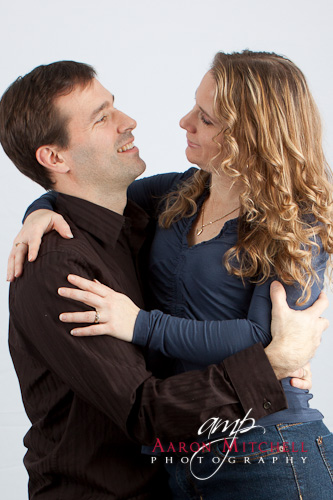 I like the ones where you can mostly see only my hair… 😉
A Behind-the Scenes shot of the headshot session- note the photographer- he's even dressed like a little Aaron! And the small child and dog laying on the floor are for added atmosphere. Maybe next week I'll work up the courage to share the shots Lovey took for my individual headshot- and we can have a contest asking people to pick one, because lord knows I can't! 🙂
Last week Amanda from the Central Bucks Chamber of Commerce asked Aaron to shoot one of their monthly Link at Lunch meetings, and quite frankly I am not sure what the heck was going on in some of these shots… (perhaps I should not send Lovey off alone to shoot these things anymore…)
but hey- it looks like everyone is having fun & happy!! 😉
Brad & Sue!
I suppose I should wrap it up for the day– this was a pretty long blog, lots of pictures, and I just have so much to say today! 😉 But I want to end with a big Thank You, to my wonderful husband and all of my incredible friends, for making my birthday celebration this year so fun! I wish more pictures from the dinner were blog worthy, especially the ones with Omar. But here is one of our selfless designated driver Aviva, and two more of my friends with whom I could never possibly get by without- Crystale & Amy, even though they aren't actually looking at the camera…and Dann, my most cherished and loyal advisor– on the other side of Amy– one of these times you'll actually make it in the blog visibly, I swear! 😉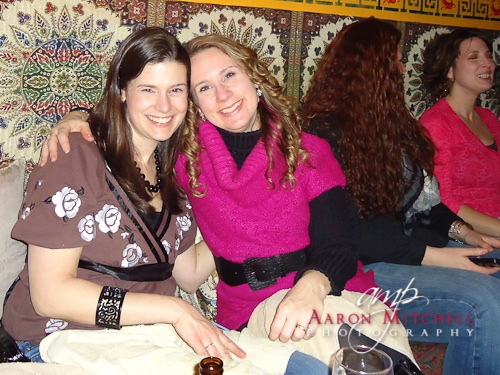 Happily yours,
Cheryl & Aaron and their little own imps of happiness, Aidan & Aleia
COMMENTS
January 20, 2011., 11:12 AM /

January 20, 2011., 7:13 PM /

Aidan did another incredible job!!! I would hire him if I were you before someone else snatches him up.

January 28, 2011., 3:58 PM /

Nice blog:) Love the pics. Love Love Love the curley hair. Love you too!
Comments are closed.