Happy St. Patty's Day! 🙂 What a wonderful sunshiney day!
Every other week on Wednesday morning I wonder what I will write about for Thursday, in addition to all of the fun pictures we post. Today's should be St. Patrick's day related, I thought, or at least have something to do with leprechauns and rainbows! I like rainbows. 🙂
Of course then the analogies start to kick in. YAY analogies! Whatever is going on in my head or my life I like to write about in the blog as an analogy- it's useful and therapeutic to me. (I'm not sure what good it really does anyone else though…) 😉   Lately time and work, and too little of one and too much of the other, have become an issue around here- to the point where my son has asked if we really need to work so much just to make money, couldn't we take a few weeks off, use up all the money we have, then start working again when we need more? What a wonderful idea! ***sigh*** Then I had to explain how every day something costs money, so every day we need to work. This was a rough conversation for me; when he was a baby I was a stay at home mom who devoted my every thought to him, spent hours going on walks, watching bugs in puddles and just… being. Things are vastly different now. I love what we do, …but I do miss the bugs.
So here's where one must stop and decide- what's worth more to you, the pot of gold or the rainbow? I keep working towards that darn pot of gold, I can see it vividly and imagine all that having it would fix. But, you need to realize, once you finally get the gold, that the rainbow becomes far less precious to you. And I love the rainbows. So rare and brief, and if you don't take the time to look for one you may never see it. Once more the time has come to find a balance– because the things my rainbows are made up of are equally ephemeral and precious to me, and all too soon will be grown and changed and missed.
How to find a good balance? I don't know. Maybe by next blog I'll have an idea. 🙂 For now I am going to make the effort to stop and give my undivided attention to the little person holding my hand and wanting to walk slowly enough not to step on the cracks. To talk to Lovey about something important to him that actually isn't work related. To call my family for no reason. To check in with my friends more. And to make sure all of the people who make up my life really feel loved and valued. For, in all honesty, without them there would be no one with which to share the joy– of either rainbows or gold.
….Wow- okay, no real good way to segue from that into the pictures!! SO let's just jump in!
Here we have New Guy Dan! Dan is the welcome new addition to the staff at ParleeStumpf, and we got a few quick head shots of him for his press release debut.
Next day…or actually later the same day, there was a Central Bucks Chamber of Commerce Young Professionals Happy Hour card exchange at Chambers 19 in Doylestown. That's a mouthful of a title for an event! Those young professionals know how to have a good time- and it's even more fun when you can go with your own ridiculously funny friends! 😉
Here's Tom & Brad- somehow Brad always makes it into the pictures- but one of these days I will get one of Amanda …Watch out Amanda!! 😉
Eric & Kelley
Matt- the owner of Chambers
So this is what those young professionals do on a Thursday night…
Look how happy Eric is! See- work is FUN! 🙂
I don't know who these people are or why they leapt in front of my camera… Oh wait! It's Jessie and Tim! 😉
The next day was First Friday in Doylestown! We love First Friday, even in the cold there is always something fun and different to do.
Here are the kids celebrating Dr. Suess's birthday with the Cat in the Hat at the Doylestown Bookshop.
Time for a stroll down State Street…
And we never visit town with stopping in to say hello to Miss Nerice at Busy Bee Toys! At this point Aleia was pretty much done with the pictures, as you can see…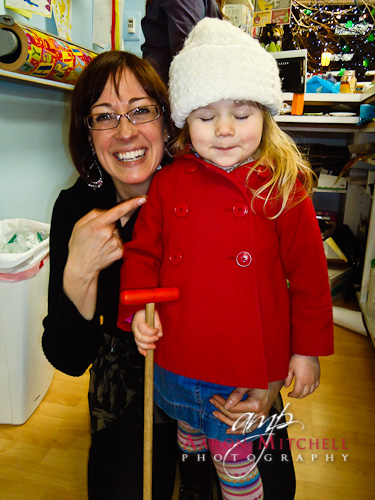 Saturday was another Open House at the Pearl S Buck house with Open Aire Affairs– and this time Larry asked us to get some shots of it, so you can see exactly how good a time we all have there!
Bob! (Philly Event Group) We love Bob. I'm sot sure why he's always laughing at me like that, though…
Suesan from Murphy & Klein Florals
A little bubbly at 2 in the afternoon is always nice…
Kim, Kate (both from Jamie Hollander) & the Wine Guy! He's always so popular…
Kathy (The Temperance House) & Ashley (Feasitivities)
Just a few of we Open House girls!
Sunday was our great-nephew Weston's third birthday! (yes, we like to pack a whole lot into one weekend, I think Aaron would be bored if we didn't)
He had one awesome cake- and it taste yummy too! I did not know that the secret was to peel off the fondant…and have actual yummy frosting beneath.
Birthday Boy!
The rest of our week was filled with lots of meetings and things where we did not actually take pictures, and then Lovey's Birthday! We had a very quiet and grown up party for him, with just a few friends, and few pictures because the night just didn't get very rowdy …so that'll be the last "grown -up ' kind of party we have! 😉
We had another mini- engagement session at David Jay Jewelers, with the most gorgeous couple! Leyla and Paolo were going for a more formal, old fashioned look for their engagement portraits, and once again I can only show you a couple because they haven't gotten to see them yet–but it was so hard to narrow it down to just three! (so I didn't- don't let Aaron count them) We played around with the old fashioned theme, going for a parody of the farmer and wife with the pitchfork shot, using a conveniently located vacuum as a prop. And Leyla wanted a shot of Paolo alone, which came out so GQ. These two were both just so photogenic and– despite the serious faces they put on for the camera– lots of fun to work with!
Lots more fun and excitement coming up: we're going to the Bucks Beautiful Preview Night for the Garden and Home show this Friday, we'll be at Willow Wellness and Chiropractic Care of Doylestown next Friday taking pictures of Dr. Heidi's littlest clients and finding out who is The Most well-Adjusted baby! We'll also have more head shots and commercial work to share, more 2012 brides to meet with, and more birthday celebrations to go. And now that he's a big important Board member, Aaron felt he could also sign the whole family up for the Red Cross 5K Walk and Run Save Lives on April 16 at Memorial Hall in Fairmont Park…Now if you've met me, you may note I do not run. I don't even walk very quickly. But this is for a good cause, one whose relevance is even more apparent now, after the earthquake in Japan, since it's the Red Cross who is often first on site to help everyone. So I guess I'll be walking! Busy busy busy!
BUT–I will make the time to slow down here and there, and appreciate those rainbows…
Happy St. Patrick's Day Thursday!!
Love, Cheryl, Aaron & their tiny bright points of light
COMMENTS
March 17, 2011., 8:52 AM /

March 17, 2011., 10:18 AM /

aw, thanks Courtney!! :) I think your comments always add a lot of happiness to to whatever I write!

March 17, 2011., 9:22 AM /

Happy Birthday Aaron!

March 17, 2011., 10:02 AM /

Thanks! I had a wonderful birthday weekend!

March 17, 2011., 4:41 PM /

Loved that cake. Yum. But too damn cute to eat.
Comments are closed.