Okay, that's it, I am so out of here! If Mother Nature is going to continue to equivocate over this whole beginning of spring business (it's 70 degrees! It's snowing! It's 50 and sunny! Now it's hailing) then I am hopping in the car and heading south–perhaps with a quick detour west to smack that lying little groundhog around a little bit…I know they are in it together….I don't like to be cold, and I can't be very productive when all I want to do is climb back under the warm, cozy, beckoning blankets. So farewell!
But before I go, I will write one last blog. From beneath my blankets.
This week we'll begin with the women and children first (…hmmm, there's an idea, I could stow away on a boat….I like boats. I could be soothingly rocked to sleep and awaken in a strange warm land…) sorry. Anyway. Women first. Aaron and I shot some pretty cool women this week! Let's begin with Melanie Boyd from Wellness Naturally, our favorite new massage therapist! Now, I will be honest with you, Aaron and I are fickle, and we will love best whoever is giving us a massage right then. It's wrong but so true. However, I can honestly say that the massage I got from Melanie was amazing- it was actually therapeutic, as opposed to merely relaxing. I felt so good the rest of the day! Plus she is conveniently located in the same office as our friend Dr. Heidi, who is also in this week's blog. Here is Melanie, and her amazing hands: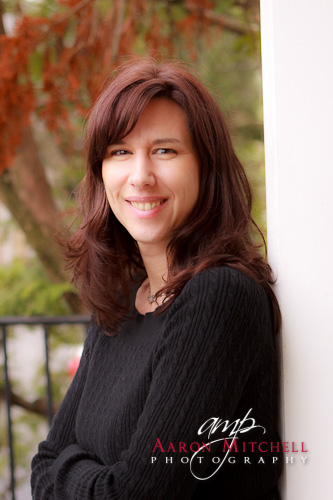 Next up is the very cool Chanin Milnazik, president and creative alpha of Brown Dog Design, as well as the founder of the Women's Business Forum, AND the one who started First Friday in Doylestown, which you know we all love. She's done even more but I don't have room to list everything in just one blog. Suffice to say she has darn cool ideas and knows how to make them happen! She wanted some updated heads hots, and we were going for sort of a warm, soft look, as well as professional.
I really like the outdoor ones a lot- I think almost everything is better outside!
Now to the BABIES!! We held The Most Well- Adjusted Baby Contest with Dr. Heidi Bencsik of Willow Wellness and Chiropractic Care of Doylestown, for all of her baby clients. It was so fun! If you want to vote for your favorite, you can go to Heidi's facebook page: http://www.facebook.com/DrHeidiB.
We always have a blast with the babies. The first poor baby, however, was not having any fun. Apparently she hasn't had an adjustment recently! 😉 The rest, however, were all raring to go.
She thought it was a swim suit modeling audition:
Okay, for this next one, doesn't this little guy look EXACLTY like John Candy in Planes, Trains and Automobiles, in the scene where Steve Martin opened the cab door to scream at him?? Really!! I love it!
Here he is looking just like himself- this is Baby Jack, our buddy from way back when he was in utero!
Okay, I don't care how cute you are, don't try to take my rat!
This is Aleia's rat- he sometimes assists on shoots, and in his spare time time he enjoys good wine and jazz music.
More chocolate!! Laurie's Chocolates is making this yummy orange hazelnut bark, as well as starting to crank out those Easter Bunnies! Hurry before they're all gone!
Originally Aaron and I didn't plan to do product or corporate work. We don't really fit what one may consider the "corporate mold"; we tend to be more fun loving than serious, and we thought product work would always need to be very serious business. Well, perhaps it is for most, but we have so much fun with these shots!! My absolute favorite products (other than the ones I can eat) are the ones for Penn Color, for our friends at ParleeStumpf. Maybe the candy like colors just go to my head, but when I see these shots I can't help but personify them! These next few tell a whole little story:
First, The angelic spools, cue the choir music:
Wait a minute, who are you calling "angelic"?! We are THE SUPER SPOOLS!
**GASP**! Who knocked over Bob!?!?
Bob… knew too much. He had to go.                                   THE END.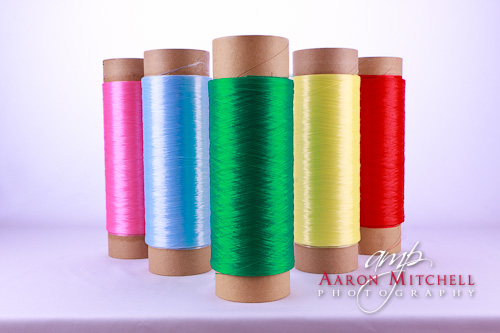 Psst- yellow color concentrate, I dare you to take off your lid! I'll do it if you it, blue! Hey! Let's all do it! On three: One, Two,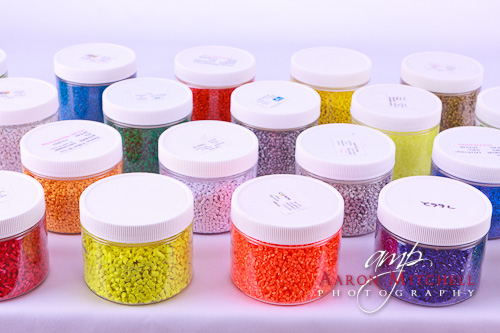 THREE!
Ooh! We feel so liberated and free! Yayyy!!!
Oh no, it's all fun and games till yellow gets carried away…
Quick! Everyone scatter!!                                                       THE END
Well, this one is just a simple product shot, with no narrative, but still colorful!
Back on the home front, it was tadpole season at the Castro Pond!
And our wonderful guardian, Bear Bear, grinning as he watches over his children.
And- Aidan had a piece of artwork chosen to be displayed in the Pennridge School District Art Show! YAY! 🙂 We were far more excited about it than he was.
For our last foray out this week, Aaron and I attended the Fund raiser for Japan held by the Central Bucks Rotary, with our friends Jessie and Aviva, raising money for these very cool ShelterBoxes. We had a wonderful time talking with Bruce as he explained how incredible a feeling it was to go to these impoverished places where tragedy had hit, and see how grateful people were to receive the amenities that we just take for granted. The tents included in the ShelterBox can hold a family of 10…or 4 goofy friends posing for a picture:
Photo credit to Bruce Rutherford of Rutherford's Camera Shop! Thanks Bruce, I'm sorry you had to take it with my useless little Cyber-Shot! 🙂
And so ends our chilly last few moments of March! And maybe the snow the weatherman is calling for on Friday is just his idea of an April Fool's joke. I hope.
Love,
Cheryl, Aaron and the two merry pranksters (by which I mean Aidan & Aleia, not Jessie & Aviva! hahaha!)
COMMENTS
March 31, 2011., 8:44 AM /

March 31, 2011., 9:54 AM /

Hi Jo! Thanks!! My good friend is a Brit- she must have rubbed off on me. That or all the Monty Python I watched growing up... ;) We would love to take credit for how good Chanin looks but I think she comes by it naturally. But we'll be glad to take your head shots anyway! I will find you--I frequent Saxby's, love sushi, and I am not afraid of goats! :)

March 31, 2011., 10:22 AM /

Thanks for the lovely Thursday morning humor and the reminder to have some coffee! I'm personally considering a tropical getaway in response to the potential winter weather we're having. I also love that you are connected to Jo. She's a lovely client of ours :) also with a great sense of humor!

March 31, 2011., 12:13 PM /

Okay - that Tadpole fishing looks like so much fun. Count me in. I'm on my way!

March 31, 2011., 7:02 PM /

Finally, a portrait of BearBear! Can we have copies? Aidan did a great job on his work of art.

April 15, 2011., 11:28 AM /

I love the product shot narratives! Can you include them in every weeks blog?? :)
Comments are closed.