AH yes, the colors of Thanksgiving quickly succumbed to an early winter blanket of snow!! 🙂 Perfect for getting ready for all the holidays- but not yet! No no, not just yet! There's another day of November left and I am going to fill it with so many colorful fall photos that your eyes may pop from the beauty of them all!
We still have a few more fall weddings to share, and winter is coming fast, so here we go!! First up is another Yetter wedding!  This wedding is Brittany Yetter's , sister of Jeff Yetter, whose wedding we did in 2010. (the photo of he and Justine laying on the ground beneath the tree is still one of our favorites!)
Getting dad ready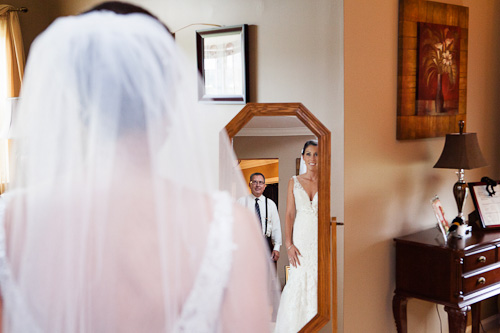 Siblings!
Cousins 🙂
Justine & Jeff, and the newest Yetter!
I LOVE the new garden area at the William Penn Inn! Oh, our own wedding photos could have been so much nicer if this had been there back then!
Greg Schubert of Untouchables Entertainment kept the party going- and this crowd was ready to dance!
Then we had one of our coolest family portrait sessions ever- I really love these images!! We had such a fun time with Jenn's family! As one the boys said, after none of us were sucked underneath the speeding train as is passed- "That was fun! And no body died!" Always what we hope for in a good photo shoot. 😉
The children, obviously, were quite camera shy 🙂
Another beautiful fall wedding, Rebecca and Andrew's was held at Normany Farm. Rebecca is the daughter of Sue, whom I worked with years ago, at a place that, well, isn't there anymore… 😉
The flowers could not have been more gorgeous- Beth's Flowers did a lovely job!
Um, so apparently you aren't actually allowed up by the silos…so kids, don't try this at home! 😉
Bagpiper!
It was a wild bridal party!
Gangnam style! "….Heyyyyy, sexy lady…."  And now it's in my head for the night…
Sue & Steve!  Proud parents of the bride
Andrew danced amazingly well for a guy with a broken leg! He held up like a champ the entire night.
And now it's time for the next gorgeous fall wedding! This one was at the Pearl Buck estate, with Open Aire Affairs, familiar to any of you who read this blog by now! 🙂  Lauren and Scott's wedding had so many amazing details to make the day special. First off, special bridal boots!
Lauren had so many awesome photo ideas!
Horse drawn carriage! I loved it until I had to run to keep up with it. Cheryl does not run… :-/
The clear top on the tent looked amazing- perfect night for it!
Mark Bryan Designs did the flowers- as always, Mark does the most incredible work!
Bob Mills, of Philly Event Group, kept the party going all night! Or, at least until 10pm… 🙂
Mom with s'mores!
Then it was time for the fall show of Lights Camera Acting! and that means: head shots! YAY!! The kids really seem to have fun getting to pose for these.
And the last of our fall portraits for this year- beautiful blue eyed Gywneth! We had the privilege of shooting her mommy & daddy's wedding own gorgeous fall wedding two years ago, and we were so happy to meet her!
She really likes books….
So where better to go than the library?
Oops- not quite the very last of the fall portraits! Here are just a few from our trip to Bethlehem with the Parlees when we went to the Burnside Plantation, which is such a wonderful place to visit- it was free, the costumed docents were so great with the kids, and it's just a great place to wander around on a beautiful day.
Lovey needs to photoshop himself in!
It was such a pretty day!
And that concludes all of the autumness I have for this week! Next post I will still have the last two October weddings to show you, but after those we have fun parade photos, holiday dog photos, and more family portraits! And after that–bring on the SNOW!!!! 🙂
Love,
Cheryl & Aaron and their tiny elfin kin
COMMENTS
November 29, 2012., 10:15 AM /

November 29, 2012., 12:17 PM /

Nobody died... love it! Haha

November 29, 2012., 3:13 PM /

Wow! Gorgeous stuff!!

November 29, 2012., 9:59 PM /

Wow!! What great pictures. You guys just keep getting better! Love all the wedding pictures. And Jenn's family shots. Adorable kids! The head shots are nice too, and Baby Gywneth is precious. I like the one with her reaching for the book. So cute! The picture of the Parlee,s and the Castro's leaning agains't the stone wall is really cute! Aleia's pose is so cute. And the Parlee's family portrait is really nice. Claire keeps getting prettier. Also loved the one with "Mama" Castro!! Really beautiful pictures. Keep up the good work! L

November 30, 2012., 10:00 AM /

OH --- MY -- GOSH! I love these images! (And, I'm not just saying that because they include Gracie) ;-) That train station family portrait is incredible. And, the wedding photos are so creative. Awesome work!

November 30, 2012., 10:06 AM /

PS - That little bald, blue-eyed baby is too beautiful for words! And, what can I say about that handsome man with his gorgeous kids?!

December 1, 2012., 11:30 PM /

Awesome!
Comments are closed.