February tends to be a long, dark month, but this year it's been warmer and brighter than any I recall!
I still miss the snow…but I am happy to have been a part of some February fun celebrations – celebrations of a longtime love, of family love, and of the childhood love of a good party! 🙂
I'm going to start with the portraits of Joanne & Tom, an anniversary gift to them from their son Chris. (We know Chris and Cindy of Montage Show Productions from the Chamber of Commerce and all of the other local networking things we all seem to gravitate to – generally I can be found near the food table, if you ever want to find me at one! ;))  I had the best time planning this session with Joanne, because we would just have the nicest conversations each time I'd call to discuss it. I tend to try to get most of my correspondence done by email, because it usually saves time and I can do it late at night if need be, but I found myself looking forward to calling Joanne just to chat! 🙂 And her husband Tom is a local artist whom I also thoroughly enjoyed talking with– he gave me a tour of his studio and showed me the painting his was currently working on- I feel bad that Aaron's main interaction with them was merely take their portraits! But at least he got to enjoy the interaction between them- it was so wonderful to see how loving and affectionate they are to each other after, oh my, I think Chris said it was over 50 years of marriage.
Here are some of my favorites from their session- once again this is just a sneak preview because they haven't gotten to see them yet:
Little Chris was feeling shy and was being a little difficult,
But he warmed up! And poor Teddy kept trying his best to get in the photo too.
Teddy was just so happy to be there!
The tree they are sitting under was planted by Tom and his dad 45 years ago.  Have I mentioned Aaron and I really like trees?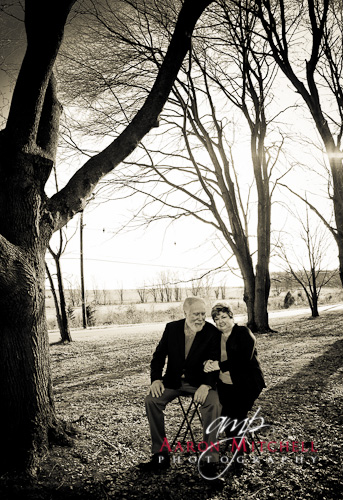 You can just see how much they adore each other…
,
Next I was at Aidan's school for his class Valentine's Day party! I love being his Homeroom mom and getting to plan and be there for these things, and to know his teacher well- especially now while it's still cool to have your mom in school with you.
Think we have enough red dye #40?? I don't know…. 😉
It must be a funny valentine!
All the moms and Mrs Amary!
Then Aidan (or AJ, as he goes by in school) took one of me with them.
Next we had Lilah's 2nd birthday party!! Aviva said we didn't have to bring our camera but seriously- who can resist wanting to capture such amazing party decorations??
Lilah knows which camera to look at! 😉
It's all hilariously funny until someone drops the birthday girl!
Lovey makes even sipping punch look pretty hot.
Bert is too cool.
Princess Lei-Lei and her Daddy
Those Hersh's are a crazy bunch
What happens after the party is over….
There's just no such thing as too much Ducky Punch!
And that wraps up the end of this month so far! There are a few more days left, and I think Lovey and I are filling them up with all kind of networking events and bridal shows. Let's see, we had a great time with Bob Mills of Philly Events Group on Monday night, at Pearl Buck with Larry of Open Aire Affairs and Lori from The Wedding Studio– we really do have fun together! Today, Thursday, I'll be with my friends at the Central Bucks Chamber of Commerce Annual Lucheon at Spring Mill Manor, and tonight we'll both be at the DBCA Locovore event with even more friends– lots of food- lots of fun!! Saturday we'll be at Pearl Buck again with all our wedding vendor buddies, and then we skedaddle (is that really how you spell skedaddle?) over to Graeme Park to check out the newest Open Aire venue for another show.  Whew. I think I'm a little tired already! But again, there's great food at each of these, and you know if there's food, I am there! 😉
And, last but not least, Aaron and I would like to wish everyone an early but very sincere Happy Leap Year!! 🙂
With love and unusual warmth for this balmy February,
Cheryl & Aaron and their cream filled candy children
COMMENTS
February 23, 2012., 1:55 PM /

February 23, 2012., 11:38 PM /

I don't know that I have ever seen such incredibly vibrant, vivid colors Amazing pictures
Comments are closed.