You can hear those sleigh bells ring…Oh yes, it's the merriest time of the year! And I have lots of happy holiday photos to share! I will begin with finally sharing our last wedding of the season, which actually occurred in October, but I just don't feel right putting more than 3 weddings up in one blog at a time, so we had to spread them all out about.
Here are Jodi and Jason, a couple we had met a year or more before their wedding, at one of the Open Houses held by Open Aire Affairs. We were so happy to spend their wedding day with them, at the Pearl  Buck Estate, with two of our favorite vendors to work with, Bob Mills of Philly Event Group and Kate of Jamie Hollander! Here are some photos from their beautiful day:
Amazing display by Jamie Hollander
Bob! Dancing!
And now it is time to celebrate! We just had our own wonderful Happy Thanks Hanukkamus party with our close friends, and while Hanukkah is past, Christmas and New Years are on their way. Here are some photos to get you into the spirit!
From our Holiday Pet Portrait Session with our friends at Best Friends Pet Care in Willow Grove:
Aaron's parents came by with Ginger!
All dogs, and one cat
One angry, humiliated cat… 😉
Next was the Hatboro Holiday Parade. Joe Tryon, President of the Hatboro Chamber of Commerce, asked us to capture some images of the event through their marketing agency, ParleeStumpf.
Our helpers for the day! You can just barely see Aidan in the background.
Lots of dogs!
It was the best parade the kids had ever gone to- they got driven around in a golf cart, had primo front row seats with all of the chamber of commerce heads, and a warm place to duck into and eat whenever they wanted! I fear we will never be able to just "go" to a parade again!
Then- we ran from the parade to Aleia's play, with Lights, Camera, Acting! She was Lady Bug #1. 🙂
Then – the camel! I always love going to see Santa light the town tree- I usually try to drag everyone to all three of the towns we sort of live in- Doylestown, Perkasie, and Dublin. This year I was only able to get them all to Dublin. They have a live nativity every year, and other years I am pretty sure there was a llama, but this year, this year there was a baby camel!! I cannot tell you how delighted this made me!! He was only 3 months old, and his hump will get bigger as he grows and begins to store more fat. I loved the camel. I think his name was Chester. I would have spent the whole time playing with the camel but I was drug away from him. There were also trains, fire trucks with Rudolf and Frosty, and Santa arrived by helicopter! The best part (besisdes the camel) were the fireworks! Fireworks in December!! It was a somewhat warm December night, and very foggy, which had a cool effect on the appearance of the fireworks… until the thick cloud of smoke obscured them completely, leaving us only with bright flashes of light. Cool to see, nonetheless!
Anthony, Aleia & Aidan pose with Santa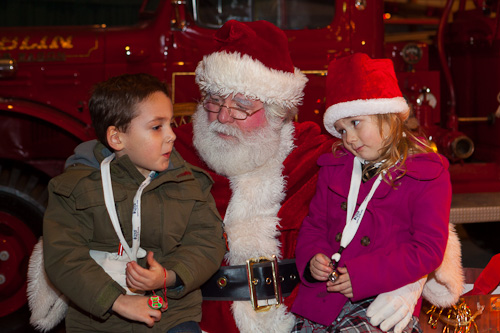 That's about all the Christmas Cheer I can fit into one blog! Stay tuned next year for some beautiful corporate photos, behind the scenes images of Aidan's Lego robotics, and of course more recap of the festivities that happen around here every day!
Happy Winter Solstice, Merry Christmas, and Happy New Year! May we all enjoy the beauty of the season, and appreciate the love and presence of family and friends, as we head into a new year full of hope and promise.
Love, Cheryl & Aaron and their dancing, sugarplum envisioning, elf seeking, offspring
COMMENTS
December 21, 2012., 2:02 PM /

December 21, 2012., 3:36 PM /

I just have to wonder what Anthony was saying to Santa, based on the look on Aleia's face ;-)

December 21, 2012., 10:18 PM /

That is the cutest camel I have ever seen!!

December 21, 2012., 11:34 PM /

I like the camel......
Comments are closed.