Happy Springtime at last! It's chilly, but the sky is blue, the grass green and tree buds florescent. It's just the perfect kind of weather to make you sit back and pause to enjoy it's fleeting beauty, and take a minute to count all the wonderful things you are lucky to be blessed with!
If you've read this blog before then you have probably heard me count mine already- and you're about to again, because for some reason this time of year just makes me feel grateful for everything. Usually when I'm driving. The mere sight of that color blue combined with the lush new green and flowers just makes me feel very happy! And then I think of all the other things I feel happy for: the most patient and wonderful, handsome husband in the world; truly incredible kids; a couple of invaluable best friends whose insight, support and laughter propel me through life; a close circle of girl friends who help make that life both more fun and more successful; and a family who has never ceased to love and support me in everything I have ever done. I cannot help but be thankful for all these people, because without them, I would not exist! There is no way I could ever be who I am today, where I am, doing what we do, without the amazing interconnecting threads of all of these people supporting me. I am sure we all have so many things to feel lucky for- I tend to be people oriented, but there are other things- I think everyone should now take a minute to stop, gaze over your computer screen (ideally out a window if you can!) and see how many things you can think of for two minutes. Then, of course, gaze back down and finish reading this because I have a Whole lot of photos to show you today!! 😉
I shall start with Denise and Steve's St Patty's Day wedding at the beautiful Joseph Ambler Inn! I gave a sneak preview last post, but here is a better overview of the day. And what an amazing day it was- 70 degrees on March 17th, what are the chances?? Denise was so happy, from the moment she arrived until the last dance of the night, you could just feel her happiness radiating off of her! And Steve was just so cute- my favorite moment with him was when we couldn't find his cufflinks, so I used his phone to try & text Aaron to ask him to find where they were, but instead I texted a random stranger with a desperate plea for help. Later they texted back saying wrong number but wishing us all luck! 🙂
Okay- so the leprechaun was here for a reason- when Steve proposed to Denise it was in the is very same costume at her work, last St. Patrick's Day!
This particular leprechaun was played by the daughter of someone at the Joseph Ambler Inn, I think- and boy did she do an amazing job!!
Of course, if there's going to be a leprechaun there, we're going to get our photo taken with it! 😉
The gorgeous flowers were done by Robertson's Flowers in Chestnut Hill.
The beautiful Jospeh Ambler Inn
Inside and out
And this is Marge!! I l loved Marge! We had so much fun all night, after she explained she was slightly camera shy and preferred candids of herself…so I got lots of candids of her!! 😉 She was so much fun!
Yes, there is an implied clause in our contract requiring at least one person in the wedding to dance with one of us…
Congratulations Denise & Steve! May each day of your marriage be as happy  and laughter filled as your wedding day!
And now for more of those heads I speak of in the title! There were heads on the people at the wedding too, thank goodness, but here are some images of just heads. Well, mostly just the head, with a little bit of torso.
First up is our friend Theresa Krallinger, who just happens to be both a comedienne and an inspirational speaker! Obviously she was both fun and inspirationally uplifting to work with! 😉
And next we have Larry Ott! ….Larry, Larry, Larry– so many expressions from one man during one photo session! 😉 Larry is our buddy from Open Aire Affairs, and we attend many open houses & random other weddingy events together. He also just added realtor with Weichert Realty to his pedigree, and needed a nice new head shot. We had a lot of fun during his session, which I do think finally resulted in an actual head shot.
Here are the proofs of our favorite outtakes (at Larry's own request, because he' s a funny guy!)
Larry Sings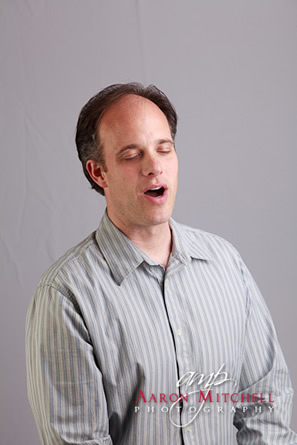 He feels pain
He gets broodingly angry
Sometimes he's smirky
He's often surprised and slightly shocked- especially when around Aaron & I… 😉
I'm not sure what he's feeling here but I'd stay away when he does this…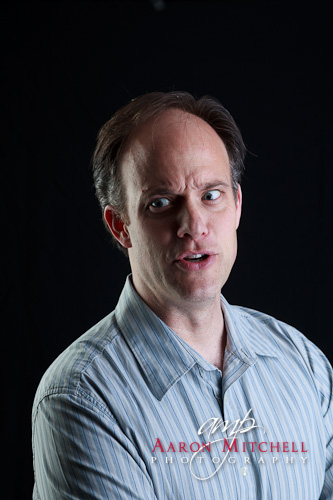 And when the previous look turns suddenly into maniacal laughter you should probably run!
Here's my favorite. It's not Larry's favorite, but that's okay, it's my blog and I like this one best! 😉                If you want to see Larry's favorite you can friend him on facebook. Or put your house up for sale.
And THEN! We had The Women's Business Forum's Ideas EXPO. I love the WBF not only because all the members are eager to offer helpful advice & support, but mosty because it introduced me to one of my closest friends!! 🙂 (And I think you know who you are!!) Also because they have monthly meetings that give us all en excuse to get together early Wednesday mornings, learn something, then go out for bagels an call it "working".
Xana Bertino & Sarah Clark, newest WBF spokesmodels
Pam Carroll looking adorable
Chanin Milnazik is just a natural speaker and leader!
I thought these two girls were really cute so I had lunch with them.
RICK!! I love RIck. Rick Toone of Shoot Better Video, in action!
And then I won this basket!! How cool is that- I never win raffles!! Woo hoo! Thank you Doris Kaucher! Although I didn't get to eat much, it was attacked by my family as soon as I got home…
And even though that was a very full week, we must end with family photos! 🙂 Todd, Lovey & I took the kids to the Franklin Institute for a looong fun filled day of science.
They each got called on stage:
Aidan
Drew
Lei-Lei
And mixed in with all the science was lots of climbing:
We all had a great time- it was a really fun way to spend the day, because the grown ups get to play as much as the kids!  …And if you spend an inordinate amount of time carefully planning your route thru the museum, you really can see it all in one day!! 😉
Happy Springtime, and Easter!
Love,
Cheryl & Aaron, and their fresh faced blossoms of spring
PS- and if you happen to be wondering about the adorable little boy at the top of the page? That's Aven, debuting in our blog for his One Year photo session! You'll see more of his session next blog…
COMMENTS
April 5, 2012., 10:15 AM /

April 5, 2012., 10:18 AM /

Loving all of these fabulous blog appearances! So glad I met you too, on that brisk January evening in Jamison ;-)
Comments are closed.