Oh Fall is certainly in the air this week! I hope everyone enjoyed their summers as much as we did! The kids told me this was The Best Summer Ever- so I feel our work was well done! 😉 I know I certainly enjoyed it to the fullest- lots of fun weddings, long days at the beach, fun lazy days with friends….sigh…:) But now I am ready to enjoy the cool crisp days of Autumn… and new boots!! 😀 I really like boots….
But before we fall into fall, I want to wrap up some of our summer fun. I have weddings to show you! Lots of them! I will limit myself to three this blog, because there are other happenings to share with you as as well. SO much to catch up on. As a matter of fact, I I am going to keep to strict chronological order today, as opposed to my usual stream of consciousness order.
The McGinnis family won us at a silent auction for the Ted Lindeman Foundation, and we had such a good time with their whole family!  The setting was one of our favorites- the grounds of the Pearl S Buck Estate.
Next we had the wedding of the bride who changed her mind….
On our way up the steps to the church, Emily stopped suddenly and said, "I've changed my mind." Of course this caused us all to stop in our tracks and stare at her. Fortunately, she had not changed her mind about marrying Jason- she had changed her mind about carrying her bouquet! Whew! The rest of the day proceeded without a hitch, and the threatening rains once again held off for us. After a quick shower the skies cleared again and we were able to get some of the city street photos of Philly that we wanted. The night ended in one of the most fabulous venues we've been, the Racquet Club of Philadelphia. What a gorgeous place, and the staff and service of Jeffrey Miller Catering were all amazing! We felt as if we were guests ourselves after being greeted by Marc when walked in. It was just an elegant setting and experience all around.
You can just start to see Emily coming down the road to the right, for their first glimpse.
We just loved this theater across the street from the church.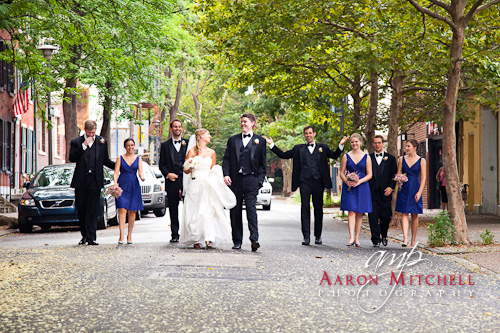 I loved her! She was the best model, all night long!
Arcadia University alumni
Emily relaxing on the stairs in her pretty purple shoes
Beth, one of the Best maids of honor ever, being attacked by Jason's brother.
Next it was time to celebrate with Ellen Mager of Booktenders Secret Garden, and her Where's Waldo event! As you can see below, I am a big fan of Waldo's!  We had such a blast running through Doylestown with the kids, seeking Waldo in each of the participating shops- some of which I had always meant to go in but just never found the time. The party Ellen held at the end of the week had a great turnout and the kids loved all the great Waldo prizes. We love doing anything with Ellen- she's just amazing, and she has Aidan hooked on such great books that we can't buy them fast enough- he's finishing them before the next in the series are even published! We're so happy that she just celebrated her 30th Anniversary of her store, and I hope for 30 more years- because it's exactly the kind of bookstore experience I always want my kids to have.
Next was Tom Furia Jr, of Penn Jersey Paper. What a great company! We did the whole family and their dad Thomas Sr, the founder, last year for photos in their very cool new office, and Tom needed some head shots so we were back again this year. Such warm and easy -going people- its always such a pleasure to work with any of them.
And then came the wedding of Courtney and Steven, speaking of warm friendly people! We had such a good time with the whole crew. The Society Hill Sheraton provided beautiful backdrops for the getting ready photos, and then the city and the very cool venue TRUST provided the rest!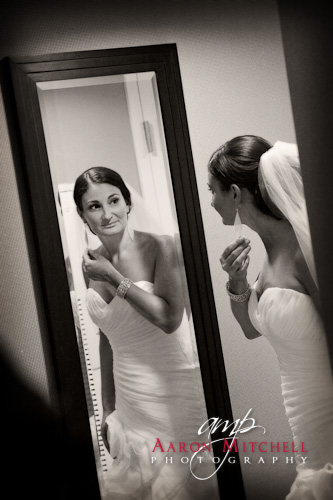 Have I mentioned how much I love working with the groomsmen?? 😉
I really loved this image
Even the church was breathtaking!
Cali! She just dropped by for a few photos.
Carpenter's Hall park was an awesome location for formals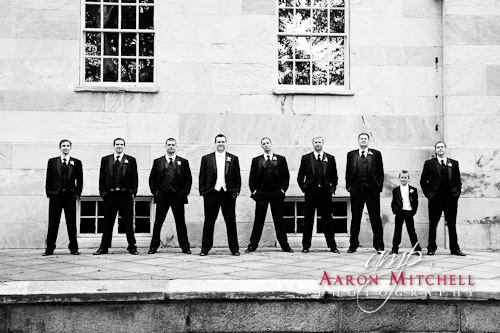 Fun with the bridal party- with thanks to Louis of Video by Louis Anthony for his input & creative ideas!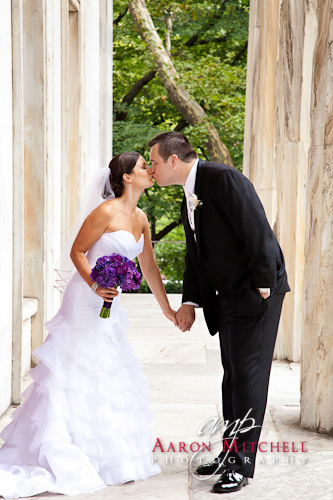 Then onto TRUST- a totally unique Philly event venue (and formerly the Real World house for MTV- and even more formerly I am pretty sure it was the club The Bank that my friends & I used to go to…) Apparently it's closing as a venue though. 🙁 The catering for them was by Feastivities, which always means that an army of attentive & professional staff will be catering to your every need!
Milk and cookie bar!
Music was provided by Cutting Edge Entertainment and the always awesome Richie- and I cannot help but be dancing too as Richie works his magic on a room full of people ready to party! Aaron got a fantastic shot of him- except I'm in it too and I look awful so I'm not showing you!! ;P  Okay- actually it's too good of RIchie not to show so I'll just crop me out of it. Hi Richie!! 🙂
I will understand if you feel all wedding photo'd out by now- but no! You must see Amber & Mike's wedding- because she came up with so many of the coolest details that we have ever seen! And you want to see them too!
I must reiterate- I love working with the groomsmen! They're awesome & crazy!
I love this one of Amber
Men feet! My deep love for John Cusack has endeared me forever to these shoes…
Fun with polka dots!
And now for all the incredible details! Amber & Mike met on a site called Plenty of Fish in the Sea, so that became their theme- and I have seriously never seen a theme done so well!!
Place card fish
Center fish.
Kissy fish
The RSVP cards- they are mad lib style!!
It was a fantastic day!
I will stop with the weddings for now, those will bring us up to August at least. Now for August birthdays!!
First up is Laurie Douglass, of the always decadent Laurie's Chocolates. Not only a fun party, but one filled the most scrumptious food- including a cheese board from Jamie Hollander! They make the most delicious things….mmmmmm… I love cheese….
Lovey with all the women
Laurie and Decoy
Glenn!
Next day was Aidan's 9th birthday party!  …9…I can't believe it…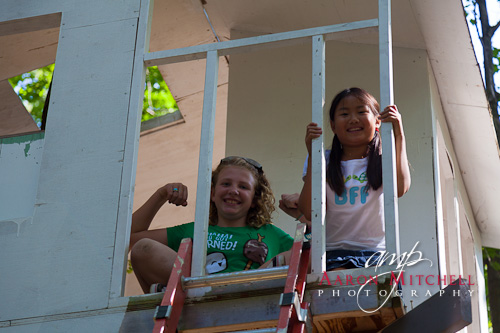 Wyatt has yet to be amused by the camera
I don't know why I always like the cake pictures to look all nostalgic.
We promised Aaron's brother Adam he'd be in the blog!
And I know Ron & Dawn just want to be too.
Weird people (well, the two to the right are normal enough…)
Small cute children sprouting from tree trunks
Thanks to Uncle Tim for bringing the giant tug a war rope!
That's all folks! And that still only takes us up to mid August…  I'm sorry. I shall never miss a blog writing day (ahem, month) again. It's too much to catch up on for me and so many photos for all of you!!
But the seasons have changed, fall is here and regular (albeit crazy) schedules– here we come!
Stay tuned next blog for more weddings, some cool surfer guy head shots, and of course the obligatory back to school photos of our kids!!! 😀
Love, Cheryl & Aaron and the Kindergartner & Third Grader now occupying our babies' bodies
COMMENTS
September 13, 2012., 5:24 PM /

September 13, 2012., 10:31 PM /

I love Emily's bridesmaids' dresses! Very classy! Also, we just had our one-year anniversary! It doesn't seem like that long since we saw you last, but maybe that's because we read your blog all the time. =P

September 14, 2012., 2:32 PM /

Dawn- Bear snuck into this one!

September 14, 2012., 2:35 PM /

Kathleen- I CANNOT believe it has been an entire year either- I can still vividly recall your engagement session!! I should have realized it though, because the mug from your wedding is the perfect size and I use it all the time! I hope you guys- and your family- are all doing great!! Happy (belated) Anniversary! :)

October 4, 2012., 5:12 PM /

Thanks for all the kind words about our fish theme! Feels like it was a year ago! Thanks again for a job well done!

October 4, 2012., 9:36 PM /

Thanks Amber! Your whole theme and day was just amazing, I loved it!
Comments are closed.