I'm going to go a little out of order here, because I really want to start with Aleia and her adorable Mother's Day show! I don't even know how her teachers put on such amazing events every year- I can't imagine how hard they work to put on such a show for the parents! This year they even had a giant paper mache cow! At least, I think it was paper mache…
Rounding up the crazy coupe bulls. (Note giant cow)
yeeha!
Once again my shy little girl got the only speaking role 😉
Dose y-do!
Next we have a whole bunch of heros! You may recall the Red Cross Hero head shots Aaron had taken a few weeks ago, here is the breakfast event that the Red Cross threw in their honor, at Spring Mill Manor. Judge Renee Hughes presided (or is that just when she's in court? Perhaps here she just presented.) Either way she's awesome and quite possibly the only judge I have ever looked forward to seeing! 😉  Her schedule is crazy busy even by our standards, but she is always so poised and gracious and happy, and when she speaks to you it's as if she has all the time in the world to chat. The event itself was a big undertaking and required the organizing of so many things, I think Jane Ward- Director of Donor Relations and Liaison to Bucks County American Red Cross -did a fantastic job pulling it all off! And hopefully she took a few days off after… 🙂
This is seriously the best dressed 20some year old boy I have ever met- he was all suited up when we first met for his photo, and here he is in a three piece! I hope my son even owns a suit when he's this age!
Ladies in red!
Judge Hughes and Miss Berks County!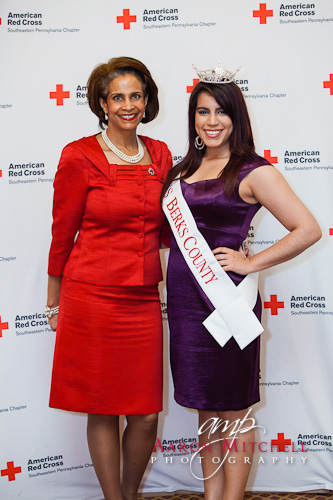 And if those weren't enough heros for you, we have even more! We were asked by the lovely Daurelle Harris of ParleeStumpf to shoot the Police Unity Tour for Joe Tryon of Hatboro Federal, who sponsored Warminster Police Sergeant Dave Erenius. The 300 + mile tour from NJ to the National Law
Enforcement Museum in DC is to honor those who have fallen in the line of duty, and it's the single largest supporter of the National Law Enforcement
Officers Memorial Fund. It was really an emotional event, watching all the bikers ride into town, and boy were they all big hams for the camera! Never have Aaron and I been willingly surrounded by so many cops 😉 . And they were all so happy! It looked like they were having such a great time, I think next year Joe may actually ride along with them! I love Joe. We have been hanging out with him a lot the past two weeks, and every time we're with him I think I like him more. I am not sure if there is a sweeter, more affable, and genuinely caring business guy out there. Next post you'll get to see the other things he's been up to lately- he's been a busy guy!
And to finish up, we have a little preview of our second wedding of the season! The lull we had between the first and second has ended, so get ready for a summer full of wedding photos! Here are just a few of the images from Tracy & Tim's wedding- there are lots more to share and so much to tell you about, including all the great people we worked with fro the day. But just to tease you, here are some of the "getting ready" photos, to hold you over until next blog!
So I loved the idea of this one as I took it, but I'm not sure if I like it now or not… opinions??
Tracy and Max 🙂
I Loved how Lovey captured the flag billowing in the window reflection!
Joey & Molly were both so excited to be all dressed up!
Stay tuned next week to see Tim's face when Tracy walk through the church doors! 🙂  The ceremony was held at the Old St. Andrews Church in Newtown, by the way, with our favorite Monsignor Michael Picard! You'll get to see him next post too. And lots more!
Happy Belated Mother's Day everyone!  Hope you're all as ready to gear up for summertime as we are here!
Love, Cheryl & Aaron and their sushi eating monkeys
COMMENTS
May 17, 2012., 9:38 AM /

May 17, 2012., 1:24 PM /

Love the cowgirl.

May 17, 2012., 10:29 PM /

LOVE the Dose y-do!!!! Soooooo cute. :) Enjoyed all the the hero's pics. Looks like quite a bike tour. They looked like they had a really nice time. So nice to honor the fallen officers. Looking forward to Tracy & Tim's wedding pictures. Nice blog! Love ya!

May 19, 2012., 6:35 PM /

I was looking at the dose y-do again! It is a precious picture...... I WANT ONE!!!

May 24, 2012., 2:09 PM /

Soooo very excited to see the rest of the photos!!! Of course these ones are amazing. Forget the meals, venue, music... Everyone keeps commenting how much they liked our photographers!!

May 24, 2012., 2:27 PM /

hehe! That's so funny Tracy!! I was just looking at your photos now- Aaron should have them up for you in a day or two. It was a great, fun night-thank you!! I think you guys will love the rest of the photos!!
Comments are closed.