Blah! I am having a very hard time, for some reason, getting through this month of February! :-/ Normally I am not one to suffer from winter sadness- I love the snow days, the amazing clear crispness of the starry night sky in the cold, and the silhouettes of the bare limbed trees against the gorgeous winter sunsets. Maybe it's the lack of snow. And it isn't just me- it feels like everyone all around me is in the midst of some unhappiness or struggle, right down to the kids. What's happening?? Is there something gone wrong in the universe? A moon out of orbit, something in retrograde?? I don't know– but I'd like it to stop now. Okay? I want it all better, for everyone, right now. I would normally follow that sentence by saying "Fix it, Lovey!", because he can pretty much fix everything. I don't think even he can push misaligned planets around though…
SO the only choice then is to get through this month as best as we can– the extra day tacked onto the end of it this year is just a cruel irony, I suppose. But if right now is not working for us, then let's look ahead! Maybe even throw in a little looking back at some really fun times, too. Life has been good before, and it will be good again- we just need to be prepared to grab onto the goodness when it comes, and go with the flow until it happens:
There is a tide in the affairs of men.
Which, taken at the flood, leads on to fortune;
….And we must take the current when it serves,
Or lose our ventures.   ~ Brutus, Julius Ceaser
(I've been in a very Shakespeare state of mind lately…. I think it drives Aaron a little insane. 🙂 Sorry!)
Let's begin by looking at some of the goodness right here close to home. Aaron and I had the privilege of attending the Red Cross cocktail reception at The Intelligencer for the new CEO for the Southeastern PA chapter, Judge Renee Hughes. I have not stood in front of too many judges in my time, so the idea of meeting and photographing her was a little intimidating to me at first. But Judge Hughes was sweet, down to earth, funny and sincere, and we had a great time with her, and with all of the people at the event! What a fun crowd, I think you'll even see in the photos how much laughing was going on- it must have something to do with the kind of people who choose to be in such a selfless profession, and those choosing to donate to it- being able to help people just feels good!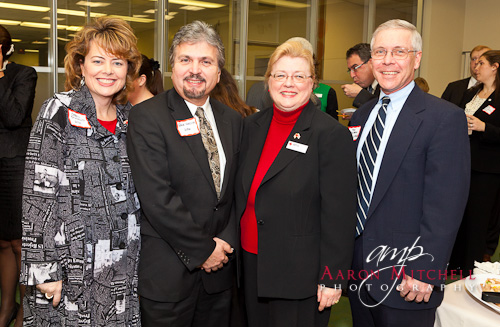 Some of Aaron's fellow members of the Leadership Board! HI Lisa! 🙂
This group was particularly fun!!
And she even asked to take our picture!
!
I was happily surprised to see Kim there too!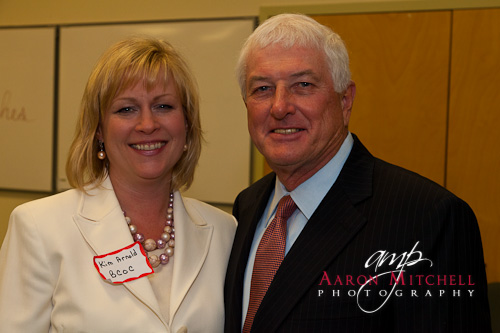 Me and the Judge!
Aaron asked me to also share that the Red Cross Southeastern PA chapter is seeking nominations for Real Heros of Bucks County. They want the community's help in finding local heros, someone who exhibits courage, kindness and unselfish character- and I know from our Inner Beauty Contests that some of you know some pretty incredible people! Deadline for submissions is March 2- so start thinking, and you can email Jane Ward for a form at wardj@redcross-philly.org.
Looking back just a little, January graced us with one day of snow, which we gleefully took full advantage of! Aaron began calling all the neighbors around 8:30 am, and by 9:30 had herded us all up on the hill at Pearl S Buck. He took all of these with his iPhone, and I am surprised at how well they came out (which just goes to show that a true professional can work with almost any tool! ;))  Fun and merriment was had by all, but I am beginning to think perhaps the grown ups have even more fun than the kids…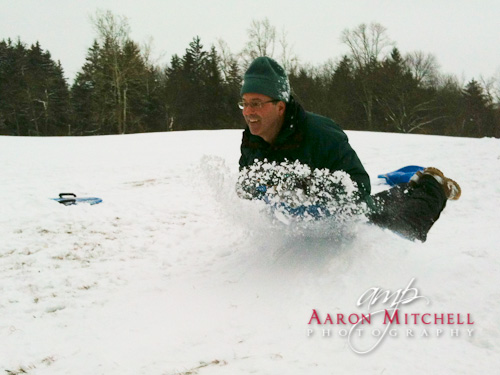 We're not really sure how Drew did this…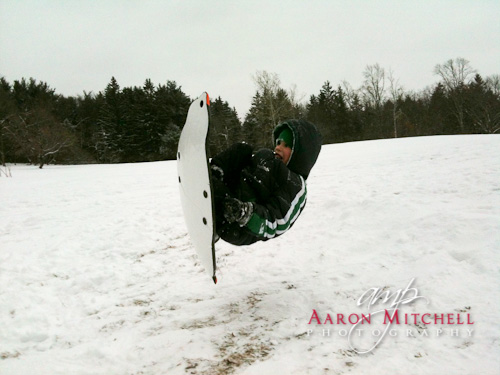 Even Biscuit got to sled!
!
Speaking of The Pearl S Buck, we're going to be there a few more times this month (but probably not sledding). We'll be there Monday evening February 2oth with DJ Bob for his private, invitation only showcase, where he'll be displaying all of his amazing DJ equipment as well as all of his amazing wedding vendor friends! Aaron and I will be there with Kate from Jamie Hollander, Lori from The Wedding Studio, Simmie the wine guy– it's gonna be great! If you're one of our brides and want an invitation–let me know!!
Just five days after that we'll be there again- we just like hanging out there, really! February 25th we will be there with Open Aire Affairs and all of our buddies for another Bridal Open House–lots of yummy food from the best caterers, invitations, and (gasp!) even other photographers.
Spring is only a month and a half away- and that means the weddings are coming soon!! We'll soon have our first wedding of the season, plus a very cool new session that Lovey has been dying to do…it's going to be magical but that's all I am going to say about it for now!!
And now…there's only 20 more days of February to go… 🙂
Love,
Cheryl, Aaron & their little snow bunnies
COMMENTS
February 9, 2012., 10:23 AM /

February 9, 2012., 12:04 PM /

Great snow pix. Sorry we missed it. Next time. Biscuit got to sled, how come Bear didn't??????
Comments are closed.