I sit staring at the blinking curser at the top of my blank blog page, wondering why I can't think of a thing to write right now…. And I think I know. It's because it is not early morning, with the kids off to school or my mom's, with my steaming cup of coffee and happy boppy music right next to me, the sunlight slanting into the window as the birds chirp outside at the feeders. No. It is evening. The sun is now slanting from the other direction and directly into my right eye. The birds are off somewhere, it's too late for coffee or I'd be up all night, and the kids are waiting for dinner. This, this is not my happy writing place!! I cannot work under these conditions!! Plus I'm dressed. Not that that is really a terribly unusual occurrence, but on writing days (usually every Tuesday) I prefer to sit in my cozy jammie pants (often adorned with monkeys, sometimes penguins, one special pair with scotties). I find this custom works well for me, and is apparently not an uncommon trait among writers. 🙂
Today I missed the morning work time because I went with Aidan's class on a field trip, so I can't really complain. We went to Peace Valley Nature Center– where we go often as a family- and we learned all about maple sugaring! It was cool, I have been wanting to do this with the kids forever, and we learned a lot. Of course, the tiny piece of hard maple candy was my favorite part…mmmm… But while we were there I just looked around at the woods and down to the lake I thought – how lucky are we, that our kids have this kind of place to come to and learn, right here practically in our backyard!  I myself will wait to go back until it's a bit warmer again… 😉 But it is a great place, and if you haven't been you really need to check it out! Here are some photos from the day- these were just with my phone so obviously they're not going to be as amazing as those taken with our REAL, professional, camera. 😉
Boiling pot of sap! The fire was welcomly warm that morning.
Log syrup!
Maple sugar bits–mmmmmmm!
Tapping the sugar maple.
Sap carrying boy.
And then we shot some lawyers. Sometimes it just has to be done… 😉  No, these guys were great, we need to thank Eric Jacobson from IQnection for recommending us to them: I present to you Bill, Gavin and Ed, of Benner and WIld in Doylestown.
The next session was for the University of Phoenix's newest campus in Warrington. I met Joe at the Central Bucks Chamber Annual luncheon and was happy to hear he needed photography! They wanted an exterior shot of the building, and also to capture the new Student Resource Center- which is just gorgeous, we think they did an amazing job on the center–it's functional AND looks so cool!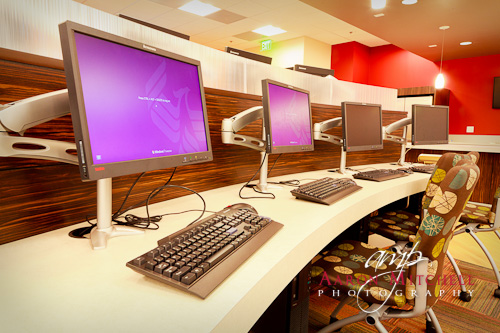 Then I have a photo of some of our friends from Superbowl Sunday. Pretty much just because they're cute, but also because we thought it would be fun to add "iPhone photos" to the end of each blog. Once again, kind of for my own enjoyment, but hopefully yours as well! 😉
Aviva, Me, Jessie & Sarah
Yep- Aaron wanted to officially document that even when all together, we are incapable of keeping our phones out of our hands! 😉
(Now these were taken with my old iPhone 3, which unfortunately fell into the pond with me the day before Valentine's Day…you will be able to note the superior quality of the iPhone 4's photos in the above maple sugaring photos!!)
And I will end with an explanation of the photo at the top of the page. This is Sheba, celebrating her last Christmas with our family. Sadly, she died in early February, after almost 14 years of being my parents last child at home. My mom and dad are still pretty inconsolable after losing her, so any thoughts or prayers towards helping them cope and heal would be really appreciated. None of us can or should go through life's hard times alone, and I am a big believer in the power of kindness and love. 🙂
Love,
Cheryl & Aaron, and their sap filled sugar babies
COMMENTS
March 8, 2012., 11:10 AM /

March 8, 2012., 11:18 AM /

You've done it again!!! Made my day :) Love the blog...

March 8, 2012., 12:21 PM /

Darn it! I missed Maple Sugar Day. I thought we would get there. But, I forgot. Love the pix. Love the blog. And, thanks for the shout-out to the Central Bucks Chamber. I'm so glad you made a great connection at the Annual Meeting!!!

March 8, 2012., 1:41 PM /

Yep! Made my day too:) Thanks Cheryl! That pic of us all with our phones is priceless.

March 8, 2012., 6:15 PM /

My advice to your parents is to get another dog! Yes, I know you think you will have your freedom now, not have to worry about walking the dog, but there is nothering like having that loving friend around the house. And you can always leave your new friend with Cheryl when you go away!

March 21, 2012., 12:13 PM /

I so miss "The Pupper from Pupperdum" :(
Comments are closed.