It seems like other people are great jugglers. They can run their businesses single handed, work out every day, cook amazing delicious meals, and play outside with their kids for hours. I know it. I've seen them on Facebook!
Alas, I have recently learned, I am not so skilled. I love doing all of those things, but it seems I can only actually succeed at perhaps three things a day. Usually only two of them well. And I have stopped trying to clean the house entirely.
But writing this blog is truly one of my favorite things to do, and it's something I just must make more time for. It's even harder now, since I became D.O.O. at ParleeStumpf marketing, and I am not going on as many of the shoots thanks to our wonderful Bryan and our new Ashlee (soon-to-be-formally introduced with photo!)
I was on this first shoot that I am going to share, and I am so glad, because this was such an enjoyable couple to spend time getting to know. Bryan and I met with Ed & Karen Mullaney in order to interview and photograph them for the Central Bucks Chamber of Commerce W-4 magazine. Their story is a great one, and I will be sure to link to it once it is published! I won't spoil anything now. 😉 But I will let you look at them:
One of our first weddings this season was a special one to us, because it was the wedding our our good friend Amy's Mom, Joanne! And the event was especially poignant because it happened only one week after the birth of Amy & Dann's first baby, and Joanne's first grandson! I could have happily spend all day taking photos of just baby Joseph, but it wasn't his wedding day, so we made sure to get the majority of Joanne and Bob! 🙂
 Look at him!! Only 7 days old and rockin' his tiny tux!! I love this baby!
Bob rocked his tux pretty well too 😉
I had to get a hug in with Bob.
We did the wedding photos for Amanda and Micheal in February, and Micheal's dad wanted a nice formal family portrait too, so Bryan & Aaron visited them again this spring.
The next event I was especially sad to miss, because it was with some of my favorite people!! Lovey and Bryan went to  what I am pretty sure was the first open house at the gorgeous Glen Foerd mansion, newly acquired as a venue by Jamie Hollander Catering. We will happily attend any event where we can bask in the presence of Kate Conaway from Jamie Hollander – because she's just that awesome. Plus our friends from Open Aire affairs were all there- Shannon & Nancy, Kim, Rae, our buddy Bob from Philly Events Group, and I think I even see Mark from Mark Bryan Designs in these photos! I do not like missing such a good party!! >:(  I hope to see you all again soon!!
Nothing compares to- or makes my mouth water as much as-  the Jamie Hollander Cheese Arrangement…sigh….
Aaron and Bryan were happy to shoot the red Cross Hero's Breakfast again this year, and came home once again with heartwarming stories of how truly remarkable people can be in emergency situations. And they got to hang out with my favorite Judge Renee Hughes! I like her.
Congressman Mike Fitzpatrick seems to be at a lot of the events we shoot- which makes me feel like I  should get to know this him. Obviously we enjoy hanging out with the same crowds!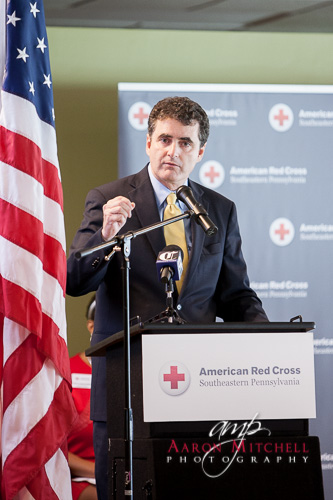 The Taste of The World Gala thrown by the Pearl S Buck Foundation every year is one of my favorites- it's right down the road and it's filled with delicious food made by all of my favorite caterer friends, plus cool auction items! Sadly this year I was so violently ill that Aaron told me I wasn't allowed to even approach the event. I sadly stayed home in bed, almost able to hear from my window all the celebrations happening without me. 🙁
I missed Tony auctioneering!!
In addition to being on the leadership board for the Red Cross, Lovey is also now officially a Rotarian! (He suspiciously  made this decision after I came home telling him how much I was enjoying the Rotary events I was attending, and thinking I may join. I obviously made it sounds too fun because he quickly decided to join before I could! Meanie!!) One of the big events that the Central Bucks Rotary hold each year is their Ride for The Heros, and we were honored to be able to shoot it for them this year. Well, Bryan was honored for us because he shot it himself while we were both away. 😉
Brown Bag It with the Arts is another fun event we like to go to (and yet another committee Lovey is on- really, how many things must the man be involved in?!). We'll sometimes take the kids on Wednesday in the summer, and now sometimes the whole ParleeStumpf office crew spends some quality bonding time lunching there! Bill on the accordion is a huge hit every year.
The Red Ball Committee and the commissioners, all decked out in front of the new courthouse (which they are not calling the new courthouse for some reason). This is finally a committee I am on- but since I have only been able to attend one meeting, I felt I would be better put to use organizing the shoot than being in it. Plus I had no red gown that fit.
After that shot, we ushered the commissiony people back across to pose with the Brown Bag it Committee (minus Aaron). I called them "commissony people"  while posing them and they seemed to go with it, so henceforth that is their name to me.
I think I shall end there, as I feel this has gone on long enough! 😀 There are some more cool photos to show you from the past two months- beach fun, Lovey's trip to Panama- but we will save them for next time, along with lots more weddings, 4th of July festivities, one cool lawyer, random events, and a formal intro to our new girl Ashlee! woohoo! Stay tuned!
…And…I have no idea how to sign off anymore….now I need to add not just Bryan but Ashlee to the mix, and does that mean I just stop including the children??? Ahhhhh….!
I'll just say- Happy Weekend Everyone!
May your 4th of July Celebrations be fun and bright!
Love, All of Us
COMMENTS
There aren't any comments yet.
Comments are closed.