OK, I'm still trying to get used to the idea of trying to write a blog every other week, but I'm getting better. At least now it's once a month!  Things move so fast around here I don't even remember what has been going on until I start looking over the photos!  So, before I finish up reminiscing about some of the Aaron Mitchell Photography highlights of 2014, I want to catch you up on the most important event of the year.  Cheryl's birth week!  Sadly, she used to celebrate an entire birth month, but has since had to cut it down to a mere week.  She handles it like a trooper, but I know deep down inside it really makes her sad.  So this year we celebrated with a concert totally dedicated to her!  The Liquid Squids (with special guest Mellisa), opened their one night national concert tour in Perkasie just for her!

Jeremy on drums!

Todd on bass!

Bryan (yep, that's our Bryan!) on lead guitar!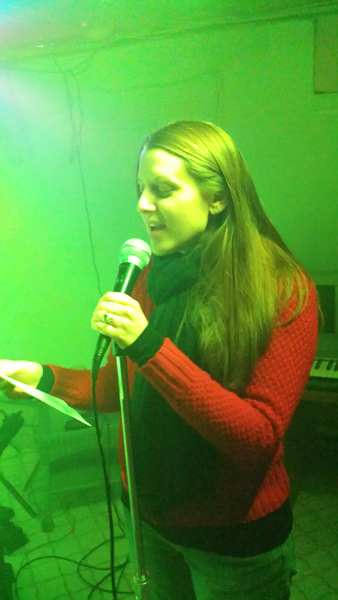 Special guest star…  Melissa!
They were so cool and down to earth!  They even let Cheryl get a photo and autographs!!!!
Video!

After the concert there was much eating and merriment!
The cake's on fire!!!!  Oh wait, those are candles…  🙂

Cheryl sandwich!  I know there are comments to be made here…

Cheryl wasn't the only one with a birthday in January.  My older brother Adam turned 50!  I still can't believe it!  How did he get to be so old and I stayed 20?????  🙂
It was great to see Rob and Andrew (Adam is in the middle in case you didn't know)!  They are from the old neighborhood where we grew up.  It was awesome reminiscing about things that are not entirely blog appropriate… Let's just say I hope my mom didn't overhear some of the conversations!
I got to sneak into a photo!

Somewhere along the way, my brother refined his taste and got away from beer.  The same can't be said for me and Andrew…

Here is everyone that could make it that night…

Adam's favorite cousin Susie.

So the birthday's ended, but Bryan and I had to keep celebrating.  So we went for a tour of Yuengling brewery!  This had to be one of the coolest tours ever!  Since it's a historical place they don't have to put up glass barriers to "protect" people or anything like that.  You get to walk around where the workers are doing their thing!  How awesome is that!  Two things really stuck out in out minds, how can they make so much beer with so few people (I think like 3 on a shift) and how fast the production line moves. Here is a short video of the line.
Old kegs!  I guess they are just waiting to get their fill…
This is the cave they used to use to keep the beer cool and at a constant temperature.  Can you believe they dug all this by hand????

They used to make ice cream too!  They are starting to make it again, but I think it's still very local.  And no, it doesn't taste like beer…

OK, I'm running out of time.  Let's finish with some Aaron Mitchell Photography highlights from 2014.
Let's start with Katie (and Asa)'s maternity.  Can you believe those were her boots from when she was a kid????  I don't think I could save anything that long.  And I'm positive any clothing I had wouldn't look so nice after I got done with it!
This precious little girl's name is Salem.  She is the most adorable kid with such a wonderful family. Sadly, she was diagnosed with Primitive Neuro Ectodermal Tumor (PNET) in her mid-brain in 2013.  They removed most of the tumor, but unfortunately not before it spread down her spine.  She is still fighting, but doing a little better.

Some friends from the zoo (Elmwood?) were kind enough to stop by and had a show and tell with her and her family.  It was a truly wonderful experience.
So on to a little more upbeat note, Katie and Asa's (from above) little boy Franklin!  I'm not sure he'll dig the boots…

Oh look a wedding!  Tim and his gang were awesome!  Brittany was cool too… 🙂

We can't say enough about the Central Bucks Chamber of Commerce and the Leadership Advancement Committee.  It's a wonderful program where a small group of people go and visit with different community leaders and businesses to discuss just about anything that comes to mind.  It helped make Cheryl a leader for today and a leader for the future.  As if there was any doubt before, now it's official!  Here is Val doing her Vanna White impression at Knex.

Here are Ed and Karen from Doylestown Tennis Club.  Cheryl and Bryan could not stop raving about these guys and how nice they were.  The business was started in 1973 with just a handshake and a prayer!

More babies! oh and a wedding…  This is Amy's mom, sisters and of course little Joey!  It was mom's wedding day!

This is Judge Hughes CEO for the American Red Cross of Southeastern PA giving a speech recognizing some of the local heroes in our area.  The Red Cross really does so much more for our community than just blood donations…

This is from the Ride for the Heroes event that the Central Bucks Rotary holds every year to help support wounded veterans and the families of fallen heroes.  It was amazing to see how many people came out to help support the cause!
Here is the new courthouse in Doylestown!

We were so excited to see Alicia and Jared again!  We had the pleasure of meeting them back in '09 when we photographed their wedding.  I can't believe it was so long ago!  Now it's their 5 year anniversary, and I'm so happy they gave us a call to capture some moments with them!


Hatboro Federal Savings does so many wonderful things for the community!  We are really happy that we are friends with Connie and Linda!  Here is Linda donating money to the College Settlement Camp in Horsham.

This guy just cracked me up from Courtney and Ryan's wedding…

I finally got to hang out with my old friend Linda (not pictured) at the Venetian Club.  They were having their 90th anniversary gala!  These guys were a trip!


Central Bucks Chamber at it again.  This time it's The Bucks Fever FilmFest.  It's an annual, juried festival with short films submitted by high school, college and emerging filmmakers. These are some of the winners.

One of the coolest wedding cakes, EVER!

What's a wedding without your puppies?

I'm going to hire this guy in a couple of years…

Look at me!  I'm in a tree!  So glad I didn't fall or drop anything on these guys!

Here are the Bucks County Opportunity Council graduates.  Every year we photograph the graduation.  Every year I tear up listening to the incredible stories they have to tell.  In case you didn't know, the council is there to help low-income people in Bucks County achieve and sustain economic self-sufficiency through participation in a personalized case management approach founded on education and partnership with the community.  They really do an amazing job!

The doctors at Montgomery County Medical Associates…

Another blast from the past!  We had photographed Kim and Matt's wedding back in '07.  They just had a baby!  Little Brody is so precious!
Every year we look forward to hanging out at Best Friend's Pet Care and photographing Santa with his animal friends!

Last wedding of the year!  Congratulations Keli and Phil!
We love Dr Heidi!  And not just because she's the best chiropractor in town, she's just an awesome person!

Here is the last official shoot of the year…  Davin!  He just turned one and this parent's wanted him to have a little fun with his cake.

This blog went on way too long so now I'll finish up on the personal life again.
Earlier in the year, Sarah and Jeremy's baby Christian turned one!  He's so cool!  He's going to play drums like his dad.  Yes, Jeremy is the drummer for that awesome band the Liquid Squids.
Sam and Avia's Sadie also turned one!  I don't know, but I'm betting that Sadie is heading toward a career as an actress…

Dann and Amy's baby Joey didn't turn one yet, but he's still cool!  We don't get to see him nearly as much as we like, but we did finally get to give him his birthday present this past weekend.

So that's all I have in me for now.  I will try and write these a little more often so they aren't so long.  I feel bad I had to cut out so much from the 2014 recap.
Have fun everyone!
COMMENTS
February 5, 2015., 11:45 AM /

February 5, 2015., 1:59 PM /

I'm so sorry! I was going buggy and ran out of time! You know we love you guys!

February 5, 2015., 4:31 PM /

So excited our cake made it! All of our pictures are amazing but that one is art!

February 5, 2015., 6:02 PM /

Hey Michelle! Thank you so much! You guys were so awesome! Tell Tom we said "hi"!

February 6, 2015., 12:47 PM /

The 1 lives on!

February 9, 2015., 8:38 PM /

Liquid Squids rule!!! Btw, I LOVE the pic of Heidi too!
Comments are closed.